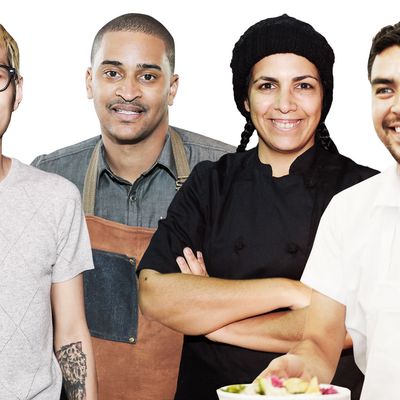 Very nice.
Photo: Getty Images, Patrick McMullan, Liz Clayman
Here's something cool: In honor of Google Translate's tenth birthday, the company will operate a pop-up restaurant downtown from April 15 to 18. Each night, a different chef will cook a three-course menu — Gerardo Gonzalez, JJ Johnson, Danny Bowien, and Einat Admony — and, as a nice twist, they're staffing their service with friends from the industry. (The tech tie-in is that guests will use Google Translate to order their food.)
Best of all: The dinners are open to the public and completely free — and you can book a reservation right here, right now.
Friday, April 15
Headliner: Gerardo Gonzalez
Andy Baraghani, Bon Appétit editor
Niki Russ Federman and Josh Russ Tupper, Russ & Daughters
Atsushi Numata, 3Ni Deli (Essex St. Market)
Saturday, April 16
Headliner: JJ Johnson, the Cecil
Miguel Trinidad, Jeepney
Andre Lima, 2BOS BBQ (São Paulo)
Aaron Arizpe, Chefs Club
Sunday, April 17
Headliners: Danny Bowien and Angela Dimayuga, Mission Chinese Food
Andy Ricker, Pok Pok
Paolo Laboa, Bistro Don Giovanni
Iñaki Aizpitarte, Le Chateaubriand (Paris)
Monday, April 18
Headliner: Einat Admony, Balaboosta
Liz Kwon, White Tiger
Mads Refslund, formerly of ACME
Donal Crosbie, Hudson Hound, The Bailey