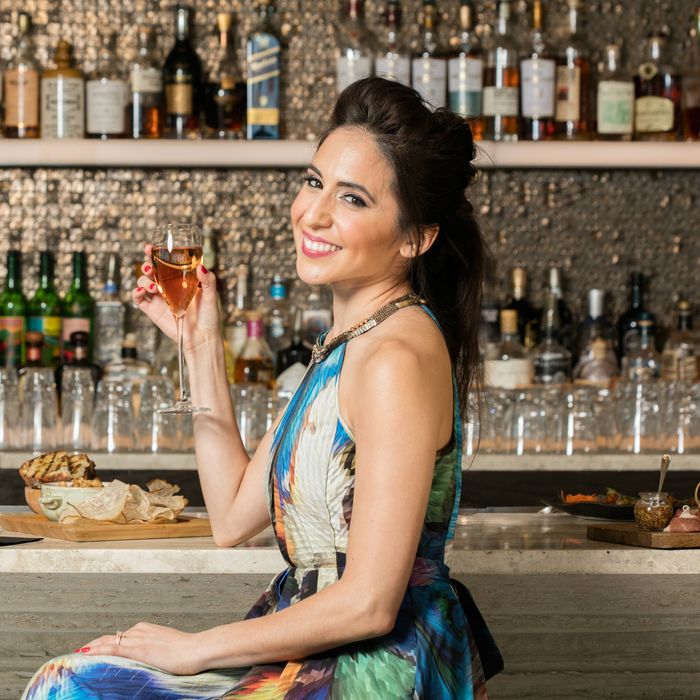 "I play Valencia on the show, and her dietary rules are completely opposite of mine. I love to eat."
Photo: Melissa Hom
On the CW's Crazy Ex-Girlfriend, Gabrielle Ruiz plays Valencia Perez, a yoga instructor who happens to be incredibly health-conscious. "Her dietary rules are completely opposite of mine," says Texas-born Ruiz. "I love to eat." This week, even while battling a cold, she cooked Mexican chicken soup and skirt steak, went out for pancakes and mimosas, and split an order of 50 buffalo wings with her fellow cast mates while watching the show's season finale. Read all about it in this week's Grub Street Diet.
Thursday April 14
Being a bicoastal actress definitely has its perks but also can have its slumps. Since wrapping the first season of Crazy Ex-Girlfriend, I've been eager to return to my New York life and cook in my own kitchen! But lo and behold, New York welcomed me back with a seasonal cold.
So, this morning, all I'm having is a baked blueberry scone and some hot lemon-ginger tea. I also drop one Ricola cough drop in my water to help with my cough, an old Broadway singer's trick. After my first nap and lots of water, my FreshDirect grocery order was delivered. And what better way to kick this cold than with my mama's Mexican-chicken-soup recipe? ¡Que rico! Making it from scratch (with mama on FaceTime coaching me through it) is exactly what the doctor ordered. It takes about an hour altogether to make, but it's very therapeutic for me to take my time with a recipe and cook in my own kitchen. It's my second time making it by myself. I needed this.
This soup transitions into dinner. While I'm sick, chicken soup basically defines my diet. My fiancé, Philip, comes over for dinner with flowers and mini powdered donuts, my guilty pleasure. I found a good one. Man, that is — not guilty pleasure. We eat soup and guacamole with tortilla chips and pick something on Hulu. I have NyQuil for dessert.
Friday, April 15
I'm feeling more like myself today! It's time to juice up and kick some nutrients into my day. With more lemon-ginger tea, I make my favorite breakfast smoothie: one cup of vanilla protein, one cup of coconut water, one cup of almond milk, one cup of frozen spinach, half of an avocado, a splash of pineapple juice, and a spoonful of Shaklee Performance hydrating powder. Not only is it ridiculously delish, but it's ridiculously full of nutrients and a full meal. Boom.
A quick chicken-soup lunch to quickly head to a midtown rehearsal for my April 27 performance with the Skivvies at Feinstein's/54 Below. Ricola dropped in my bottled water.
Have I mentioned how I love to cook in my kitchen? Tonight's dinner, thanks to AllRecipes.com, will be an improvised version of a roasted skirt steak and vegetables. The skirt steak is marinated in soy sauce, ginger, and garlic, and the veggies (all I have in the pantry are onions, Brussels sprouts, and potatoes) are sautéed in a wok. I can't believe I had this wok for four years and have barely used it! The roasted sauce from the baked steak is then cooked in a sauce pan with some flour, to make a gravy. That was Philip's idea. We then watch Trainwreck on HBO GO with dinner. Amy Schumer is brilliant and hilarious.
Saturday, April 16
Springtime in New York City brings friends and families touring the Big Apple, which leads to many hellos and lots of hosting. My dance teacher from back home brought her dance group and wants to escape with us in the city for a couple of free hours. We convince her to save her appetite from their scheduled Planet Hollywood lunch to brunch with us at Lillie's Victorian in Times Square. She was easily persuaded. I have the pancakes and a mimosa. I usually do eggs Benedict, but I woke up thinking about pancakes.
I have a quick commercial audition downtown near Wall Street and grab a boba tea on the way home. Brunch seriously fills me up for the entire day. I may be hungry at midnight, if anything.
You guessed it: a quick kale-and-apple salad with goat cheese and vinaigrette dressing before bed.
Sunday, April 17
Sunday is always "fun day" in New York. I make my favorite stay-at-home brunch and give credit to Miss America 1981 Susan Powell for this recipe — she and I went to the same college, and we've worked together: poached eggs over quinoa, black beans, kale salad, and sliced avocado. I have my first cup of coffee in the week, since my health is back on track. Oh, hazelnut and coconut creamer, how I missed you.
After an afternoon of spring cleaning and a protein smoothie, I save my appetite for a double date with one of our favorite couples. It's our turn to host in our neighborhood, so we pick one of our favorite authentic Italian restaurants in Astoria: Via Vai. The specials are superb, and you always see the chef/owner Antonio Moriconi greeting friends and family. The servers all nail it when asked to pair a wine with your selection. I have the fettuccine Bolognese. ¡Delizioso!
Monday, April 18
Philip can work from home today, which also translates to: He can work at lunch. He convinces me not to cook (I take the "good cook is a clean cook" rules seriously), so we go to the Bonnie in Astoria. Not only is the food oh so scrumptious, but you can't beat the boho vibe and the people. And their back patio is open for business. Spring has sprung! I have the poached egg and avocado toast — it's my favorite thing there.
A big day for television, because Crazy Ex-Girlfriend's season finale airs! I am so proud of what we've created with this show, and even more so the friendships that were born. Some of the cast, like myself, live in New York. So Donna Lynne Champlin (who plays Paula), Vella Lovell (who plays Heather), and I meet up to watch the season-finale episode together. It's become a tradition to livetweet with our loyal fans and eat buffalo wings. Donna Lynn orders 50! Oh man, I love buffalo wings. We toast with good ol' ginger ale.
Tuesday, April 19
I make poached eggs, quinoa, and sliced avocado again. It's quick to make and easy to clean! Then I grab a nice lunch at Le Pain Quotidien in midtown with a girlfriend who just got married. We have a lot of catching up to do! I sometimes can talk the waiter into asking the chef to make me a salmon and avocado tartine, even if it's not on the menu. Their kale Caesar salad and mint lemonade is my favorite as well.
It's dinnertime, and it's date night. One of my favorite places to see the entire city without the Times Square madness is in the heart of Rockefeller Center. It's on the 65th floor, and it has reopened with a bunch of flair and pizazz since it's restoration. The Rainbow Room is not only a spectacular, iconic landmark, but its breathtaking views make you fall in love with New York City all over, again and again. I meet my fiancé for a delightful dinner and drinks at their cocktail bar, SixtyFive. Aside from my favorites (charcuterie, tuna tacos, salmon tartare, and kale-sunchoke dip), I always treat myself to a rosé brut. I just can't resist.