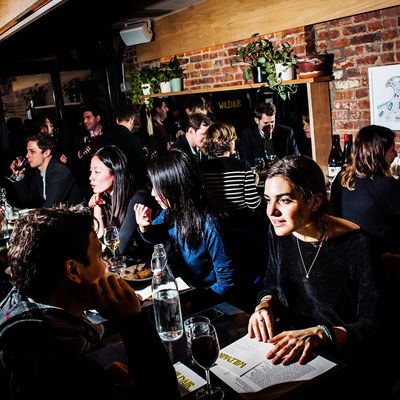 Wildair's Jeremiah Stone and Fabian von Hauske get the nod.
Photo: Dina Litovsky
Food & Wine, the very aptly named title where Nilou Motamed was recently tapped as the new editor-in-chief, has announced this year's crop of winners for its annual Best New Chef honors, a title that has, historically, had an excellent track record for recognizing up-and-coming talent in the restaurant world.
The 2016 Best New Chefs are, without further ado, David Barzelay from San Francisco's Lazy Bear; Kevin Fink of Emmer & Rye in Austin; New Orleans chef Michael Gulotta of MoPho and Tana; Edouardo Jordan from Seattle's Salare; Ravi Kapur from Liholiho Yacht Club in San Francisco; Miami's Brad Kilgore of Alter; Iliana Regan from Elizabeth in Chicago; Aaron Silverman of the much-loved Rose's Luxury in Washington, D.C.; New York's own Jeremiah Stone and Fabian von Hauske who together run Contra and Wildair; and Kris Yenbamroong from L.A.'s extremely popular Night + Market.
Recent past winners of the BNC title have included the likes of Danny Bowien, Alex Stupak, Betony's Bryce Shuman, and Eli Kulp, whose new High Street on Hudson in the West Village has received seriously great reviews since opening a little over three months ago. Good company to keep! Congrats to everyone.
[F&W]