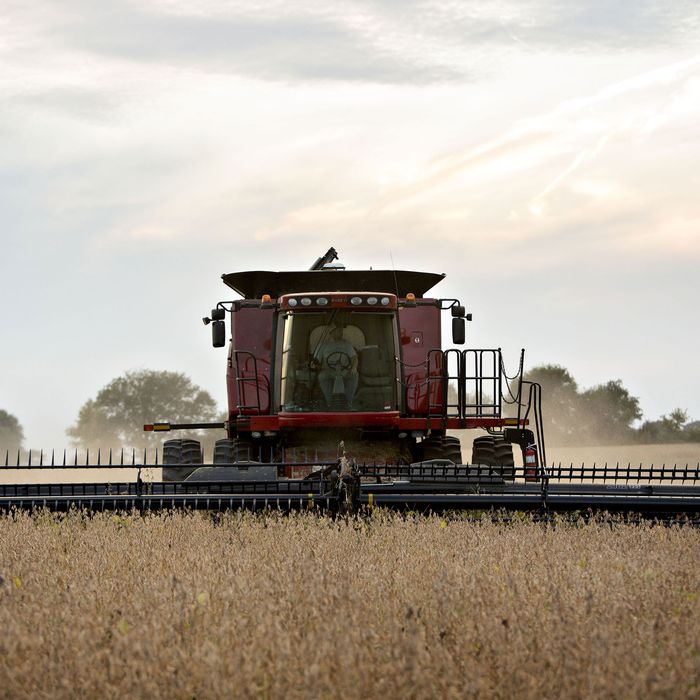 GM-No.
Photo: Daniel Acker/Bloomberg via Getty Images
For the first time, data show the world's farmers actually planted fewer GMOs than they did the previous year. A group that tracks crops says that, according to its figures on biotech seed use, the acreage for genetically modified crops fell from 449 million in 2014 to 440 million in 2015, about a one percent drop. GM crops in the U.S. — still the largest producer of GMOs — shrunk to 175 million acres, a drop of 5 million. Brazil and Argentina both grew more, but not enough to offset America's decline. A net drop has never happened before, so GMO opponents could consider it a victory, although the group that compiled the figures (which, it's worth noting now, is a Monsanto-backed biotech nonprofit) argues the main reason for the dip is that the price was down for corn, soybeans, and canola — crops that are about 90 percent GM already — so farmers planted other stuff.
This may be ignoring a larger problem, though: As today's Times points out, the public's sort of losing its appetite for genetically engineered foods, whether there's any reason to fear them or not. The output for GM crops has increased by double digits most years since 1996, when seeds became widely commercialized, but a slump started two or three years ago. This period, of course, includes Vermont passing the nation's first GMO-labeling law, companies like Chipotle voluntarily eliminating all GM ingredients, and even an outcry over a potato specially designed to be less carcinogenic when fried. For now, what Big Ag may need to work on engineering is an image turnaround.
[NYT]