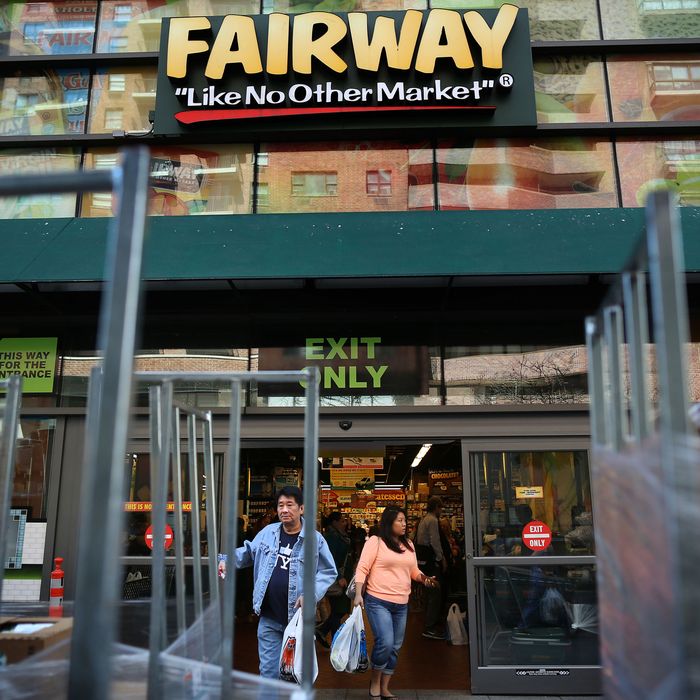 It's bleak.
Photo: Victor J. Blue/Bloomberg via Getty Images
The end of Fairway could be near. Once New York's favorite homegrown gourmet grocery store, Fairway has experienced a swift, sad collapse courtesy of rapid misguided growth. CEO Jack Murphy was brought on in the fall of 2014, but the situation has only gotten more dire. Stock has plummeted to around 30 to 40 cents a share, causing the Nasdaq to twice warn the company it could be delisted, and the chain has lost $300 million over the last five years while racking up $267 million in debt. Now sources tell Bloomberg that the company will attempt to enter Chapter 11 bankruptcy protection by the end of next month as part of a tentative agreement with creditors to restructure its massive debt.
This appears very much to be a last-resort tactic: The chain's owners have reportedly tried to sell the struggling business, but they've had trouble finding buyers. Details of the deal are being worked out, and it's still up in the air whether leases for all store locations will be maintained, but it's possible that poor-performing locations will be forced to close. Once the deal is made and the debt is restructured, lenders will take over the company, and hopefully everyone can figure out some way to keep Fairway alive. At the moment, however, the future does not look very bright.