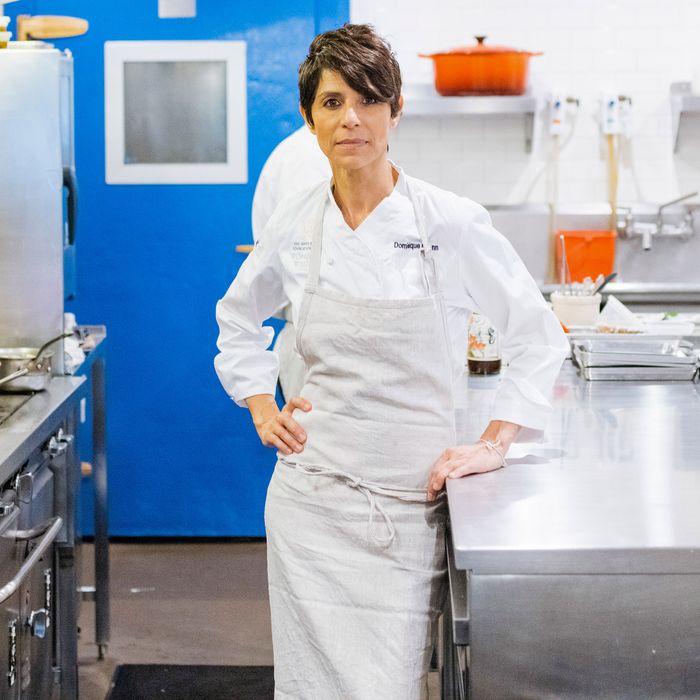 "I'm looking at the award this way: We still need to do a lot of work."
Photo: Jason Henry/The New York Times/Redux
Since the group behind the World's 50 Best Restaurants ranking created the Best Female Chef award in 2012, the honor — previously received by Elena Arzak, Nadia Santini, Helena Rizzo, and Hélène Darroze — has been met with controversy. (Same goes for the actual list of the "best" restaurants.) Does the food world need separate awards for women? Is the idea of singling out a Best Female Chef actually insulting? We called up this year's winner, French-born, San Francisco–based chef Dominique Crenn, to hear her thoughts:
First off, congratulations!
Thank you.
How did you feel when you learned that you won?
It is an honor to win any award, and I feel thankful and humble. This award has been around for a few years now. People like Elena Arzak and others who have been honored are just incredible and inspiring people — and women — and chefs. I would say chefs first, before saying women.
That switch is interesting, because many think it's not necessary to single out women in this way.
That has been a conversation that a lot of people have been having for the last few years. I've also been very vocal about it. If it's called Best Female Chef, it's an award to bring awareness. I'm looking at the award this way: We still need to do a lot of work. And as you know, I've been doing a lot of forums that bring women together and empower us. It's not just about the food industry; it's a societal problem in general.
… You go to a store, the blue is for the boy, and the girl has the pink. I think we need to come back to a place where, yes, men and women physically are different, but we need to bring them together, because we have strengths and weakness that complement each other. This can also empower young cooks. Even those young cooks that are male can say, "Wow, I am going to be working in an industry with people who are different than me, and it doesn't matter." I mean, you remember Time a few years ago, the "Gods of Food" cover.
Of course.
It's still a conversation we need to have. I believe that the best way of dialogue is not aggressive; it's about being thoughtful and conscious and exchanging ideas. But I've got to tell you — I'm in an industry where I work with a lot of chefs that are male. I don't see the difference. I don't think they ever looked at me as being different than them. I think it's just outside of the industry. I'm glad that we can recognize our powerful chefs that are female. I think this is very important.
How do you react when someone refers to you as a "female chef"?
I would say, "Hey, I'm a chef. I'm a chef, period. But you know what? I'm a female. I'm a woman. And I'm so proud of being a woman." But when it comes to awards, I think what's happening is we need those awards right now. We need to bring awareness that, yes, there are some amazing chefs that are female. And I hope in the next few years these awards are going to disappear. And they will. I think they will. It will be just one award for a chef. And that will be amazing. But until then, we still have to have a conversation.
Do you think that the opportunities for women in professional kitchens are more limited than they are for men?
I think the opportunities are there. It's all about desire. But yes, there are perhaps more opportunities for males. But I think it's really up to us, as women, to just say, "Hey, I want this opportunity, too, so let's go for it."
But one of the big topics of discussion right now is maternity leave. Often, female chefs say the only way to stay in this industry and have children is to own their own restaurants.
I mean, yes. I can agree with that. I also know that in our industry, now, we give leave to men to go and take care of the kids, so the women can also follow their dreams. I think it's getting better and better. And I always say — and I think I got this from my dad a long time ago — as a woman, you can't react as a victim, because we are not victims. If we talk as if we are victims, then we are not going to get things done. We bring something special to whatever we do with others working with us. I encourage a lot of young cooks that are female — "Do not go out there and only be scared that you're not good enough. No. You are good enough. You have to be confident and you've got to empower yourself." It's so much more impactful than having a negative dialogue.
In what ways do you see fine-dining kitchen culture changing, overall?
It's about treating people with respect and embracing diversity. And that's what I want. It's not just about women, you know? There are also other people in the kitchen who are not treated very well. I have no tolerance for violence, harassment, or bullying in the workplace. We need to respect each other and work with each other.
For a while, there's been a very military way of doing things. I don't want to say any names, but I have friends that are chefs and I was always appalled at the way they treated their staff. They've confided in me and said, "You know, Dom? It's been amazing because I catch myself so much more now. I'm going to treat the people that work with me so much better." But this is the way that they got trained in restaurants 20 years ago! And it's almost like you are too old to educate them and change the culture. We can't change everything overnight, you know? I want to be a mentor, but I don't just want to be a mentor for women. I want to be a mentor for the community in itself.