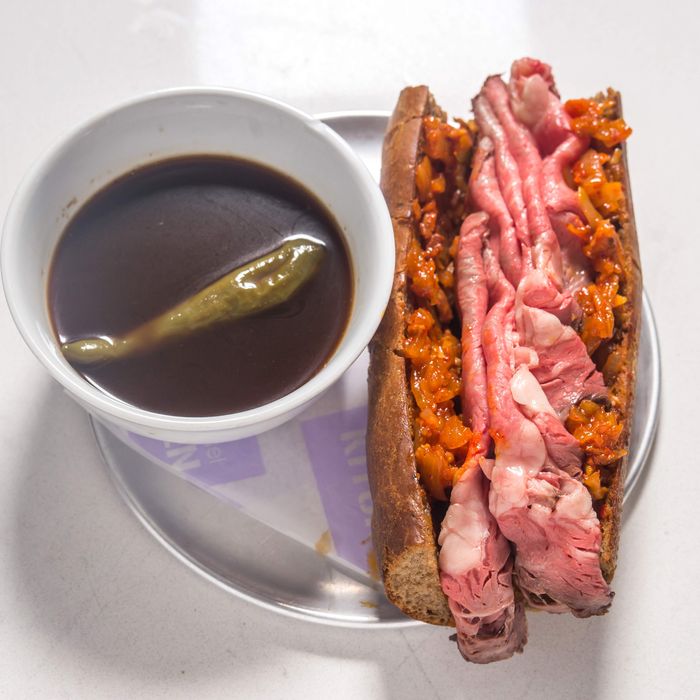 Hey, good lookin'.
Photo: Paul Wagtouicz
This may be the cleverest advancement in fusion cuisine since the Korean taco. Tonight at 6 p.m., pastry innovator Dominique Ansel will debut his latest limited-edition sandwich collaboration: the Korean French dip, which he dreamed up with Kang Ho Dong Baekjeong chef and Koreatown co-author Deuki Hong.
What exactly constitutes a Korean French dip? As Hong puts it, "We didn't want to make it 'Korean-Korean.'" So the rare roast beef, first seared and then roasted for an hour and a half, is straightforward, sliced thin, and extremely tender. The traditional crusty bread gets subbed out for a softer, squishy potato roll, infused with a heavy dose of black garlic and rubbed with a layer of garlic butter, all of which can stand up to the jus.
Then the fixings. Kong cooks kimchee with bacon and deeply caramelized onions to create a sweet-funky marmalade that tastes both like an upgraded chili jam and a bacon marmalade you'd actually want to eat all the time, and it makes you question why no one has made a business out of this high-end condiment. Hong's jus, meanwhile, takes its inspiration from the short-rib marinade used in Korean barbecue. It comes in two flavors: shiitake mushroom or a serrano chile variation with a pleasant, persistent heat.
Ansel's team generously provided a few to Grub for a midday taste test, and, well, this is a very excellent sandwich, soft and yielding and deeply flavorful. Plus, New York desperately needs more quality French dips, so a little innovation is always welcome, even if Ansel only plans to sell them this weekend. So, is there a future for this sandwich beyond Sunday? "We'll see," Ansel says. For now it will be available only at Dominique Ansel Kitchen, sold for $22. (By way of comparison, Minetta Tavern's famed lunch-only French dip runs $26 these days.) Ansel will have 300 sandwiches on hand each day, and if you can't make it tonight, know that the team will start serving them at noon on Saturday and Sunday.