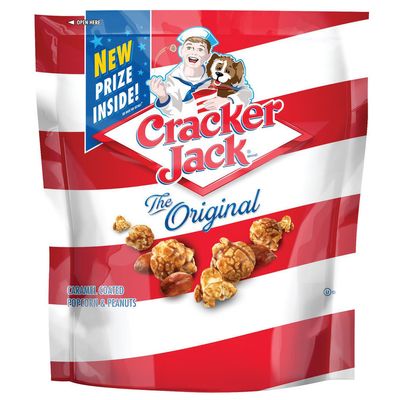 The popcorn is still real, for now.
Photo: FritoLay
What's the junk-food world coming to? The Cracker Jack prize is now … a QR code. Generations of kids may have grown up fishing out actual physical toys (which admittedly have been deteriorating in recent years — a sticker with a riddle?!), but parent company Frito-Lay is pretty excited about the changes it's making to the 120-year-old snack, according to a press release:
"The Cracker Jack Prize Inside has been as much a part of the nostalgia and love for the brand as the unforgettable combination of caramel-coated popcorn and peanuts," said Haston Lewis, senior director of marketing, Frito-Lay. "The new Prize Inside allows families to enjoy their favorite baseball moments through a new one-of-a-kind mobile experience, leveraging digital technology to bring the iconic Prize Inside to life."
The iconic packaging and logo have been "contemporized" as well, naturally. Also, to make things as seamless as possible on the digital end, the new prize stickers start with an instruction flap on how to have your "experience" — first, download the Blippar augmented-reality app, scan the QR code on the "Prize Inside" sticker with your smartphone, and wait for one of four baseball-themed games to load: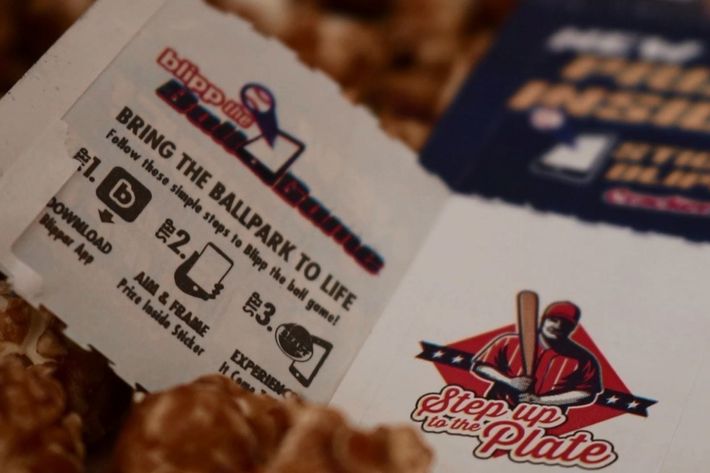 The four games let you do Dot Races, make baseball cards of yourself that can be traded with family and friends, and even "show off your dance moves" on a simulated JumboTron. (The whole thing is pegged to the start of baseball season.) "We are a brand that authentically reminds people of simpler times, childhood memories and family experiences," Frito-Lay adds in its press release, and there's no doubt about that — people will wistfully recall the days of cheap trinkets as they stare blankly at their QR codes.