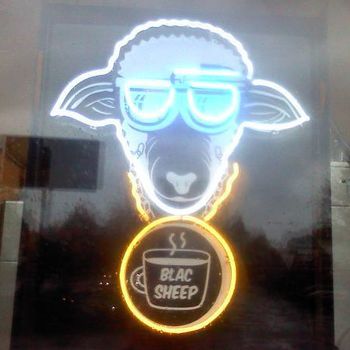 There's always money in the coffee stand.
Photo: Blac Sheep Coffee/Facebook
A real-life Bluth family has been busted by the Feds for allegedly laundering drug money through a tiny Oregon coffee stand. Prosecutors say Blac Sheep Coffee, as it was honestly called, was "rarely open" during its two-year stint of business, and showed "little to no coffee bean purchases." Nevertheless, the owners — a man named Eric Scully; his mother, Joan; and his girlfriend, Krystin Livingston — kept the ruse up long enough to build an actual brick-and-mortar kiosk, and have a cool, specially designed logo that was half sheep, half Flavor Flav. With this coffee business as their front, they allegedly made a million bucks in illegal interstate marijuana sales before their arrest. All three are implicated in growing 800 pounds of weed and distributing it to at least six other states by U.S. mail. The cash was supposedly deposited under the guise of it being Blac Sheep Coffee's (nonexistent) sales. And because this story can only get better, Feds say the trio then used this money to splurge on purchases that included real estate, custom motorcycles, various weapons, and high-end jewelry, like the Omega Seamaster watch that James Bond wears.