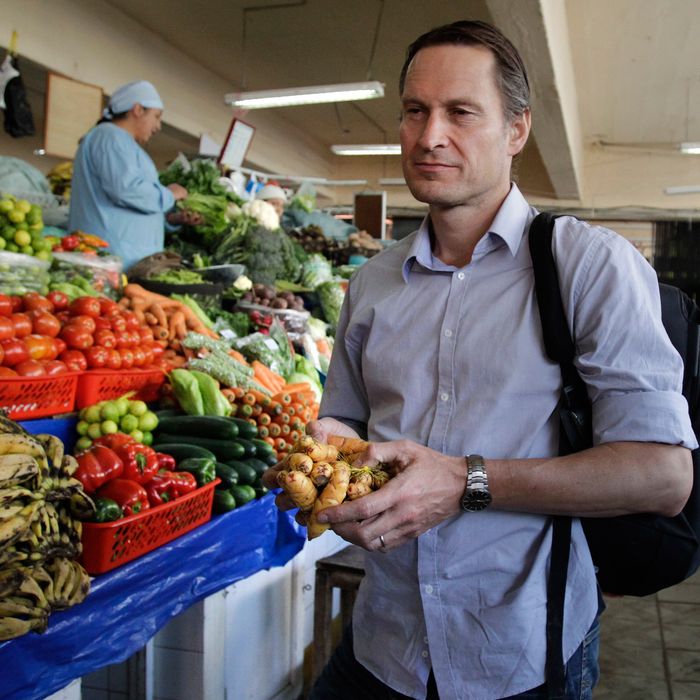 "New York doesn't embrace chefs who come here without going all in."
Photo: David Mercado / Reuters
It's difficult to keep track of Claus Meyer's many, many New York projects. Since leaving Denmark, where he co-founded the restaurant Noma (perhaps you've heard of it?) and literally helped define the philosophy behind "New Nordic" cuisine, Meyer has moved here to open both a food hall and a restaurant (Agern) at Grand Central Terminal, a Danish-style bakery in Williamsburg, a commissary kitchen and coffee roastery in Long Island City, a culinary school and restaurant to serve the low-income Brownsville community, and a project to introduce children to more adventurous foods. Even more surprising: He's working on all of these projects right now, simultaneously. Grub sat down with Meyer to discuss what drives him, how he manages the risk (and the finances) of these endeavors, and why he's in New York for the long haul.
When did you decide that you wanted to conquer the New York restaurant scene?
Well, I never thought about this as being about "conquering" New York, really. I'm not really an emperor kind of person! It's more that I want to spread joy and address issues that seemed to be unaddressed. I like to find win-win scenarios between the organization and the society. So I never came to conquer New York, though I want to do something great. But I didn't know what it was before I arrived. I'm not sure I really know it yet, but at least I've found a couple of things that I feel, for me, make sense to address. I think about how my grandchildren will remember me. I also want to contribute to the process of setting a new standard of how we treat people in this industry. And then, of course, if I'm able to be successful, I also have an obligation to do more.
Why start with Grand Central?
I wasn't really sure what Grand Central Terminal was, and then I heard it was a train station. I was like, "If I ever come to America, then probably I wouldn't sign on to a big property in a train station!" But then I looked up Grand Central Terminal, and I realized that it was not a very normal train station. And I came here and I fell a little bit in love with the space.
The scale of Grand Central also intensifies the risk.
I could have stayed home. On the one hand, I'm pretty adventurous. I'm also very good at finding challenges. I'm not good at building ten-year plans. I'm very much present in the moment, and I always see new opportunities that are just around me. But I'm very driven by gut feeling, and intend to play a lot of things in life by the heart. And when this opportunity came about, I said, "Well!" And that was three years ago. I just turned 50, and I had kind of gotten my company back under control and found a good leadership team. My oldest daughter and my wife have always been in love with New York. So with all these reasons, I said, "Let's do it!" Or, let's try to do it.
You coined the phrase "New Nordic," which took off in a major way in New York. How do you feel about the state of Scandinavian food in this city? Do you think that it's done well, or has it gotten too far away from your thesis?
I'm very proud of what we started back in 2003. But I would like to make a couple of revisions. When people speak about the New Nordic, there seems to be a lot of confusion. On one hand, you can see that the New Nordic regime is now fashionable — something that, for a certain amount of time, has conquered the attention of the entire world of food. It is obviously a belief system and an ideology. And it is also a certain expression on the plate — a certain way to cook the food, or not to cook it. A certain flavor profile when you eat it.
But the meaning of the New Nordic regime was never for it to be a label that should live forever. We invented the New Nordic regime in order for that to be a vehicle that you ideally bring these ideas and bury in the manifesto into people's lives. And I think that's it. Before 2003, I thought nobody would cook this type of food. You are totally right by saying that a lot of restaurants in New York, actually, they don't cook classic American food, or French food. A lot of young chefs are very inspired by this juicy, vegetable-driven, colorful, kind of raw and fermented, light cuisine.
But what is more important, I think, is that, whereas until 2003, the idea of a chef was basically a cook who would try to win as many Michelin stars and just create stunning, artistic, delicious food. To be a role model in society — to take the responsibility of things like biodiversity, sustainability, and health into consideration — was pretty uncommon. I think the main idea that we sold to the world was this idea that you have to have responsibility as a chef, and you can actually be somebody changing the destiny of your people by finding the relationship between the food industry and the farmers, the fishermen, and the suppliers. And that can mean the world. Of course, we didn't do that alone, but we have definitely done our part. And I'm proud of that.
How does it feel to still have "Noma co-founder" preceding your name when you're no longer involved? Is that something you want to distance yourself from?
No, I'm fine. I mean, I don't know. Maybe it'll be the most important thing I've ever made in my life, I don't know. I'm happy with being associated with a restaurant that I conceived of, so I have nothing against that.
Does being in New York change your outlook on cooking?
I found out in 2008 that you can remove the word Nordic from the equation. The whole manifesto, the whole thinking, the whole "What does it take to create a great food culture?" — it makes sense outside and without the word Nordic. So what we have come to do here is not just to throw all of our ideas, and all of our ingredients, against people in Vanderbilt Hall. We want to celebrate where we are. We're not going to hang up flags out there, or walk around with Viking helmets. Also, with Vanderbilt Hall in particular, it's been a space of the public for so many decades. It would be an insult if we just showed up with something extremely eccentric, dogmatic, and highly New Nordic.
That kind of food, and ingredient sourcing, can get quite expensive. How are you managing to make this accessible for the masses?
It's a serious challenge. Vanderbilt Hall is not a very cheap place to build in, with all the rules and regulations. The fact that there is a lot of grains and vegetables involved in the food gives us a fair chance of coming up with something that is accessible for a lot of people. There will also be meaty stuff, like a hot-dog station with different dogs and some lingonberry ketchup and beetroot crème brûlée. You know, very nice stuff. And there will be warm sandwiches with smoked brisket and horseradish, and a roast-pork sandwich with crackling skin and red cabbage. We will buy a lot of produce and a lot of meat of a very high quality, because I want people to feel that they have a moment of luxury. But luxury is not about lobster or beef loin. When you see the menu, you will see that there are many cheaper ingredients involved.
You've made some high-powered hires — Untitled's Katie Bell, the Dutch's Chad Walsh, Wassail's Rebecca Eichenbaum. How'd you pull that off?
I'm also helping out a couple of great chefs in the city to get their own restaurants. What I want to do more than anything is to see people grow. I love to see people not just thrive but grow. And I have a lot of people who have grown around me; René Redzepi is maybe the most prominent one — he was a random sous-chef at a random restaurant, and now he's something different. So I think that it's fair to say, without bragging, that I have a certain capacity for creating environments where people grow, and I think that idea has been pretty well conveyed.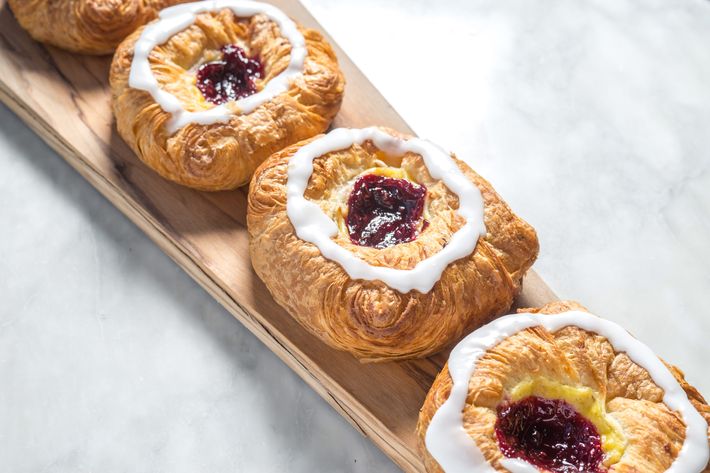 Beyond Grand Central, you've got the bakery in Williamsburg, the community restaurant to serve the low-income Brownsville community, the fine-dining program for kids … am I missing something?
Our commissary in Queens, which will grow micro-berries and include a whole-animal butchery and a salmon smokery. We've also got a dairy girl that's coming in from Denmark — a blonde girl will make our whole dairy program.
That sounds like a Disney movie. How, and why, are you doing this all at once?
For me, doing business is not really about building revenue. It's not about building profits; it's about doing something purposeful. I also basically hate the idea in being in direct competition with anyone else. I want to do things kind of without competition. And I want to do something that will be perceived of by New Yorkers as sophisticated and great. In Denmark, you cannot use the word great. People think you are an asshole. That's the law — nobody can stand out. One of the beautiful things here in America is that people are allowed to have dreams, and to achieve something great, so I like the idea of being unpredictable and going about this in a way that seems somehow generous. Also, one thing that I have heard and learned is that New York doesn't embrace chefs who come here without going all in.
Out-of-towners have historically been met with tepid enthusiasm.
I want to make sure that people understand that I'm here for real. And it's a long-term commitment. But of course you're right. I'm stressing my team out. And I haven't even told you everything. There are three projects that haven't been announced yet.
Do tell!
I can say that I'll be helping great chefs in the city get their own restaurants, and the third one is a collaboration between one of these chefs and myself.
I bet you're working Fredrik [Berselius] from Aska.
That's a very fortified guess, but it's unofficial, so I can't tell you.
How are you financing all of this?
I came here with a bit of money myself, and then I have some pretty good business partners. But we have to start picking up some revenues. I haven't got a fucking plan, but I think if we really manage to be the best of ourselves in this collaboration, we can maybe do this great thing together.
You're also paying your staff a $15-an-hour minimum wage and offering health insurance and paid maternity and paternity leaves.
I like to believe that we can afford to pay people a living wage. I really think that it is beneficial for the company. I can't guarantee to my investors that this will be profitable in the short term, but I truly believe that by giving people more, we will have the best staffers who will smile and stay, which will eventually make the company more profitable.
How many people are working for you in New York?
With the food hall, 400.
Have you experienced any culture shock since moving here?
Mostly in a positive way. Today I had a wonderful experience, for instance. I was biking down Sixth Avenue, and I had a meeting at Joe's — because we're also setting up a coffee roastery — and I was definitely going in the wrong direction. There are cars all over the place, and bikes coming against me. I entered into a narrow passage between two cars, and then another man on a bike came into that passage. He reacted quickly and withdrew. In Denmark, I would have seen ten fuck fingers, and he would have been screaming at me. But here, I raised my hand and he gave me a high-five. I feel energized here. But on the dark side, I find a lot of bureaucracy and administrative complications. Liquor license, all that stuff. Wood permission, fire brigades.
How do you structure your days?
I don't.
Well, how do you manage the anxiety of having so many people's livelihoods depend on you, in a time of transition?
I try to always have an alternative in terms of money, and have more resources than the concept demands. And without going into a long story, I felt when I was young boy that I was let down by life, because my grandmother who meant everything to me died when I was 14. My parents divorced, and I didn't see my father for five years. My mother became an alcoholic. All the adults that I, in a way, counted on kind of disappeared, but I didn't collapse as a human being. Of course it impacts you deeply in your psychological makeup, but I kind of had enough love in the early years to get over it.
In my adult life, though, I have hated the concept of letting people down, so I know deep inside me that I won't let these people down. I hate the idea of letting anyone down. This could be an exception where I underestimate this challenge, but normally I don't bring myself into a concept where I cannot live up to the expectations on the other side.