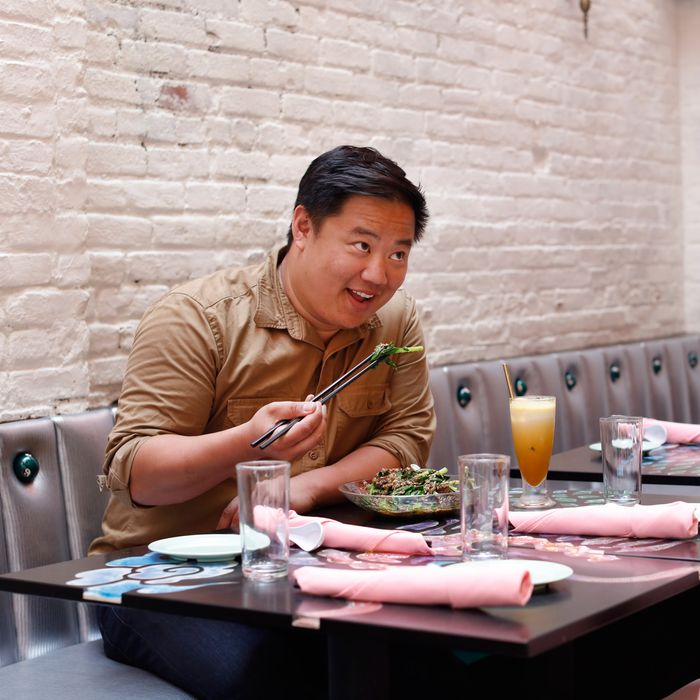 "I co-wrote the Mission Chinese cookbook, and I love the place and the people there deeply."
Photo: Melissa Hom
It was a good week for the editor-in-chief of Lucky Peach: Chris Ying led his team to victory at the James Beard Foundation's Media Awards, winning for Food Blog and Publication of the Year. Ying celebrated by eating two plates of barbecue ribs, as well as birthday cake, but that's hardly the most exciting part of this week's Grub Street Diet. Ying traveled to Mexico, where he enjoyed papas rellenas and "the greatest burger on the planet," and feasted in Toronto and his home of San Francisco. Read all about it:
Friday, April 22
This is not a typical week. If it were, I probably wouldn't have as many weeks left as I'd like.
It starts in my underwear — just enough clothes to be able to quickly open the door of my hotel room and slide in the basket of coffee, fruit, and pastries that room service leaves outside in the mornings. I'm not religious about coffee. I like it a lot and can linger over a cup in the right context, but in the morning, I'm a chugger not a sipper. I usually let my bean juice cool long enough where I can take it all in one go. I'm the worst.
I finish getting dressed and head over to the hotel restaurant. In the back kitchen, two San Francisco–based chefs are prepping for a cooking demo. Thomas McNaughton and Ryan Pollnow are here at the southwestern tip of the Baja peninsula, where the desert runs right up to the ocean, at a resort called Rancho Pescadero. They're cooking lunch today and dinner tomorrow. Otherwise, we're tooling around Baja California Sur together for a few days, sniffing out what there is to eat.
This morning it's hot-dog ceviche, which is exactly what it sounds like. Nothing more and nothing less than chopped-up cold hot dogs, onion, jalapeño, lime, and tomato, all splashed with Clamato. One of the restaurant's cooks, Lara, has brought a shoebox-size Tupperware full of it from home for us to try. Lucky Peach just published a book dedicated to the cooking and eating of sausages called The Wurst of Lucky Peach, and so both professional duty and social courtesy compel me to grab a saltine (saladita) and scoop some ceviche up and in.
I'll be honest, it's not my favorite way to start the day, but I have a deep appreciation for it. Hot-dog ceviche is party food, something to feed a crowd, but it's also — for lack of a better term — peasant food. Over the centuries, poverty and ingenuity have combined to yield some of the most delicious things we know. Sausage, in a way, is the poster child of peasant food, a way to make the most of off-cuts and innards that the rich don't want but the poor can't afford to throw away. I wax on about this idea for a while and someone mentions a local dish called crema atun — a sort of dip and/or spread made of puréed chipotle chilies, mayo, cream, and canned tuna fish. I feel somewhat fortunate that no one has any on hand. Not sure I'm ready for it at the moment.
For the demo, Ryan makes an outrageous paella (his restaurant, Aatxe, is a Spanish joint), while Tom shows the crowd of 20 or so people how to make fresh ricotta (he made his name cooking Italian food at Flour + Water). The ricotta gets topped with herbs and blossoms and vegetables grown on the property. You can always count on Californian chefs to plunder your garden.
Afterward, the three of us head into the tiny town of Pescadero with Tom's fiancée, Annie, who mercifully arrived yesterday to break up the would-be bachelor party. Our first stop is the bus station at the end of the dirt road leading to the hotel, because I've heard that the lady at the station sells machaca burritos. Machaca is dried beef that's pounded into shreds then pan-fried with onions and chilies. I actually grew up eating the stuff at the Mexican restaurant my mom owned in Southern California. We'd have it scrambled with eggs and rolled up with guacamole in a big floppy flour tortilla. Here at the bus station, the burritos are taquito-size roll-ups of machaca in small flour tortillas. They come pre-wrapped in paper napkins out of a plastic box. Each is four bites, tops, and tastes a little burnt.
Next door to the bus stop is a dim hole in the wall called Loncheria Rosita. A grandmotherly woman named Sarita mans the stove. She's got three things on the menu today: steak fajitas, mole poblano, and chiles rellenos. Each comes with lukewarm rice and refried beans dispensed from big pots on the stove. The mole is great — a dark, smoky, sweet gravy blanketing one chicken wing and one drumstick. We use tortillas to mop up every last drop (the tortillas of choice around here are flour, not corn — they're lardy and tender and served hot and golden from the griddle). The fajitas exhibit no sign of browning and aren't worth reporting on. The chiles rellenos — battered, fried jalapeños stuffed with cheese and canned tuna, soaked in tomato-chili sauce — are pretty nice, but the clear winner is the mole.
We get back in the car and head into the larger nearby town of Todos Santos. At a little shed called Tacos El Poblano, we order carne asada tortas (great big steak sandwiches with guacamole, cheese, and onion on crusty, soft bread that's been toasted crispy), al pastor tacos (not the greatest versions I've ever seen), and something brand new to all of us: papas pastor. On a sheet of aluminum foil lies a nest of mashed potatoes topped with stringy melted cheese, canned corn and mushrooms, al pastor, and crema. You spoon it onto a tortilla, and dress it with salsa and maybe a squeeze of lime. It's stoner-surfer food of the highest order — starchy, fatty, salty, insane.
Let's fast-forward through a few hours of mezcal consumption back at the ranch (specifically in the form of margaritas made with tamarind and Ancho Reyes chili liqueur). It is late and we are somehow hungry again. I bump into a staff member who's mopping the floors, and ask where we can find Sonora dogs, because I've heard that bacon-wrapped hot dogs with mayonnaise and avocado are the nighttime snack of choice around here. He says we can get them by the bus station, then pauses and leans in conspiratorially: "But if you can wait ten minutes, I'll show you something much better."
Ten minutes later, we're nervously tailing our new friend's car down unknown alleyways in Pescadero. I'm not exactly of sound mind at the moment, and I'm simultaneously thrilled and terrified of the stupidity of this trip. Is Tom okay to be driving? He seems okay. Where are we going? This is farther than I thought it would be. Am I even hungry? Whatever, this is going to be a great Grub Street Diet anecdote, if I live to tell it.
Finally, we arrive at a fluorescent-lit patio. A grizzled man works the griddle. Dos papas rellenas, por favor. It's actually the same potato dish we had for dinner, only 200 times better. A boiled russet potato, smashed and drenched in margarine and crema, fully loaded with grilled steak, corn, and melted cheese. It's a vicious logic puzzle. The more I eat, the closer I get to death by cardiac arrest. But if I stop, am I even living?
Saturday, April 23
I feel puffy. I shamefully slide the coffee basket into my room. No one else has left a basket in the hallway this late in the morning.
I catch up with Tom and Ryan at the garden and we check in on one another's gastrointestinal status. Together we swear off any more late-night potatoes. We'll see.
I spend most of the morning being the only doofus at the pool with a laptop, drinking basil-leaf tea and Topo Chico (Mexican sparkling water). In the afternoon, the guys and I head back to Pescadero, to another spot by the bus station called Carnitas Puro Michoacán. They serve carnitas tacos and nothing else. The taquero stands behind a glass case that holds an auburn mass of slow-cooked pork shoulder, ears, and gelatinous hunks of skin under a heat lamp. For each taco, he cleavers a random sampling of pig parts and scoops it onto a freshly pressed corn tortilla. You accessorize it as you like with avocado puree, tomatillo salsa, lime, and escabeche jalapeño, onion, and carrot. We scarf down two apiece, and share a carne asada torta from the bus station for good measure. It's pillow-y and mayonnaise-y. For some reason it reminds us of childhood.
By dinnertime, I'm nowhere near hungry. Tom and Ryan are scrambling around getting ready for service, and I beg them for a spot on the line. I haven't cooked in a professional kitchen in years, but tonight should be a relatively easy time. They relent. I'm in.
Ryan is making a crudo of local yellowtail, a composition with 15 garnishes. He laments that he doesn't know how to cook simply, but his complicated cooking makes sense, which is what counts. The second course, also Ryan's, is toast with pickled mussels. (As the night winds down, I start dipping into his mise en place for snacks.)
Tom is sweating it out on the wood-fired oven, pan-roasting hunks of fish that he dresses with herbs, olive oil, lime, and pepitas. I'm in charge of the vegetable setup that goes with the fish: black-eyed peas, tomatillo, pureed herbs, chard, roasted poblanos, and fermented jalapeño. It's bright, fresh, vegetal. Tom calls it a stew, to which Ryan laughs: "Nice stew weather."
After dinner, we finally feel hungry again and we're off to potato town.
This time I catch the name of the place. La Pasadita. We also score a burger. It is the greatest burger on the planet, we think. The patty is thin and charred hard on both sides. The bun is sweet, crisped on the griddle but still squishy and soft. There's a sweet-hot salsa that tastes like chopped-up escabeche. Tomatoes, shredded lettuce, so much mayonnaise. On the drive home, we nerd out, listing and relisting what we love about the burger.
Danny, the hotel bartender who we've dragged along with us, chimes in, "In Mexico, we would never talk so much about a burger." He shakes his head. "We'd just say, 'It's good.'"
Sunday, April 24
I drink a smoothie by the pool in the morning. On the way to the airport, I get one last carnitas taco. I contemplate another torta, but think better of it. I'm turning over a new leaf today.
Los Cabos International Airport is a brutal reintroduction to the real world. Everyone here is hoarse and ragged and sunburned. People everywhere are crumpled hung-over on the floor. The smell of Subway sandwiches pervades the terminal.
Finally back home in San Francisco, I eat some cold fried chicken that my wife has leftover in the fridge. We talk about going out for dinner, but the conversation turns into a somewhat panicked discussion about money, and we decide to stay home instead. I cook bucatini all'amatriciana. Tomato pasta is my spirit animal.
I have a soccer game at 9 p.m., then come home and eat my pasta. I also steam a few crowns of broccoli, because my wife is pregnant and I frequently get anxious about not feeding her enough vegetables. By the time they're done, she's asleep.
Monday, April 25
My wife and I walk the dog down to Noe Valley to grab a cold-pressed juice. When we get home, she asks if I want some scrambled eggs and I decline. But then I see hers and think I wish I had some scrambled eggs. I make my own batch, which she frowns at and says, "I was trying to get you to make some for both of us." She's half-kidding, but damn, I gotta try to be a better husband.
I'm off to the airport again. Tomorrow night, my staff and I are going to the James Beard Journalism Awards at Chelsea Piers in New York, where Lucky Peach is nominated in a handful of categories. My flight ends up being delayed six hours. I cave twice during the delay and indulge my guiltiest pleasure: shitty Japanese food. I hit up both Tomokazu for chicken teriyaki and Sankaku for tempura udon and a California roll. Jesus, this Diet has taken a real turn for the depressing.

I arrive at my hotel at 4:30 a.m. and don't fall asleep until 5:30 a.m. I have to be in midtown at 10 a.m.
Tuesday, April 26
In the morning I record an interview with Ed Levine from Serious Eats for his podcast. It's my first time meeting Ed, which seems a little funny given how much our two orbits overlap. We have a fun, meandering conversation, although I feel practically brain-dead from exhaustion. He asks me a question about which historical figures I'd dine with and I blurt out, "Helen of Troy." I'm pretty sure that I've never once thought about Helen of Troy until that moment.
I head into the Lucky Peach office in Chinatown, where the staff has saved me a sandwich from Parisi. It's the Dennis — fried chicken cutlets, prosciutto, mozzarella, tomato, basil, and pesto on a hero roll — a staple at Lucky Peach New York. I've never had one before. It's like an Italian cliché in sandwich form, but I immediately fall for it.
Around 2 p.m., I walk over to Mission Chinese Food to snap a photograph for this very feature. I co-wrote the MCF cookbook with Danny Bowien, and I love the place and the people there deeply. The food's not too shabby either. The photographer sits me down with a plate of broccoli beef brisket and a new Thai-iced-tea cocktail that the beverage director, Sam, has been working on. I eat the props.
Back at the office, I show my co-workers a disgusting bruise I got while playing soccer last week. It starts just below my left knee but has now swollen and purpled the rest of my leg down to my ankle. They insist I go to urgent care. The doctor there thinks it's fine, but sends me uptown for an ultrasound to be safe. As the James Beard Awards start, I'm laying with my pants off on a hospital bed, getting checked for blood clots. I end up missing the first hour of the ceremony, but hey, it's okay, because we win three awards, including Publication of the Year. Also, my leg is okay. It's a good night.
Every year after the Beards, we throw an after-party called Winners are Losers. This year marks our five-year anniversary, so we have the party at the bowling alley in Chelsea Piers and theme it like a 5-year-old kid's birthday party. There's mac 'n' cheese, fried-chicken sandwiches, and doughnuts from Pies 'n' Thighs; sliders and thick, crisp, Detroit-style pizza from Emily; and hilariously generous portions of barbecue from Delaney BBQ. I laugh at how big the plate of barbecue is, and then end up eating two of them. Someone forks a piece of Momofuku Milk Bar cake in my mouth. I drink a lot of 21-year-old whiskey from Midleton Distillery and Big Lebowski–themed cocktails that Jim Meehan from PDT is pouring.
At the end of the night, we find a drunken guest catatonic on a bench by the water, and end up spending a few hours getting him safely into a hotel. I fall asleep around 5 a.m.
Wednesday, April 27
I'm up at 7 a.m. for yet another plane ride. Tonight I'm screening and discussing Barry Levinson's Diner as part of a series called Food in Film. It's a year-round program hosted by the Toronto International Film Festival at their big, beautiful theater in downtown Toronto. We'll show the movie and then I'll talk about it onstage with the host, Naomi Duguid, who has been a cookbook hero of mine since long before I was even in the business.
The first meal of the day comes at 3 p.m. at a place in Chinatown called Pho Hung. We just wrapped up production on Lucky Peach's Pho Issue, and I've been on a deep Vietnamese-food kick. You know how reading about a dish makes you crave it? I've been reading about pho nonstop for three months.
We don't get pho. It's fine, because what Naomi orders instead is riotously good. First is a sour, slightly sweet soup (canh chua) with okra, tomato, mushrooms, and fish. I follow Naomi's lead and dip a spoonful of rice into the broth with each bite. Pho Hung makes a delightfully crisp Vietnamese crepe (banh xeo). Bun bo nuong (grilled beef sausage wrapped in betel leaf) rounds out our order. This is the first significant amount of time that Naomi and I have spent together and I'm invigorated by our conversation. We talk about travel and film and politics and food. She fortifies me for my impending fatherhood, explaining kids as an expansion of life rather than a division. Man, she's so cool.
Around 11 p.m., after the film screening and discussion, we head to a relatively new tapas spot that Naomi is into called Bar Raval. We stand around with her friends drinking sherry and eating pintxos, which is perfect because if I sit down I'll definitely fall asleep. We eat smoked mackerel, white anchovies, blood sausage, and peppers with crusty bread. And just when I'm reaching fullness and starting to fade, we call it a night. I love people who know the right time to end things.