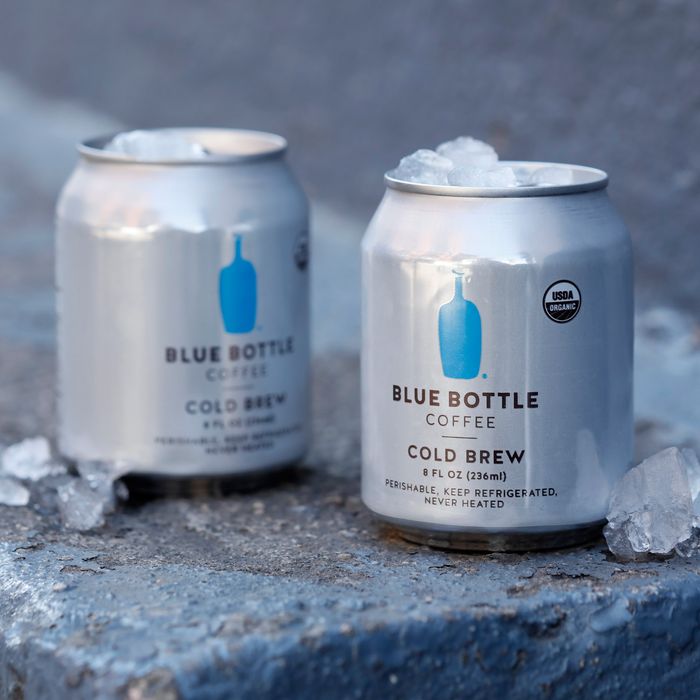 Putting its $45 million in funding to good use.
Photo: Melissa Hom
"You've heard it before: the three waves of coffee," says Todd Carmichael, the founder of coffee chain and industry leader La Colombe. He's referencing the major shifts in coffee culture. First, it was an everyman beverage. Next came the proliferation of coffee shops specializing in drinks like lattes and cappuccinos. Finally, the third wave was marked by operators who treated coffee, and the actual beans, as proper ingredients instead of commodities, and specialized in harvesting, direct-trade sourcing, and micro-roasting. Now, Carmichael says, another major change is about to happen: "The third wave wasn't as big as No. 1 or No. 2 because it was so intellectual," he explains. "But the fourth wave is different. It's cold and portable coffee. That's it. It will be the biggest one of all."
Now that most of the biggest names in the third-wave coffee movement have been bought by larger companies — Peet's Coffee purchased both Intelligentsia and Stumptown; the founder of Chobani is now a major investor in La Colombe; Blue Bottle has received more than $45 million in funding, largely from "high-profile internet players" — they're taking steps toward becoming megabrands that appeal to the masses. This is why Carmichael and his competitors are now embracing the ready-to-drink-coffee market — canning and bottling their beans, and pushing them into retail stores all across America. Consider it the gourmet alternative to Starbucks's bottled Frappuccinos.
After seeing the in-store success of his "draft latte," a cold, Guinness-esque milk-and-coffee drink, Carmichael figured out a way to re-create the experience of, in his words, a "textured craft beverage" in a nine-ounce aluminum can, with cold-pressed espresso, milk, a touch of cane sugar, and even a layer of foam on top. "When you're a company like La Colombe, your aim is to make as many people happy as you can," he says. "I first thought that meant opening a shop on every corner. But instead of having the world come to you, you can go to them."
In fact, there's something of a portable-coffee arms race happening: Last month, around the same time that Carmichael introduced his product, Blue Bottle launched its own canned cold brew — an eight-ounce, $4 aluminum can of water and coffee. Both Blue Bottle and Stumptown have also been selling iced coffee in milk cartons for years: Blue Bottle's New Orleans–style iced coffee comes with whole milk and cane sugar, and Stumptown even has a vegan flavor with coconut cream. But the sleek, compact can, which is recyclable and, the companies claim, better for the environment, is the latest hot innovation.
Carmichael, who's charging $10 for a four-pack, realizes now is the time to seize the moment. "I do and don't feel a sense of competition," he says. "My competition is not the other coffee companies, as much as Apple or Nike. I've got to settle into the idea that it's not a footrace here. All of our products will be very different. James [Freeman, of Blue Bottle] is James, Duane [Sorenson, of Stumptown] is Duane. The cold brew is the base ingredient. But it doesn't achieve what my company wants to achieve, which is to change the world."
If Carmichael has any clear competitor, it's Starbucks — or, actually, PepsiCo, which has produced the mermaid-branded, sugar-laden bottled Frappuccinos since 1994. "The entire market of ready-to-drink coffee is compressed," he says. "Right now the Frappuccino is doing $2 billion a year domestic. And you know the hummus market does $2 billion a year? This is America's favorite beverage, and we're drinking as much of that as we're eating hummus, which is not America's dip. What's going on here? They've been working for 20 years to get it to $2 billion. Then you look to Mexico, which isn't really a coffee-drinking country, and their [ready-to-drink] coffee is at $4.7 billion. How do you explain that? I don't think we've found a product that we're satisfied with — and if you correct this, it's an $8.5 billion market. Someone's sitting on it. It's a market waiting for its market leader."
So far, so good: Carmichael claims that he received his first 10,000 orders within the first 47 minutes of putting his product on sale, and that he has met with "every major retailer in America." You can expect to soon see the packaged lattes "almost everywhere" — Whole Foods, Wegmans, Acme, and even the tiniest of convenience stores, where individual cans will sell for about $2.89. La Colombe's output will greatly increase over the next 90 days, after Carmichael receives a delivery of 5 million cans in the beginning of August. He's currently working out of a pilot production plant in Philadelphia, and eyeing dairy farms in upstate New York. ("The problem is that there aren't enough cows.") Eventually, he'll expand the flavors to mocha, vanilla "but with real vanilla," an intense "triple latte," and a pure-black variety, without milk. "I'm experimenting with every other flavor," Carmichael says. "I want to find my Pumpkin Spice."
To coffee snobs, this might seem like a curious way of thinking, since most serious shops exist in direct opposition to things like bottled Frappuccinos and Pumpkin Spice Lattes, but it's hard to hate on the idea of making good coffee more accessible and convenient than ever before. "This is the most exciting time to be alive in coffee, ever," Carmichael promises. "It doesn't get better than this. It's going to be a tsunami."