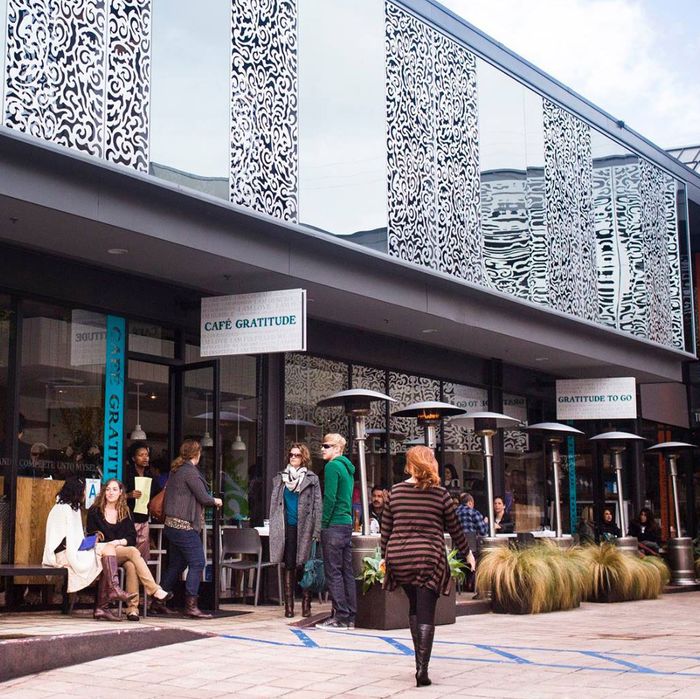 The original location, where a protest is planned for tomorrow.
Photo: Cafe Gratitude/Facebook
The husband-wife team behind Cafe Gratitude, a super-trendy California vegan chain, say they've started getting death threats, and of course one-star Yelp reviews, after news broke this week that they raise and slaughter animals on their personal farm — a life decision that (going out on a limb here) might strike some vegans as a double standard.
Matthew and Terces Engelhart's first Cafe Gratitude opened in 2004 with a founding mission of "sacred commerce," a practice they say relies on "honest and transparent communication." Clearly they've now eaten those words. This week, animal-rights activists stumbled onto a year-old blog post written by the Engelharts, and in it discovered a little-known fact: The couple had full-on transitioned back to eating meat, to the point that they were raising chickens, pigs, and cows on their farm in Northern California. The couple has since put out a statement explaining why this isn't a big deal, and basically the rationale is that God's cool with it:
If I knew of a better or even another solution, I would choose it. We need cows to keep the earth alive, cows make an extreme sacrifice for humanity but that is their position in God's plan as food for the predators. Cows maintain the grass, predators maintain the herd by culling the weak and sick. We can be part of that sacrament. Sacrifice is part of life. As in the passion of Christ, we all have to spill our blood for humanity to know the Father. The cow's sacrifice was been ordained, ours we must choose.
Matthew tells The Hollywood Reporter that people "have taken up the mob mentality," and that it's dumb for choices they make "in the privacy of our home" to get people so irate that they'll create "threats on our lives." More constructive criticism has apparently included calls for boycotts, and there's at least one protest planned for tomorrow. Moby, a long-time vegan (and now an L.A. restaurateur himself), chimed in on Facebook: "I sincerely hope that they discontinue their practice of raising and killing animals for food." And Cooking Channel chef Jason Wrobel penned the couple an open letter that said people feel "deliberately lied to," adding: "I strongly feel that a more public announcement from the company should have been made about the practices at the farm, not tucked away in some obscure blog post."
For their part, the Engelharts aren't apologizing, and really don't even appear to understand the anger. As Matthew put it to THR: "We are baffled … I am allowed to change my mind. And by the way, I never even told them what my mind was. All I told them was it's a vegan restaurant."
[THR]