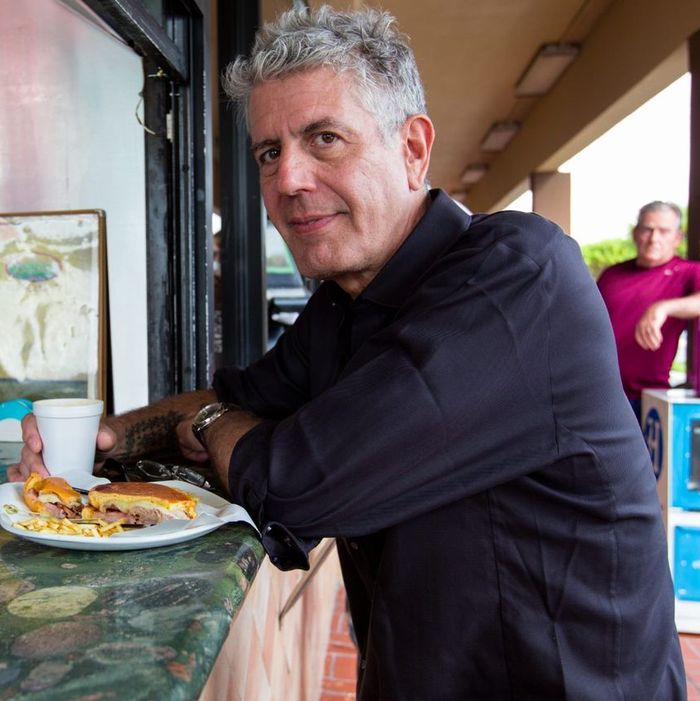 This is your chance to ask Bourdain your most important question.
Photo: CNN
Fresh off premiering his impressive documentary about Jeremiah Tower, Anthony Bourdain reveals he'll hit the stage again this fall. The restless culinary impresario brought his show to the road last summer with his "Closer to the Bone" tour, during which he blamed Adam Richman of Man v. Food for ISIS, and he's going to do it again with "the Hunger." Scheduled to hit 15 American cities from coast to cost plus Toronto, the tour will cover street cuisine and Bourdain's trips to more obscure locales. Fans will get the chance to ask the author their most pressing questions during a question-and-answer, too. A presale code, which you can sign up for through May 1 here, grants early access to tickets on May 2. Otherwise, tickets will be available to the general public starting May 20. Check out the schedule here, and mark your calendars, people.

October 7 at Symphony Hall in Boston, Massachusetts
October 8 at the Grand Theater at Foxwoods in Mashantucket, Connecticut
October 9 at the Cross Insurance Center in Portland, Maine
October 25 at the Barnes & Noble Union Square in New York City

October 26 at the Academy of Music in Philadelphia, Pennsylvania
October 27 at DAR Constitution Hall in Washington, D.C.
October 29 at Place Theatre in Columbus, Ohio
October 30 at Fox Theatre in Detroit, Michigan
November 1 at Sony Centre in Toronto, Ontario
November 12 at the Fabulous Fox in St. Louis, Missouri
November 13 at the Paramount Theatre in Seattle, Washington
November 14 at Pantages in Los Angeles, California
November 16 at San Francisco Opera House in San Francisco, California
November 17 at the Center for the Performing Arts in San Jose, California
November at the Academy of Music in Denver, Colorado
People's Choice: TBD at a Parts Unknown City
[Eater]