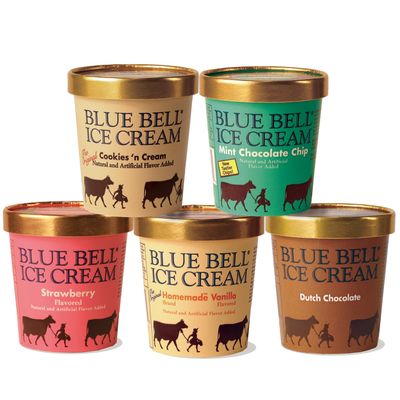 Definitely almost certainly safe again.
Photo: Courtesy of Blue Bell
Blue Bell is still recovering from a months-long recall that nearly bankrupted the company because of a massive listeria outbreak in its plants. Now the ice-cream-maker tells the FDA it's probably as close as it'll ever get to nailing down what, exactly, caused all the problems.
The outbreak ultimately spread to all three of Blue Bell's production facilities, but the company explains it's pretty sure it knows what went wrong in its Broken Arrow, Oklahoma, facility: Some particles carrying listeria entered that plant's drainage system, worked their way underneath a room where clean equipment was stored, and "emitted" the dangerous bacteria into the air. "We believe that this mechanism — particles emitted from a drain — was the most likely source of listeria," is how the official filing has it, adding that Blue Bell has "since removed" that drain and stopped placing sanitized equipment in that storage room.
Unfortunately, the company's investigation proved less than illuminating at its other facilities. For its main plant in Brenham, Texas, Blue Bell says it can only narrow the cause down to "various potential sources," saying investigators regrettably "could not identify a single common source of listeria in the facility." However, that may have worked out better in the end, since the company's resulting response was essentially to sterilize indiscriminately: disposing of equipment, blasting plants with disinfectant, and adopting "comprehensive facility-wide programs" to "confront" future sources of contamination.
Blue Bell's official filing with the FDA claims, "We believe that these enhanced programs are enabling us to effectively control for Listeria." The company also notes sales have picked back up, which is frankly more than Chipotle can say, but it's worth remembering the ice creamery won't be in the clear until the Justice Department wraps up its quiet criminal investigation of what Blue Bell executives knew about the outbreak and when.