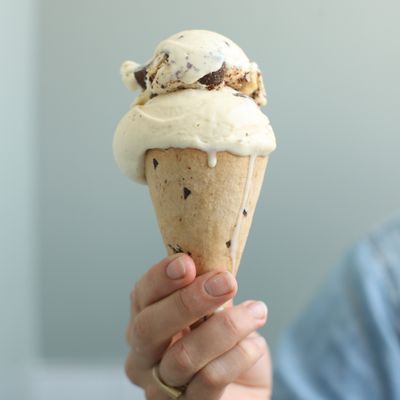 More good news for New York cream lovers and High Line walking tourists. This May, Ample Hills Creamery, one of New York's most celebrated ice cream makers, will open its second Manhattan outpost, this one in the Meatpacking District.
Located at 73 Gansevoort Street in a space attached to Bubby's Highline, the new shop is near the Whitney and, naturally, the High Line, so you can be sure that as the weather warms, the lines will swell, too. At the 400 square-foot space, which will have its own entrance, the team will have booth seating for eight to 10 people, pie shakes, frozen drinks, pints to go, and a location-specific exclusive flavor, per Ample Hills rules.
The mini-store will be the growing chainlet's sixth location: owner Brian Smith already operates two in Brooklyn as well as stalls in Brooklyn Bridge Park, Gotham West Market, and Jacob Riis Park. It's not unreasonable to expect more and bigger things out of Ample Hills, either, as the company recently raised $4 million in additional funding and will use the money to open a modern, 15,000-square-foot creamery version of the Willy Wonka factory.