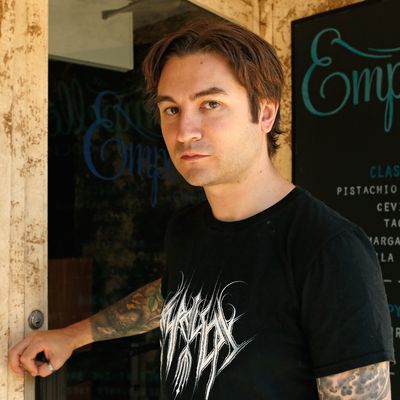 Stupak, at his East Village restaurant.
Photo: Kathy Willens/AP
This week, Alex Stupak — the chef and owner of Empellón Taqueria, Cocina, and Al Pastor — announced plans for his fourth restaurant, another Empellón located in midtown, at 510 Madison Avenue. Stupak has said previously, "We're going to open one more Empellón in New York City, and then I hope that the Empellón collection is complete." As it turns out, Stupak's plans for the next few years are quite grand — he wants to expand overseas, open a delivery-only restaurant, and extend his cooking beyond the "Mexican-inspired" cuisine that has defined his career in New York. Grub caught up with him to learn more about the project:
This will be your first restaurant outside of downtown Manhattan. Why does midtown feel like the right fit?
I'm really proud of our first three restaurants. But, historically speaking, we took over defunct restaurants. You go in there, you get on your hands and knees and scrub it clean. I wanted to go into a raw space, where we could build it from scratch. When I opened my first place, I didn't really have opinions on neighborhoods, whereas now I have definitive opinions on all of them. I want to bring my food to a different audience; plus, I wanted a location with some gravitas to it. And I found one. It's close to Rockefeller Center, The Four Seasons, and the Modern. I wasn't aiming specifically at midtown; I was aiming specifically at a neighborhood that I hadn't been in before.
What were some of the other neighborhoods you were considering, or might still be considering, for a fifth restaurant?
Well, I'm not considering any right now. This is it for a while. But I looked in Tribeca, uptown, and even in Williamsburg. The one was just really special. I also looked really far downtown, at Wall Street and the South Street Seaport.
You're entering a more touristy neighborhood. Is that something you're taking into consideration as you shape the menu and the design?
I don't know. Just because it's midtown doesn't mean I'm going to put a shrimp cocktail on the menu. I'm not going to roll that way. I think I am going to treat the place like a neighborhood, and I am going to understand and give something that that neighborhood wants. It's a risky place because the rents are crazy high. It's sort of a Venn diagram treating your neighborhood like a neighborhood, and looking at your surroundings and understanding and caring about that psychology. I want all the new Empellóns that we do to be of the place, rather than, "Now we've perfected it and we're going to do the exact same thing in London."
We're seeing so many chefs jump ship from New York right now. Do you think about opening in another city?
There are real reasons that's happening right now. I try to think optimistically … but there are some very difficult challenges in New York. The parameters were already difficult to operate, and they're becoming more so. I'll also say that there are a lot of restaurants in New York City that don't matter. I'm not trying to sound harsh. But when I think of why I go out to eat, I think of not only the food or the room, but I also think of the story of that chef or that place. All those things matter to me.
Maybe once upon a time you could open up a restaurant that's just okay and serves a menu that's going to be a catchall for everyone. Right now in New York City, if you go out to eat, I'm going to say there's a 50/50 chance you're going to get a good table, a 50/50 chance you're going to get good service, and a 50/50 chance you're going to get good food. So having said all that, why wouldn't you order delivery on Caviar or Seamless, a bottle of wine at the liquor store, and watch fucking House of Cards on Netflix on Saturday night?
That's why these food-delivery start-ups are booming.
I'm trying to think positively about that. It's not only a question of how — meaning, how are we going to open up a restaurant, or how is it going to be profitable? But also, to me it's the why — why are you doing this? Why does this thing that never existed need to exist? And if the only reason is, well, it's a business and it's going to kill it and it's going to make a shit-ton of money — I don't know. Some, like you said, are just not going to open here anymore.
I know that you have your restaurants on all the delivery platforms. Tacos historically don't travel well. What went into your decision to embrace delivery?
We had always thought of it, right from the get-go, at Al Pastor. I was always reluctant to do it at Taqueria, because the tacos at Taqueria are more expensive. But I decided to try it with the assumption that no one would order them. Man, was I wrong.
It's like a whole new business. It's like a whole new thing. So we are on all those platforms for the same reason everyone else is, because they allow the restaurant to not have to deal with the unknowns, or the new augments to the labor model. Like, how do I staff delivery guys? And what's the insurance like on that? And how many should I have on a Saturday night, or should I staff more when it's raining out? You're piggybacking on these other companies to sort that out for you, and they're taking a big chunk of your profits.
I'm doing all of that to gather data because my inclination is that we will need a commissary kitchen to be able to produce salsas, adobos, moles all in one place, to have them be properly consistent. I'm building a heck of a prep kitchen at the new place, but I still think that's an intermediate step to something else that would probably be a delivery-only restaurant. But I would need more time to work that out.
How do you ensure your tacos hold up?
It's really simple, honestly. Our tortillas at Al Pastor are really fresh — like really, really fresh. And freshness of the tortilla matters. It's a really simple rule: Once the tortilla goes cold, we don't serve it, because it becomes brittle. Ironically, the more takeout and delivery that you can sell, the fresher your tortillas will be, because you're creating a deficit. And we just have a very simple, low-tech way of wrapping them up. I put them on a small paper plate and I literally fold the entire paper plate in half like a taco, and wrap that entire construct in foil. And that does a pretty decent job of protecting them, so they don't get crushed or jostled.
But again, I have also historically never mastered anything and then put it out there in the world. It's always been the inverse. We make it exist, and then we learn from it every step of the way. We go at it with the mentality that nothing is ever good enough and that we're going to keep chipping away at it. It's years to come, but I think that eventually our delivery and takeout will all then be removed from Al Pastor and Taqueria and be centralized in a new place which will be built with the finite focus of deploying that at the highest quality possible, with no dining-room activity to distract from it.
I remember your story of opening Taqueria, and you thought you were going to have corn tortillas. Then you had to quickly switch to flour.
Everything has changed. I just had Jeff Soto make a gorgeous new mural in the front dining room of Taqueria. We are never going to stop chipping away at the existing three restaurants and getting them all to be better at what they are.
What are your other long-term goals?
I have every intention of revisiting Cocina again.
You always are tweaking with Cocina!
It's literally my favorite and most frustrating restaurant. I think we are going to take the tasting-table experience and expand it. Taqueria, I mean, it's not super exciting, but we're literally breaking the restaurant. It's become busy to a point that we're breaking the restaurant. There are 70 employees there, so I can't close it, so every change is made covertly overnight. But actually, next week, we are changing our hours of operation at Taqueria from noon to close, seven days a week, to make it an all-day place. I wish I could explode the brick walls and robe the whole thing in glass, but the building is landmarked, and I'm not allowed to do that.
And Al Pastor, again, it's actually oddly the most complete of the three. There are some things that we're going to do next year to refine it. But I think after this next Empellón, it's time to take this show on the road. We'll start looking at other cities.
Which city do you want to start with?
The first one? If I could pick any one?
Yes.
London. I really want to bring Empellón to London. And again, other than that, and this is very long down the road, but I would like to come back to New York City and open some restaurants that aren't called Empellón.
Mexican restaurants or different cuisines?
I think they'd have to be a bit more free than that. With Empellón I'm always trying to liberate it. I'm consistently saying that we are a Mexican-inspired restaurant, and my hope is that it evolves to the point where we are not referred to as anything. We are just accepted as what we are. It's going in that direction.
I am someone who is very inspired and very in love with a cuisine. But I don't want to be the white knight of Mexican food. I love it, but it's ultimately not my culture, and I am not going to manipulate myself or lie to pretend that to win some sort of recognition.
And if you interpret it personally, then people get upset it's not "authentic" enough.
Yes. Now the first thing on the tasting menu is a piece of nigiri. We are further and further looking at this cuisine and its sensibilities as our core, as our way that we think about how things should taste. But then, in terms of everything else, I want it to be more free. I mean, again, think about if someone opens up an Italian restaurant — people aren't really discussing how Italian it is.
… I'm inspired by elBulli. Like, if you look at their first cookbook, their food was very Spanish. Very Mediterranean. And if you look at their last cookbook you don't know what it is — it's just them. It's just so unique to them. And I'm not comparing myself to them, and I don't think I'll ever achieve anything close to what they achieved. But I do like how an idea starts, you take it really deep for a really long time, and then changes on the other end. When you're looking at an artist's work, you can see from their first paintings and their last paintings how things sort of evolved over the course of a long time. I'd like to see that happen with my career. Like, when it's all over, I can look back at it and see some real diversity and some real evolution.
I still would love to see you do a dessert concept.
[Laughs.] Desserts are hard. They're tough. Maybe we'll get around to it. Right now the catalyst for growth for me is purely about the team. It's about keeping the great people you have, and also being greedy for more. You're really and truly only as good as your team and your ability to inspire them.
What do you think about all the changes in payment structures?
Minimum wage is going to $15 an hour; that means they're going to make $20 dollars an hour. Fifteen dollars is going to be the new low. So, how do you afford that? For my perspective, you have to grow. And that's what's getting scary for me, when you start looking at really great, really small places. I worry how everyone is going to stay afloat.
The restaurant industry has been flawed for a long time. I can tell you that when I left culinary school, my first job paid me $80 a day, five days a week, and if I worked a sixth day, I'd still only make $400. I never thought about that back then. I think about the jobs I had in kitchens in high school, where I got paid an hourly, and I actually got paid time and a half. I was making more money when I was 16 years old than I was when I got my first job in a really fancy restaurant after graduating culinary school. So there is something broken there. If being a chef is truly a white-collar profession, let's fucking prove it.
We do have to huddle up and figure out how to get paid maternity leave, which we've always paid, but a lot of restaurants don't. It's like, "Oh, you've worked for me for three years and you got pregnant, so now you have to leave." Or, "You're a father, now you have to leave." You're fired? Or you're going to leave and we're not going to pay you and there's going to be no job waiting for you when you get back?
It's a huge problem.
I can see it from both sides, because, as a restaurateur, how the hell do I afford that? And if there are any margins, they're already super thin. I'm not looking at it pessimistically. I'm looking at it and standing by and being highly interested.
Do you have any plans to eliminate tipping?
I don't think eliminating tipping is going to work for everyone. I don't think that's an end-all-be-all answer. I think it works great for the high-end places. I don't think that it computes at different levels. I don't think you can go to a bar where you're used to getting a Pabst Blue Ribbon for $3, it's not going to compute that you're not going to tip your bartender, but you're going to pay $5 for the beer.
It's just not going to add up, and not to knock my neighborhood, but particularly not in the East Village. In the East Village, I have people walk in and immediately just want to know my happy-hour offering.
Or servers will quit.
That's the other side of it, too. Yes, you can equalize … the kitchen cooks are not making enough, and the dining room is taking too much. But if there are servers who were used to making $80,000 on tips and now you're saying, "You're going to make $60,000," they're going to go work at Tao or Lavo. Or you're going to attract lesser servers, perhaps. Unless it's a really famous place where people see being a server as a professional career — which isn't common in New York City. In Europe, it's a thing, but here it's kind of like, "Oh I'm an actor." And I go, "Oh, really, cool! What restaurant do you work at?"
It will certainly be an interesting next couple of years.
The restaurant landscape now is not anything close to what it was in New York City 20 years ago. I think reinvention and change is always happening. But we're facing a big wave of it now. I think you're going to have a lot to write about.