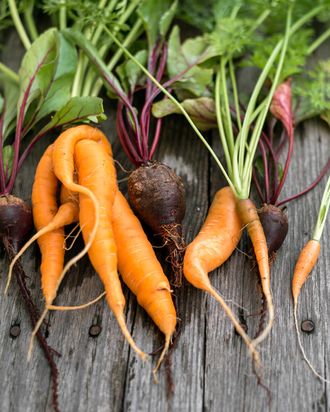 Vegetables with faces only a mother could love.
Photo: Andrey Moisseyev/Getty Images
Whole Foods is about to tackle America's massive food-waste problem through a partnership with a start-up called Imperfect Produce: Several Whole Foods locations in Northern California will start stocking weird-looking fruits and veggies that would otherwise end up in the garbage because of their cosmetic "abnormalities." NPR reports the produce will go on sale in late April, probably bundled in mesh net bags with the Imperfect logo to set them apart from Whole Foods' regular produce. If it catches on, it would arguably mark the biggest leap into the movement to curb food waste by a national grocery chain.
The move fits in alongside growing momentum to reuse and conserve food, and might also be the result of a little pressure: The @UglyFruitAndVeg Campaign just got 111,000 supporters to sign a Change.org petition calling on Whole Foods and Walmart to be smarter about their food waste. The average American household throws out $640 of food each year, and both entrepreneurs and chefs argue it's time to change that paradigm, with advocates noting all of the good that extra food could do if it went to hungry people. Of course, it's going to be a different demographic buying bags of deformed apples at Whole Foods, but it will bring some cachet to the idea. Maybe the lower cost will finally even help the grocery chain kick that nickname it hates so much.
[NPR]