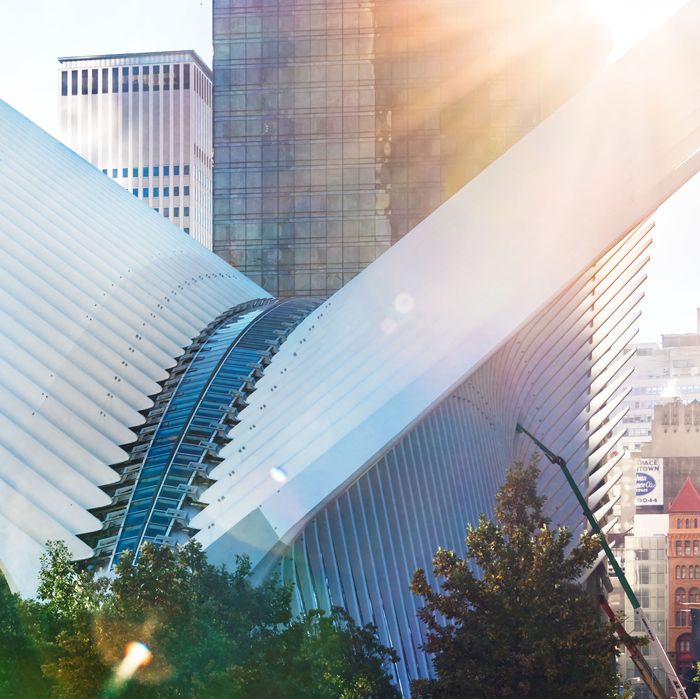 You did it!
Photo: Roberto Machado Noa/LightRocket via Getty Images
Today, New York officials unveiled the Oculus, the $4 billion World Trade Center transportation hub that took too long to build and was designed for maximum gawking. Word on the street is that it's pretty awesome and eager New Yorkers are already moseying on over to check it out. Seeing it for yourself, though, will require not only expending the energy necessary to get over there, but also potentially jockeying with the crowds that will undoubtedly gather. In other words, you deserve a good meal (or drink). Don't fret about the Financial District's reputation: Grub has selected five great options for dining nearby, whether you want something quick and cheap or have the time and money for a sit-down meal.
You need something to grab and go.
Jersey Mike's: The aptly named New Jersey hoagie chain serves oversized hoagies Garden State-style. The menu of cold and hot subs consists of your usual Italian-American and deli favorites, like the Original Italian (provolone, ham, prosciuttini, cappacuolo, salami, and pepperoni) and mash-ups like the buffalo-chicken cheesesteak. The sandwiches — unless you opt for a 14-to-15-inch Giant — are $10, making it a solid option for a filling, cheap meal.
If you don't mind mulling around, because you want options.
Hudson Eats: Sometimes you want options. If you can spare the time spent deciding and then un-deciding on several options, this nearby fancy-food mall offers plenty of choices. There's Montreal-style bagels from Black Seed, donburi and raw fish from Blue Ribbon Sushi, the French marketplace Le District, northern Chinese cooking from Northern Tiger, and much more. Plus, Dos Toros sells super cheap Tecate.
You're looking for a sit-down meal that won't break the bank.
Malaysian Kitchen: The Southeast Asian waterfront restaurant is an unexpected, wonderful surprise and exactly the kind of restaurant this neighborhood needs. There are Chinese and sushi menus, but focus on the Malaysian dishes. These include fishy curry laksa (perfect for this cold weather); ipoh chicken-noodle soup; rendang and nasi lemak; or curry chicken with sambal, anchovies, peanuts, hard-boiled egg, and coconut rice. It's open for both lunch and dinner, and offers nice waterfront views, too.
You have a couple hours to kill.
North End Grill: If you're looking for something higher-end and plan on hanging out for a while, head to Danny Meyer's New American spot in Battery Park City. The restaurant's menu features oysters, charcuterie, and a range of cooked dishes that are both American, like the clam pizza, and French, like the dover sole with Grenobloise, as well as plenty of grilled meats.
For your post-oculus drink.
Evening Bar: Toast your achievement of seeing something cool-looking and drop by Andrew Carmellini's handsome, upscale watering hole in the Smyth Hotel. PDT alum Anne Robinson runs the bar, serving drinks like the "Improved" Mimosa (fortified with Banks 5 Island rum and honey) and the Little Toddy (Rittenhouse rye, Licor 43, chocolate-mole bitters, lemon, and demerara). The bar is attached to Carmellini's Little Park, so you'll want to stay for the upgraded bar food like the beet "tartare," grass-fed burger, and big-eye tuna with market vegetables.