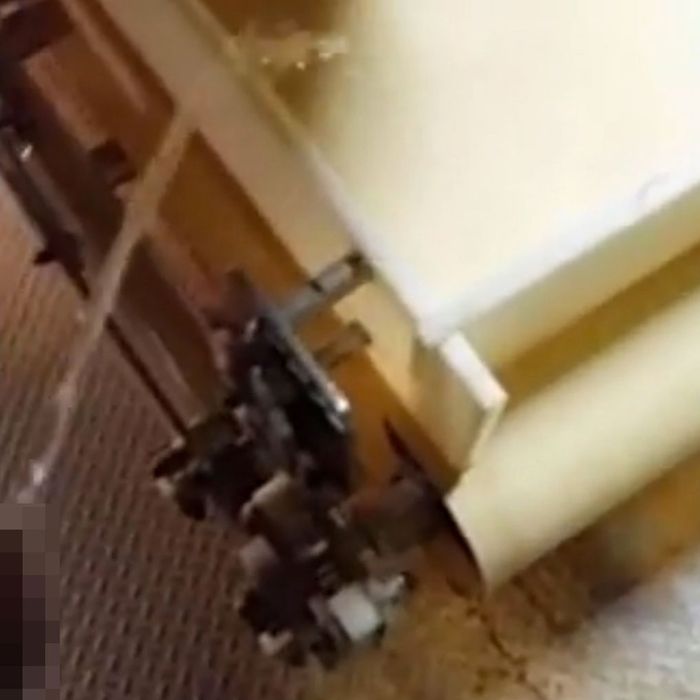 Some video shot by a disgruntled Tennessee factory worker made for a rough weekend at Kellogg's headquarters. First posted to WorldStarHipHop, the footage shows a worker on the assembly line, whose identity is still unknown, urinating directly onto a conveyor belt that ostensibly carried Rice Krispies Treats cereal and snacks. The company says it's "outraged" by the incident, which it believes happened at a Memphis facility back in 2014. Local news station WREG explains the timing would appear to overlap with "a nasty labor dispute" at the factory that resulted in employees getting locked out for months.
As expected, the video is gross:
Here's the full statement Kellogg's rushed out to stress how much it frowns upon this particular production-line activity:
Kellogg takes this situation very seriously and we were shocked and deeply disappointed by this video that we just learned of yesterday. We immediately alerted law enforcement authorities and regulators. A criminal investigation is underway as well as a thorough internal investigation.

Our investigation revealed that the video was recorded at our Memphis, TN facility, in 2014. Products that could have been potentially affected were Rice Krispies Treats, Rice Krispies Treats cereal and puffed rice cake products, all of which would be past expiration date.

Food quality is of the utmost importance to Kellogg Company. We are outraged by this completely unacceptable situation, and we will work closely with authorities to prosecute to the full extent of the law.
WREG's viewers may not exactly have their fears allayed, though — as the story's reporter warns: "The man who you see here spraying urine all over the place? Well, he's still out there on the streets."
[WREG]