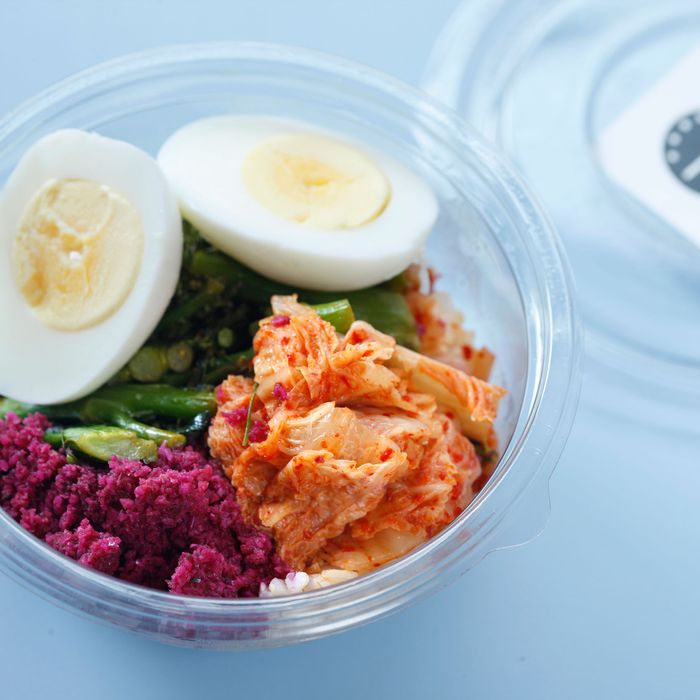 Dimes Deli is one of the 100 New York options.
Photo: Melissa Hom
Uber, always looking to expand its market beyond ride-sharing, has been slowly testing its own food-delivery business, and now the company has expanded that service — UberEATS — into a full-blown, stand-alone app, directly competing with services like Caviar, Postmates, and, of course, Seamless. (And, soon, a new food-delivery concept from David Chang.) Uber's service launches today in Manhattan, and unlike the first iteration of Uber's delivery program, which emphasized speed and only offered two or three options, this one's totally separate from its car service.
Food from more than 100 New York restaurants — including Black Seed, Court Street Grocers, Pies 'n' Thighs, Veselka, and Noreetuh — is available on demand to any location in Manhattan below 100th Street. There's no delivery fee, or need to tip, for the time being, but eventually Uber will implement a flat surcharge. When that happens is "to be determined," says Michael Conti, the general manager of UberEATS NYC. He adds, "We want to offer free delivery for enough time that people have the chance to try the app many times."
Last night, I gave the UberEATS app a test-drive, ordering dinner from Dimes Deli, and it was an easy and pleasant experience. There was one initial hiccup — the order got canceled, for an unexplained reason — but it went through after a second request. The interface is simple and straightforward: You can see, in real time, when the restaurant accepts your order, starts preparing it, and hands it off to an Uber bike messenger, whose movement you can trace on a map. The food arrived within about 30 minutes, as promised, and UberEATS updated the estimated delivery time to reflect even the slightest delay. ("Uber is known for speed," Conti emphasizes.)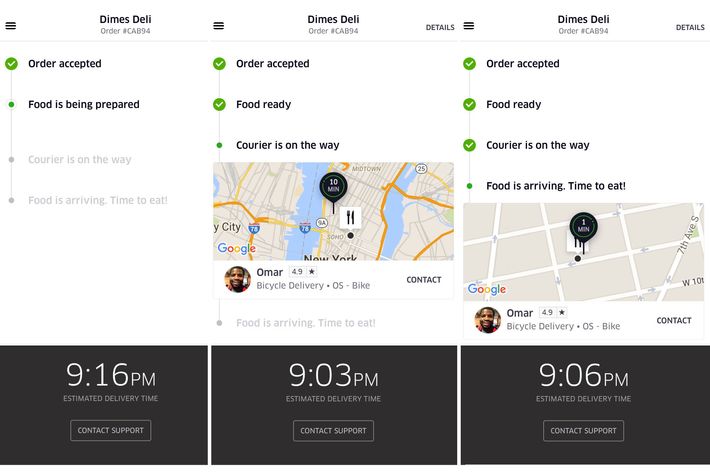 The main attraction of these nouveau delivery services is that they deliver restaurant food that isn't often available to eat at home. But the problem is that most of this food isn't typically built to travel and can sometimes suffer during the journey. So, do noodles from Ivan Ramen Slurp Shop, or tacos from Empellón al Pastor, really hold up? (Maple mitigates this issue, somewhat, by handling all of the food prep, ensuring that its dishes are made specifically with delivery in mind.) "Quality is of the utmost importance to us," Conti says. "Our focus was on the most popular restaurants. We looked at ratings across different platforms, as well as buzz from press and social-media influencers, when selecting them." When asked if his team actually tested out the hard-to-deliver items, he only says, "My team has eaten a lot of food."
I admittedly played it safe by ordering rotisserie chicken, a salad, a rice bowl, and a chia-seed pudding (the closest I could get to "dessert") from a place that has already optimized its recipes for takeout. My order met my expectations: Everything arrived totally intact, packaged nicely; the chicken was still warm; and it all tasted exactly the same way it tastes at Dimes Deli. What does differentiate UberEATS right now is the ability to rate each and every dish — not just the experience overall. Instead of Uber's star system, there's a thumbs-up and a thumbs-down, and if you give the latter, you can note if the taste, portion size, temperature, or presentation disappointed you. "We'll be learning very quickly if there any issues with any dishes or restaurants," Conti notes.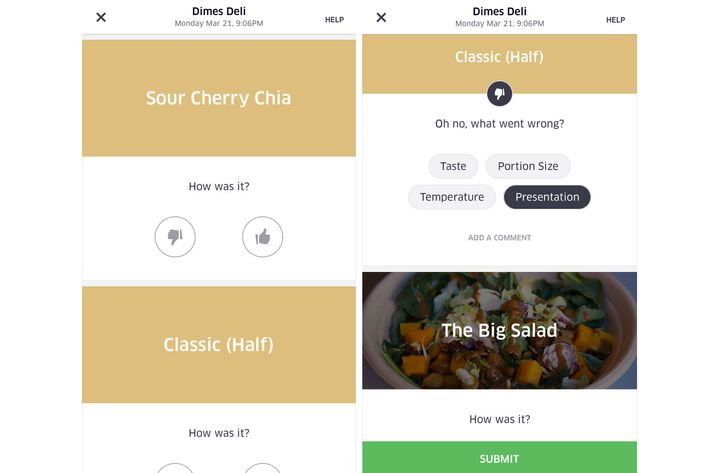 Still, it's going to be challenging for UberEATS, considering all of its competitors, and it doesn't seem like the company has found a way to stand out from the pack at its launch. "The curation of the restaurants is super important," Conti says. "When you log into the app, you won't be overwhelmed with choice, and you don't have to wonder if the food will be great or not. Everything is great. It should make choice a lot easier." This isn't exactly true, and it sounds like a talking point borrowed from Maple. With more than 100 choices, the UberEATS app is still quite overwhelming — but, then again, so is the entire delivery landscape in New York right now.