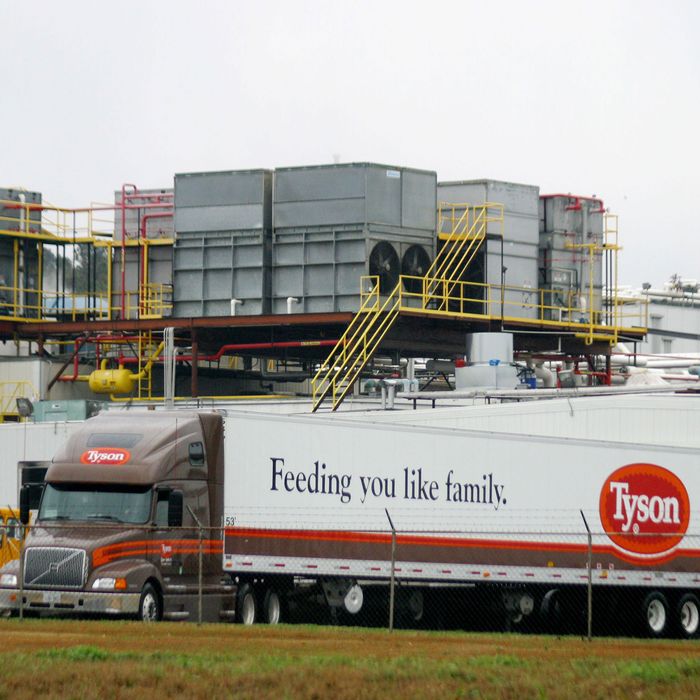 Not so green.
Photo: Mario Villafuerte/Getty Images
Factory farming's downsides seem to be on everybody's mind these days, so here's one more to consider: It's creating an ungodly amount of pollution. Just Tyson Foods alone, one of the world's biggest meat producers, is responsible for dumping more crap into U.S. waterways than almost every other big company, according to a new report by eco-advocacy group Environment America. Companies are required to report pollution from their processing plants to the EPA, and Tyson's numbers make it the country's second-worst polluter from 2010 to 2014, the most current year on file. It gets edged out by steel-and-coal behemoth AK Steel Holding — 104 million pounds of discharges into waterways, versus 107 million — but the Department of Defense is a distant third with 63 million pounds. In fact, by this rubric, Tyson pollutes more water than Cargill and ExxonMobil put together, or, for one more fun comparison, more than rivals Pilgrim's Pride and Perdue Farms plus Koch Industries.
A lot of what Tyson and and its subsidiaries dump are nitrate compounds, which in great enough numbers can threaten public health and create "dead zones." Environment America adds that what Tyson discloses to the EPA doesn't include any pollution that occurs on its farms, either. This mostly consists of manure, and Tyson says it processes roughly 35 million chickens, 128,000 cows, and 401,000 hogs every week.
Waste management has caused trouble for Tyson in the past, unsurprisingly. Most recently, it was in Missouri, where the company had to pay $539,000 for illegally dumping ammonia into the sewers that the state said killed 100,000 fish.