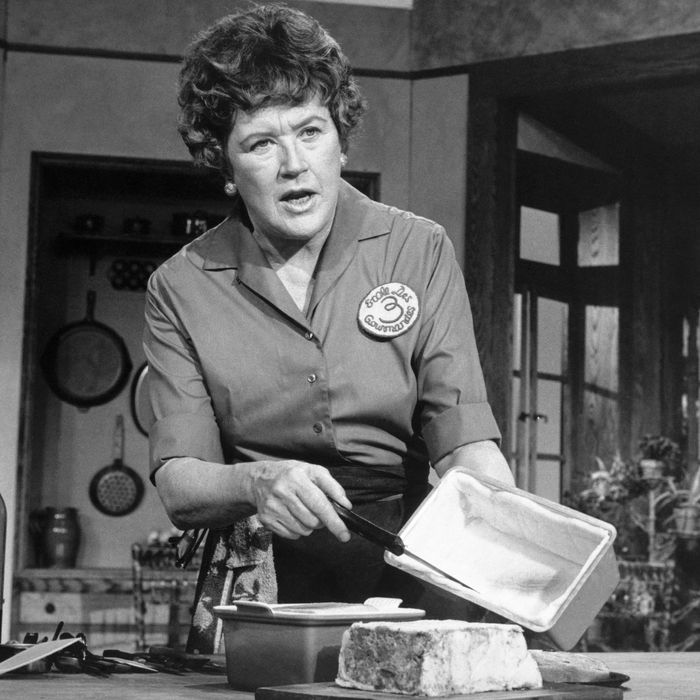 Mastering a new art.
Photo: Bettmann/Getty Images
Twitch, the video-game livestreaming platform owned by Amazon, has launched a new food channel, and to celebrate it's running all 201 episodes of The French Chef in a row right now. That's 100 straight hours of Julia Child and her butter, red wine, and uncannily clean towel, and the channel sounds remarkably similar in concept to Nom, a new app for livestreaming food shows released by one of YouTube's founders at SXSW this week. Twitch is hoping the channel will give viewers — on the whole, a community more familiar with Call of Duty — a place to chat with each other while watching classic TV reruns. (The opinionated chef has always provided ample fodder for jokes.) The marathon kicked off Tuesday afternoon and runs through Saturday afternoon, and the New York Times says more than 6,000 viewers tuned in to the first episodes, with an early commenter shrewdly summarizing the situation as "microwave generation watch cooking show on a gaming stream website."
A Twitch executive actually went so far as to call Julia Child "the precursor to Twitch's social cooking movement," adding that she's the Bob Ross of cooking, a reference to when the site streamed all 403 episodes of The Joy of Painting last year. That truly epic marathon managed to draw an astounding 5.6 million viewers.
[NYT]