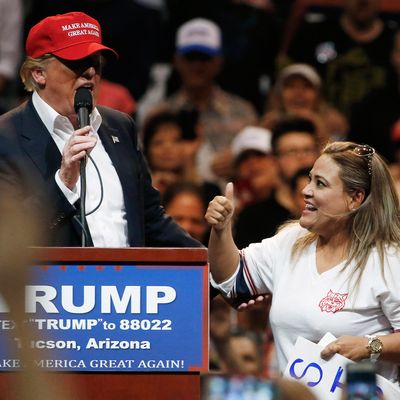 No press is bad press?
Photo: Ross D. Franklin/AP
Betty Rivas, a Mexican restaurateur who tested fate by snuggling up to Donald Trump onstage, would like to reassure the doubters out there that her gamble is paying off: She became suddenly famous last Saturday at a Trump rally when the Donald took an understandable instant liking to her "Latinos Support D. Trump" sign, given his past remarks about Mexicans. He pulled her up to the podium to prove he has actual Latino support, raved to Melania that he was "fallin' in love," and tried (but ultimately failed) to plant a kiss on Rivas's cheek. Sammy's Mexican Grill — the restaurant Rivas owns with her husband, Jorge, in Catalina, Arizona — quickly became guilty by association. The Rivases got death threats, and their Yelp and Facebook pages devolved into the usual cesspool of one-star attacks by internet randos (such as the claim that Sammy's "will give you Ebola," or jokier insults like "You need proof of citizenship to buy a burrito"). Jorge complained to the Arizona Daily Star on Tuesday that their tireless harassers were "doing everything to shut us down."
They also started backpedaling on their support for the Donald, but, lucky for them, his supporters missed that part and just saw a dirty fight, which is kind of their forte. Trump himself gave Sammy's the crucial boost Tuesday by calling on Facebook fans to visit Sammy's in order to "stand up TOGETHER against hatred." Combine that with the fact that there's always a new Trump-related thing to get angry about (and that Yelp stepped in to clean up Sammy's listing), and you get new customers driving in from as far as a hundred miles away. "For every $100 (we made) a day ago, now it's $300. Maybe more," Jorge tells CNN. More than enough for Trump's director of social media to start selling his candidate as Sammy's white knight:
Expect Trump's attorneys to trot this out the next time they meet chef José Andrés in court.
[CNN]