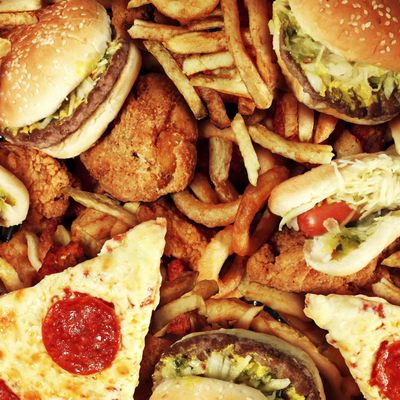 Très not French.
Photo: Wildpixel/Getty Images
France's illustrious culinary traditions are facing their latest attack, only this time there's no microwave or doggy bag to blame — just the taste preferences of the nation's 65 million people. French diners' love for two dishes has reached epic levels, according to a new study, and it's a real problem because neither involves Nutella or a baguette. Per its findings, the future of French cuisine is le burger and la pizza, terms that frustrate culinary purists because all French food worth its salt requires translation.
The study, which was done by French food consultant Gira Conseil, shows a whopping 75 percent of the nation's restaurants have been forced to put a burger on the menu. Worse, 80 percent of those report it's become their top-selling item, enough to make the burger more popular than the ubiquitous ham sandwich. Pizza consumption, meanwhile, is so through the roof that the French find themselves second only to Americans in the number eaten annually. France, again, has about 65 million people (compared to America's 323 million), so that's a number worth keeping in mind in light of the amount of burger-eating that's going on — about 1.2 billion last year, roughly a 12 percent increase. The French ate a record number of pizzas in 2015 as well — 819 million, which is 10 million more than the previous year.
Naturally, this leaves gourmands in a tizzy, since the study warns "the erosion of French culinary heritage" is now all but complete. Especially because only 51 percent of those nearly 1 billion pizzas are even purchased at restaurants. Worse than Domino's, the remainder are store-bought — the height of déclassé.
[Forbes]