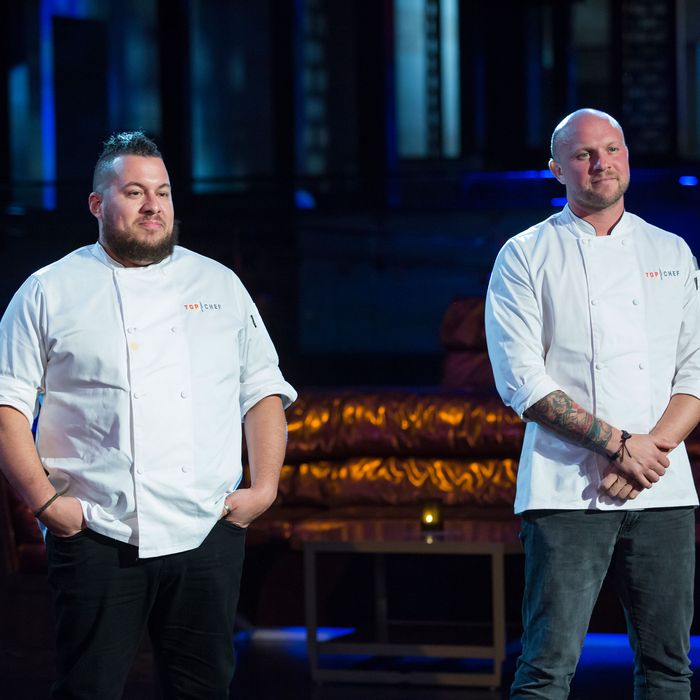 Finally!
Photo: Dale Berman/Bravo
In the immortal words of Taco Dude, "This is it, man." We've reached the end of the road. By the end of the night, a new Top Chef will be sworn into office. Say what you will about this show, but it delivers on the promise of its name.
But who will that be? On the one hand, coos the voice of an offscreen Padma Lakshmi, Jeremy has consistently wowed the judges with "clean, refined flavors and stunning technique." On the other hand, Amar has "a renewed sense of purpose" after his brush with death/elimination. "Even though I won more challenges than anybody else in the season," Jeremy promises, "I'm going to give it 110 percent." Ah, the humility we know and love him for.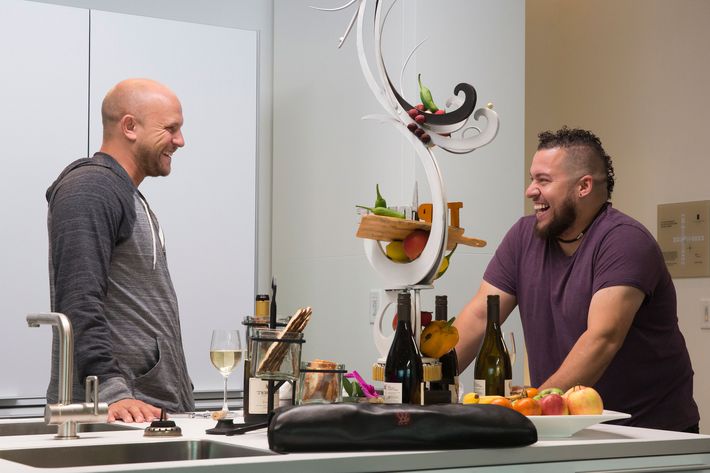 As we start this final finale, the two chefs are just kickin' back, casual-like, making the most of their en suite pool table, when the doorbell rings. "Room service!" chirps Tom, impersonating room service. "In 13 seasons, I've never cooked a meal on Top Chef," he continues, gravely popping some bubbly. But that's about to change, because Tom is now taking to the kitchen to put together a congratulatory four-course meal. Oh, how the tables have turned! Chef Tom makes crab and sea urchin with finger limes; squab with honey-glazed onions; potato pasta with leeks and caviar; and wagyu beef with chanterelle mushrooms and shishito peppers. It all looks delicious; I think he is a strong contender for Top Chef, should he ever wish to compete. "Wow!" raves Amar. "Holy shit," opines Jeremy. "This whole meal was inspired by some of my favorite ingredients," Tom explains, meaningfully, instructing our chefs to spend the night reflecting upon their own favorite ingredients. It is almost as though he is giving them a hint.
I take a moment to reflect upon my favorite ingredients. I come up with "muffins," which is I guess a difference between me and Tom Colicchio.
Entering the kitchen, Jeremy and Amar are greeted by all our fallen friends; it is like the finale of Les Miz, only everyone is alive and not singing. For added intrigue, the chefs will get to choose two of the non-winners to assist them in their final death match. By knife draw, Amar goes first. He chooses Kwame, who might have won the whole thing had he not spent the entire second half of the season methodically sabotaging himself with frozen waffles. Jeremy's first draftee is Carl, because he is "a finesse king." Amar picks Marjorie next, for bread and dessert purposes. Jeremy's final pick is workhorse Angelina, because she is incredibly fast, even if she did once forget to put her tacos on a plate.
For the challenge, each chef will create a four-course meal, highlighting one personally inspiring ingredient in each course. But wait! There's more! Both chefs will be cooking alongside their mentors, very famous chef Jean-Georges Vongerichten (Jeremy) and also very famous chef Charlie Palmer (Amar). Amar and Charlie Palmer have an intense and tumultuous pseudo father-son relationship and have not spoken in several years; Jeremy and Jean-Georges live in an untroubled state of mutual admiration. "Amar hopefully is the kind of guy who learns from his mistakes," offers paternal Charlie Palmer. "This is my bro here!" cheers an enthusiastic Jean-Georges. To celebrate, everyone has a jovial shopping session at Whole Foods.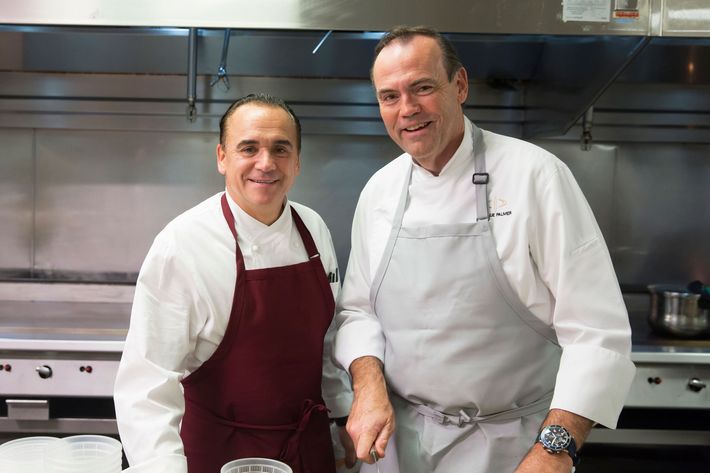 Jeremy is making a foie gras duo (pepper crusted and melted, thank you for asking), slow-cooked bass in herb lime sauce with frozen bass-skin crumbled on top to highlight the fish, roasted duck with "different textures and gels" and "pops of excitement," and, for dessert, a cheese course, showcasing the ingredient of cheese. Meanwhile, underdog Amar is kicking off his last supper with an homage to his Dominican roots — seared tuna tataki — followed by high-risk sea urchin risotto, harissa-spiced roasted lamb, and a coconut-centric financier with tropical fruit salad, to remind him of home and showcase coconuts. It is hard to know whom to root for: Everything on Amar's menu sounds deeply appealing, but I never say no to a good texture or gel.
It is now time for Tom and Emeril to make their requisite sweep through the kitchen, where they have a fun chuckle with Jeremy about opening a crudo bar, and an emotional heart-to-heart with Amar about his dead dad. Amar's dad's last wish, Amar explains for the umpteenth time this season, was that Amar take care of the family, which he intends to do now by winning $125,000 furnished by San Pellegrino and a spread in Food & Wine magazine.
After a good night's sleep with their pool table, the dueling chefs march into the kitchen of Tom Colicchio's restaurant, where they will be serving various familiar faces, such as constant guest-judge Richard Blais and fallen hero, super-sassy René. "I don't have to put 20 components on a plate and spend an hour explaining to people what they're having," he says. Across the kitchen, Jeremy inspects his tubes of foie gras rolled in acetate. He will then spend an hour explaining to people what they are having. It is a battle of technique against flavor. Jeremy uses high-concept processes to transform things into other things; Amar takes food and makes it taste good.
And it's showtime! For maximum drama, the courses will be served head-to-head. First up: the battle of Jeremy's hot-and-cold foie gras extravaganza with chili, passion fruit, and marshmallows vs. Amar's seared tuna tataki with habeñero coconut dressing, compressed pineapple, and toasted peanuts. And who is that hiding in the banquette? Why, it is Jeremy's mother, father, and brother! "Oh my god," he says, stunned. "No way!" agrees Amar, catching sight of his own family preparing to dig into his tataki. "I feel, like, a tear coming on," Jeremy announces to no one; in the background, the music swells. At last, his family is proud of him, even if he did not join his father's construction business. The judges, however, have no such time for weeping. "Passion fruit foie gras is just a beautiful combination," muses Gail, nibbling at one of Jeremy's marshmallows. The problem is that Amar's kicky ode to tuna is also tasty. "They're both very good," nods Tom, wearily sipping yet another white wine.
Back in the kitchen, there is trouble: some of Jeremy's fish fillets are still raw in the middle. "This is one of those critical errors I could lose the competition for," Jeremy intones, ominously. Amar is also concerned, because risotto is always a terrible idea. Is disaster upon us? Have we flown too close to the sun? I am sorry to disappoint you: Everything turns out totally fine. Tom thinks Amar's sea urchin risotto with butter-poached lobster, finger limes, jicama, and shellfish froth is "perfect," while guest judge Dominique Crenn says that Jeremy's branzini with herbal lime vinaigrette and tomatoes is "well balanced." "Now we're in the game," offers bow-tied Richard Blais, astutely.
The game continues apace. Jeremy's new concern is that he didn't have enough time to cook his duck. "I've cooked a million duck over the years," he grumbles, but these duck are "fucking raw. Fuck." He sighs deeply. His ducks are not cooked; his goose might be. Half of them are "spot-on," but "there's a few clunkers in there." Jeremy, you might say, does not have all his ducks in a row. Conveniently for Jeremy, Amar's harissa-rubbed rack of lamb with braised lamb pastilla and date-ginger puree is also somewhat underdone, because that is what happens when you don't listen to Marjorie. The judges love the flavors in both dishes, but concur that they are both oppressively rare. "Jeremy's is maybe a little more tailored, Amar's is a little more full-flavored… but there's not a whole lot of difference," Tom says. One gets the impression that Tom is maybe ready for a vacation.
To top off the meal, Jeremy is offering a "really cool" burrata cylinder, paired with a "beautiful honey sphere," "spot-on" fig jam, and "crispy as hell" pumpernickel toast. What he is trying to say is that he is pleased with it. Everyone is generally pleased with it, although Charlie Palmer does not understand the "honeyball," which makes two of us. Also, Emeril thinks it is "intellectual," which is not a compliment. Amar's coconut financier with mango sorbet, passion fruit curd, tropical fruit salad, and brûlée meringue is too dense, but the tropical fruit parts are good, and Gail finds the narrative structure of his entire meal "very powerful." "It is going to be very hard to know who won this," purrs Padma, wrapped in a sexy copper curtain. "This is…this is going to be a good discussion," opines Tom, with renewed strength.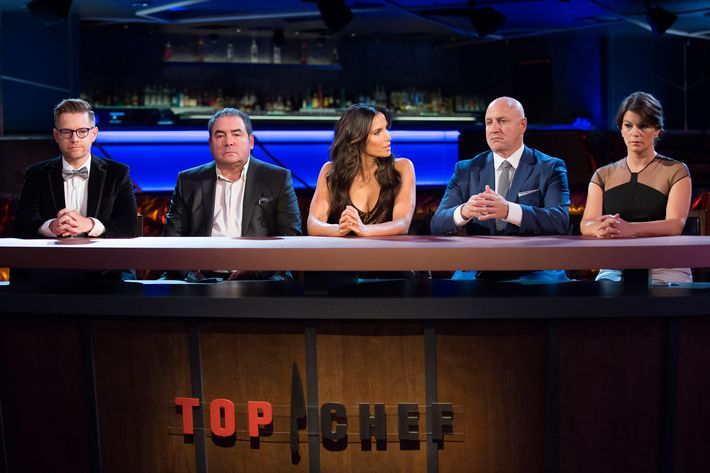 With that, we move onto one final Judges' Table, for old times' sake. To kick things off and foster further anxiety, Padma suggests that the chefs first discuss their mothers. (They love them.) Then we move onto the food: Everyone thinks Amar's sea urchin risotto with shellfish froth was a triumph; everyone also thinks Jeremy's calcium chloride honeybubble was dumb. Padma even rolls her eyes! It is glorious.
As the panel commences their final deliberation, Amar and Jeremy are dismissed to wait anxiously in a room full of pillows. Will it be Jeremy's "vision and artistry," or Amar's "dynamic flavors"? Oh, I think we both see where this is going: The winner is visionary artist Jeremy, as we knew it would be. Gail has been thinking about those pickled grapes all week. "No fucking way!" says Jeremy. What I like about Jeremy is that he is consistent. As a consolation prize, Amar gets a kiss on the cheek from Gail Simmons; truly, there are no losers here.
And there you have it! Friends, it has been an absolute delight. We laughed, we cried, we learned that you cannot make a torchon in three hours, even if you really, really want to. Thanks for reading, bros. Until next year.