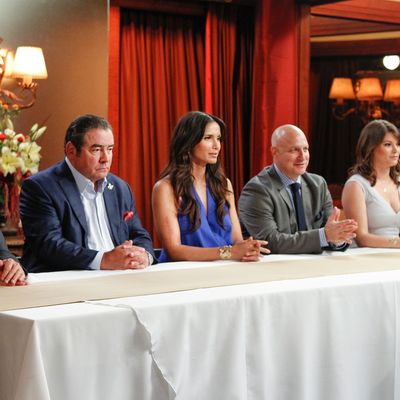 The whole gang.
Photo: Kim White/Bravo
We're down to the final five. It is almost as though the stakes have never been higher. "It's been a marathon of a competition," says eager beaver Carl, who knows his way around a marathon. "You try to save your best for the last five miles." I will take his word for it. It is also an extra-long marathon of an episode — or, in marketing parlance, "supersized."
In the minivan, Marjorie kicks us off. "What are we doing today?" she wonders, scriptedly. Luckily, Padma and chef Traci Des Jardins are there to explain, surrounded by an astounding number of breadbaskets. "For your last Quickfire Challenge," Padma explains, "we want you to make us a delicious…slice of toast." Amar smirks, correctly. "Artisanal toast is a classic San Francisco item now," Traci Des Jardins explains with grave sincerity. "Toast is deceivingly simple," agrees Isaac. The great thing about Isaac is that he is game for anything. "You don't need 50 things on the plate," he philosophizes. "You just need good bread, a couple of good ingredients. You want to make sure your bread doesn't get soggy. Toast time!" And so it is — almost. First, there is one complicating detail: The two chefs with the worst toasts must go head-to-head in a Sudden Death Quickfire Challenge. The winner remains; the loser will be efficiently disposed of. "My heart's pounding at this moment!" Marjorie sweats to the camera. "It's just toast," Taco Dude Jeremy shrugs.
"Who's got the toastess with the mostess?" chirps bright-eyed Carl, enthusiastically hacking at a loaf of sourdough. He's making a shrimp toast with blistered cherry tomatoes and burrata, a controversial dairy/seafood combo that Carl would like you to know is actually very popular in Southern Italy. Marjorie is doing a classic San Francisco sourdough with Dungeness crab salad that she worries is too simple, while Jeremy, who has never worried about anything, slathers ciabatta in chicken liver mousse. "This isn't what I'm used to cooking," reflects Isaac. "It's not very Cajun, but I'm not a one-trick pony." To prove it, he is butter-frying a moderately un-Cajun ciabatta with prosciutto and roasted-red-pepper spread. Meanwhile, Amar is out-luxuriating himself with a light snack of foie gras, duck breast, fig marmalade, and balsamic-truffle glaze on raisin sourdough.
Here is the truth about toast: It all looks good. This is why I recently paid $12 dollars for a slice of bread with avocado and salt smeared on it. After sampling the assorted toasts with tight-lipped stoicism, tough cookie Traci Des Jardins crowns tonight's toastmaster: It's Jeremy! "YES UGGGH!" grunts Jeremy, prehistorically. Now for the bad news: Traci Des Jardens had no use for Carl's burrata-and-shrimp pairing, because we're not in Calabria anymore. He's in the bottom two, along with Amar, who over-sauced his bread and must now fight Carl to the death. The rules of engagement: Both chefs will have 30 minutes to create literally anything that will justify their continued presence on the show.
To honor the import of the occasion, Padma brings in a surprise third opinion to help with judging. Will it be Tom? Surprise! (It's Tom.) First up: Amar, with pan-roasted sea bream, watermelon radish, plum yuzu brown butter, and pickled mushrooms. "Have you ever worked with these flavors before?" asks Padma, ominously. Amar has not. Carl, on the other hand, knows all about crudo, although he insists that technically he has only made it one time this whole season. Tom nods profoundly. It comes down to a vote: Padma goes for Carl's oppressively safe crudo with corn, nectarines, and chilis. Tom advocates for Amar's white fish surprise. That means it's all up to Traci Des Jardins; she goes for the crudo, as they always do, and Carl emerges yet again victorious. Amar, meanwhile, is banished to the online-only wilds of "Last Chance Kitchen."
For everyone else, it's on to the real Elimination Challenge, which will be guest-judged by "fucking legend," perennial Top Chef favorite, and always-on-the-cusp-of-making-it-big-as-a-DJ, Hubert Keller. Recently(-ish) he shuttered his signature San Francisco restaurant, Fleur de Lys. But! For one night only, he will reopen it so that 40 of his dearest VIPs can feast on the chefs' Fleur de Lys-inspired tribute dishes. "A mémoire that no one will forget!" he déclares. "The way you guys have been cooking, I have no doubt you'll pull this thing off," cheers Tom, ensuring it will go poorly.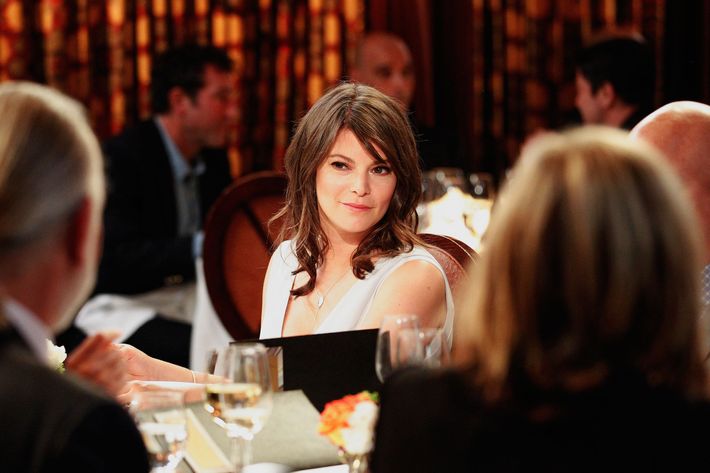 Drawing inspiration from old Fleur de Lys menus, Carl is compelled to make a torchon of foie gras. Carl is beside himself; even his own liver quivers with excitement. "This seems like the perfect time to do a foie dish!" he exclaims. This is true, except it requires three days and he has three hours. Marjorie settles on roasted lamb saddle with artichokes and olives, which is "definitely not groundbreaking," but also has zero room for error; Jeremy's doing branzino and plans to use a "technique so old-school there's no way they're not going to at least give me some credit for that"; and Isaac nervously decides to go with duck ballotine, which he taught himself how to make even though he doesn't have any classical French training. By contrast, if I had three hours to cook something, I'd possibly be able to pull off spaghetti sauce.
In the morning, the chefs suit up for battle in the same manner that warriors have done for generations: in a hotel library. "We made it this far, baby" Jeremy announces to no one. "Let's go ahead and take it home." For Carl, this means frantically de-veining his foie gras before something terrible happens. "Lotta respect for the foie, dude" muses Jeremy, who himself is agitating a pan of frying potato slices to make them puff up like little potato pillows. Making pommes soufflés is a magical process, Jeremy explains. The first time he saw it, he was "kinda like, What the fuck?'" Across the kitchen, Isaac is scrambling to break down and re-stuff six whole ducks, two turtle doves, and a partridge in a pear tree.

Seemingly on a mission to further stress out Marjorie, Tom and Hubert Keller swing through the kitchen to chat about what's at stake. "What kind of pressure do you feel that Hubert's opening his restaurant, this is the last night, and you're cooking for a lot of heavy-hitters as well?" Tom wants to know. "You think you're focused enough today to actually win the challenge?" Hubert Keller adds, helpfully. They ask Isaac if he truly has time to make a ballotine. They ask Jeremy if his boss and noted Frenchman Jean-Georges Vongerichten will be disappointed in him if he doesn't make the finals. And then they arrive at Carl, and the bullying turns to terror. "You're doing a torchon? In three hours?" asks Tom, incredulously. "I feel cautiously optimistic," smiles Carl. In that case, they will leave him to it.
Frenchly, the VIP guests gather around Hubert Keller for a toast (the other kind), before retreating to their VIP tables for the dining to commence. Isaac and his ballotine are up first. Everyone agrees his flavors are good, but his technique is off, and his meat is dry. "I think in that dish, time played a trick on Isaac," Hubert Keller opines, folksily.
Back in the kitchen, Marjorie is "stressed the fuck out." When she appears before the judges, she is barely breathing. Mercifully, she is released quickly, "I think Marjorie hit it on the head when it comes to Provençal, the type of cuisine that I personally like," offers Hubert Keller. Unfortunately, he also thinks the lamb should have had more resting time, Tom thinks the artichokes were underseasoned, and VIP Emeril thinks the whole dish "just never got there." You know who did get there? Resident Bro Jeremy, who is burning through beasts like it's his job. "I really love Jeremy's dish," purrs Padma. "The way it was presented was delicate. It was small, it was cute, it was on the same scale, and then, when you put it together, it just worked," raves Hubert Keller, a sage twinkle in his eye.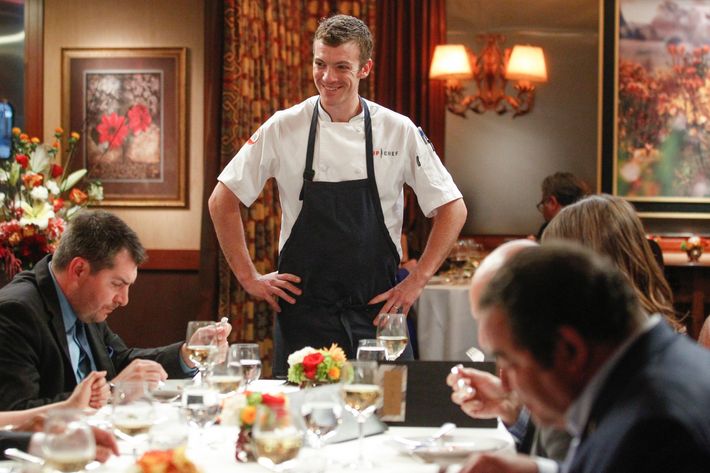 Now for moment of truth: Can you make a 24-hour torchon in three hours? The answer, it turns out, is a resounding no. "In hindsight, I might be regretting it," confesses Carl, whose foie gras en gelee with black pepper, strawberries, and fines herbes is very beautiful but also very raw. "I think that some of them were maybe overwhelmed," suggests Hubert Keller. "But I think they all tried really hard, right?" Tom, for one, thinks they tried too hard. "Oyoyoy," groans Marjorie from the kitchen.
It is the hour of judgment. From their demeanor, it is not clear if the chefs are marching toward Judges' Table or toward their actual deaths; never one for suspense, Hubert Keller announces his verdict. "I do believe that there was one dish I would put on my menu," he says. "The winner is Jeremy." That means everyone else is bottom three: Marjorie for her underrested lamb, Isaac for his clunky ballotine, and Carl for raw liver, and also hubris. "I know the mistakes that I made, and I know that they were out of fear," sniffles Marjorie, who is freaking Padma out with such a distasteful display of feelings. "I think this was a very good example of my ego as a chef getting in the way of the experience of the diners," reflects Carl. "I thought it came out really well," says Isaac, softly. And with that, the sword falls: Marjorie is fine, Isaac is spared, and Carl gets the boot. "I've really enjoyed these unique things that I'll never have the opportunity to do again," Carl says in a prepared statement.
Coming up: Marjorie, Jeremy, and Isaac head to fabulous Las Vegas for part one of the finale. David Copperfield literally appears! The "Last Chance Kitchen" winner is unveiled! Padma wears a dress that is actually underwear! If you are not caught up on "Last Chance Kitchen," now's the time, folks. See you next week.