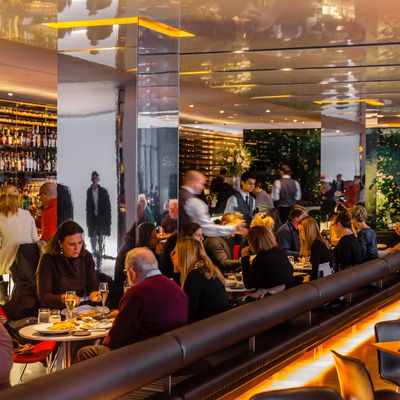 Sounds like the Modern is doing just fine.
Photo: Nathan Rawlinson/Courtesy of the Modern
So, now that we're several months into New York's big no-tipping revolution, how are things going? For his latest Freakonomics podcast, Stephen J. Dubner wonders just that, so he turns to Danny Meyer, the man who ignited the entire conversation when he announced that Union Square Hospitality Group would do away with gratuity. The good news: Since the change was instituted on November 19, 2015, things have gone better than Meyer or anyone else at USHG apparently expected.
The restaurateur tells Drubner that December, the first full month with the so-called "Hospitality Included" model in effect at the Modern (the first of Meyer's restaurants to adopt the program), was not only the restaurant's most profitable December in its history but its most profitable month ever, period.
"I never would've guessed we would've already been this profitable this early on. We thought this would be a long slough," Meyer explains. "And we would ultimately be more profitable because we would have less turnover, more applicants, and a better product that more people would want to come try." The reason for this, Meyer surmises, also has a lot to do with the noise that the switch generated: "The number of people eating at the Modern this year relative to any other year in the month of December, which is already our busiest month, was dramatically higher than any other December we've had."
The info nevertheless demonstrates that people — or at least the well-heeled clientele of a pricey, two-Michelin-starred place like the Modern — aren't about to abandon their favorite restaurants just because they can no longer control how much a server gets paid. Meyer, of course, recognizes that other restaurants won't benefit from the same attention that the Modern received, but he's nevertheless rolled it out at Maialino, an all-day hotel restaurant with breakfast and a popular bar, too.
There have been other benefits for the restaurant since the system was introduced. In the four months since the change was instituted, job applications for kitchen positions skyrocketed by 270 percent, versus being down an average of 50 percent during the seven months before; more surprising for tipping enthusiasts, applications for the server pool grew 25 percent the first month, 100 percent the second month, and a whopping 215 percent during the most recent month. At the same time, turnover has been reduced among both kitchen and dining-room staff. Meyer, however, did not comment on whether renegade diners were slipping servers contraband tips.