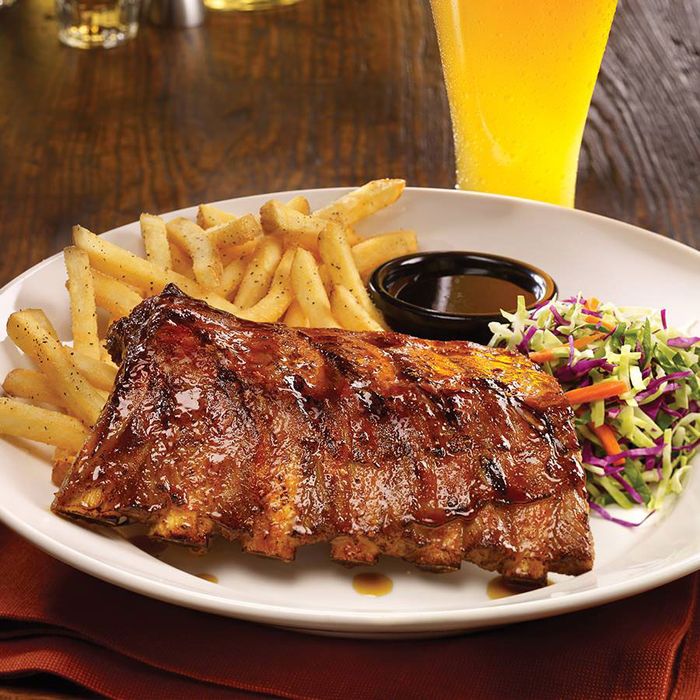 They'll figure out a way to work Jack Daniels glaze in there somehow.
Photo: Courtesy of TGI Fridays
The appetizers at Fridays already last forever, but if the chain's new revamp is an indication, the next phase is to make the restaurants places customers never have to leave. A location down in Corpus Christi, Texas, is being reinvented as a bar/restaurant/café/off-site work space/spot where people "just hang out." The idea, seemingly, involves throwing everything against the wall and seeing what sticks: late hours with live music and "Drop the Mike" nights, special "bear-shaped graham crackers," a full-blown coffee program, plus "hang-out spaces" for when it's not mealtime. Adding an extra-awkward touch, Friday's president Ricky Richardson is describing it as "a social place to be."
The sprawling 10,000-square-foot complex will be open from 7 a.m. to 2 a.m. Besides the usual cheese sticks and Jack Daniels Grill dishes, Richardson says, "We brought in great Wi-Fi, and we now have a deli case with grab-and-go sandwiches, salads, parfaits, cookies and brownies."
This is not all: The chain will also roll out fresh-squeezed juices, because why not? And just in case that wasn't enough, the shop will also have a "Hangover Brunch" that pulls out all the stops, featuring stupid-big Bloody Marys and dishes like bourbon steak, or chicken and waffles. For all Grub knows, this revamp will be a huge success, but we're still happy they aren't launching it in Times Square.
[NRN]