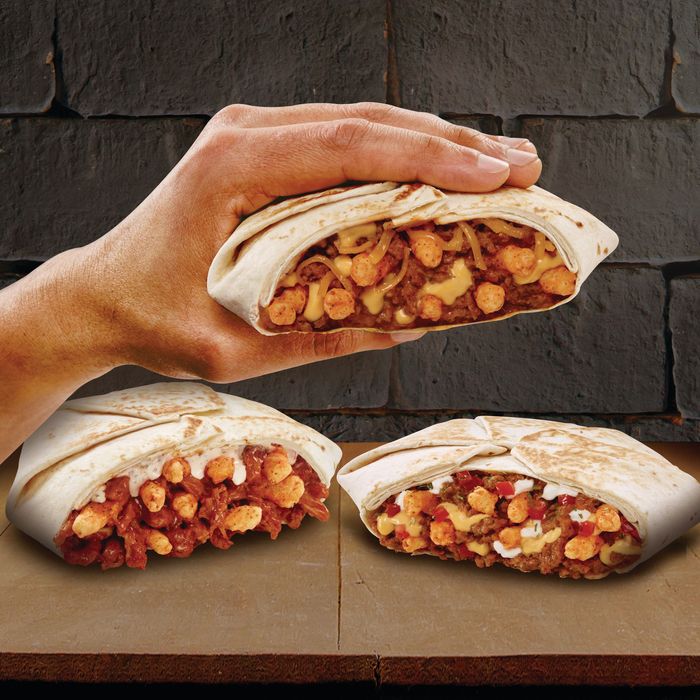 It even got a cut-rate Photoshop job.
Photo: Taco Bell/CNW Group
Taco Bell isn't even trying anymore with these food mash-ups. Yes, there was brilliance in Dorito-fying the lowly taco shell. But, ever since, equally elaborate attempts to recapture that magic (Fritos tacos, Starburst drinks, Cinnabon coffee) have fallen flat, and it seems the corporate strategy moving forward is to keep exhausting Frito-Lay's chip catalogue, only now in ways requiring as little effort as possible.
Yesterday, the chain released the Cheetos Crunchwrap Slider, an item available exclusively in Canada that finally puts Chester Cheetah on the menu but uses the strange Cheddar Jalapeño flavor instead of Flamin' Hot (the understood favorite) and just sprinkles the damn things inside tiny Crunchwraps. Crunchwrap Sliders typically go for about a buck, but this item containing approximately five-cents' worth of Cheetos will set customers back an extra dollar and change. At this point, Frito-Lay should just start putting Taco Bell beef seasoning on Doritos, throw them in crazy-colored bags, and let everybody call it a day.