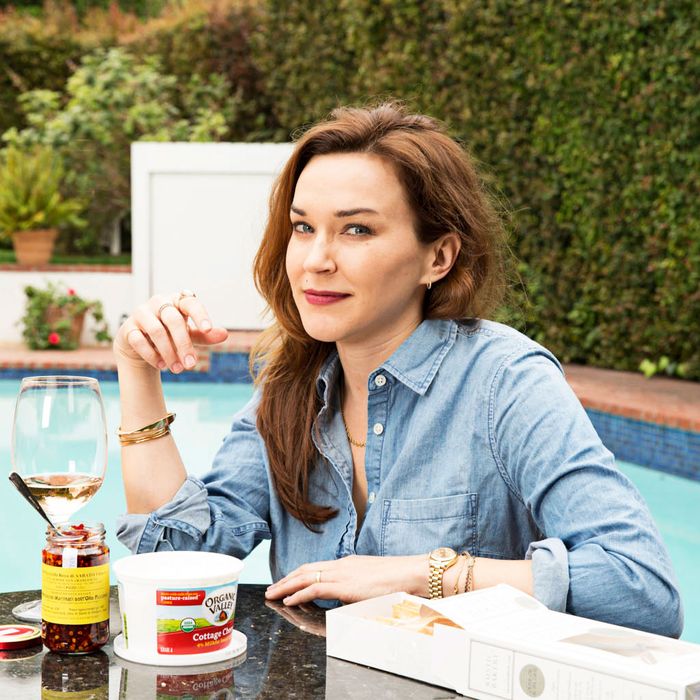 Ozell, with her "chile crack."
Photo: Bradley Meinz
"I was trying to make a list the other day of all the restaurants I worked in in New York, " says singer-songwriter Sunny Ozell. "Everything from Nobu 57 to Falai on Clinton Street. And after Lupa — which was such an education — I was at Franny's." It was there, as a server, where Ozell met her husband, the actor Patrick Stewart, who is also now the reason that she's temporarily splitting her time between New York and West Hollywood. Working in restaurants began in service of her music career — her new album, Take It With Me, is out on April 1 — but she hasn't abandoned her gourmand lifestyle. Check out her video "Git Gone" for a familiar face (spoiler: David Chang), and read all about "cheese toasties," her on-point egg-poaching game, copious French presses full of coffee, and more in this week's Grub Street Diet.
Thursday, March 3
Living in L.A. has required some adjustments, but I've gotten seriously used to the abundant produce party that is California in the winter. I've been buying grapefruits like a madwoman — I went ahead and even bought a grapefruit knife — and I split one with my husband for breakfast. Then I washed some blueberries and opened a new container of sheep's-milk yogurt. I've been curious for a while about sheep's-milk yogurt, and I confirmed this morning that it is entirely edible, even delicious. So we had blueberries with sheep's-milk yogurt, topped with a judicious sprinkle of Early Bird Granola, which my dear friend Nekisia Davis started baking when she was still managing Franny's. The staff all loved it so much, she started selling it to us, then she got a booth at the Brooklyn Flea, then she went on Martha Stewart's show, and the rest is history. I made a big nasty French press of coffee, and we had a solid few cups of some good, snobby, oily single-origin shit. I am a caricature of myself.
When I'm in one place long enough, I like to batch-cook or prep things in advance, sort of like I'm Hansel and Gretel leaving little goodies for my future self. I'd cooked off some chicken breasts the night before, and had also washed a big bunch of kale, and I had a jar of homemade vinaigrette, so I threw together a quick salad. Again, referring to the caricature I've become, I'm a girl who's lived in Brooklyn for over a decade, and yes, I fucking love kale. Melissa Clark, who would become my future boss lady, adapted a kale salad that was wildly popular at Franny's all the way back in 2007, when I was there. With the dressed kale and the chicken, I tossed on some sliced kalamata olives and a bit of crumbled fresh goat cheese. Tasty. After lunch, I got instantly sleepy, so I pounded a container of cold-brew coffee I had in the fridge. Those Stumptown carton thingies make coffee consumption all too easy.
Patrick is from Yorkshire, so it's a given that his tea of choice is Yorkshire Gold. Quick Star Trek reference: He hates Earl Grey tea. It is with a perverse glee that I imagine the disappointment in nerd hearts the world over. A girl can dream. Anyway, at about five o'clock I had a "propa cuppa," also known as "builder's tea," brewed so strong you could almost stand a spoon in it. With milk, never sugar. Yorkshire Gold is its own thing, basically English Breakfast, but funkier and burlier. It's a tea with elbows.
For dinner, we drove out to Santa Monica for dinner with old friends of Patrick's who live in Malibu. We met at Ivy at the Shore, a rather charming restaurant where the waiters wear pink shirts and they always have giant bowls of roses on the tables. From what I can discern so far, making social events actually happen in L.A. is a process of triangulation, and as long as all parties are making some kind of sacrifice (i.e., driving some distance in traffic of unknowable consequence) it seems to work out. We shared some so-so fried zucchini blossoms and onion rings as a table, and I had the corn chowder to start — decidedly unseasonal but totally satisfying. I then had some sea bass, but, thanks to an article I read somewhere about all sorts of fish being passed off for other species, I now always wonder what I'm actually eating. Regardless, it was mild and flaky and tasty, with butter and capers — not the big fancy ones, but the little sleazy ones, which I prefer — and a nice purée of cauliflower. It's remarkable how easy it is to fool my mouth and brain. If it looks like mashed taters, it must be good!
Friday, March 4
My dude brought me hot lemon water in bed. I'm a sluggish riser (when I have the luxury of being one), but Patrick springs out of bed like a goddamn yellow Labrador. When he doesn't have a super-early call, he brings me hot lemon water, and it's lovely and makes me feel spoiled rotten. I then had this weird smoothie of whey-protein stuff that you shake up with cold water. It's the most cynical "food": all of the aminos and whatnot, in this dry powder form, in individual packets. I made a French press of coffee and nibbled on a chocolate-chip cookie from the Ivy (they give out these boxes of cookies at the end of the meal). I knew it would be disappointing, and it was. Not enough salt, but I nibbled anyway because coffee and chocolate make so much sense together.
We were both working from home, so I offered to make Patrick a "cheese toastie" (British for "grilled cheese"). I make them really rather well, I must say. I layered some sliced tomatoes and fresh marjoram on wheat bread with some good cheddar. While I was making his sandwich, I grazed on dumb shit, which is often what my lunch is comprised of. A few bites of cottage cheese, which I decided had gone around the bend; a handful of pistachios; and the last of the chicken I'd cooked a few nights back. I also nabbed a few bites of P.Stew's sammy, and it was delicious. The fucking guy has the metabolism of an 18-year-old; he can have grilled cheese sandwiches for lunch, with a beer (as he did today), and eat this way pretty much on the regular and still be fit as hell. I washed my "lunch" down with a glass of apple-cider vinegar and water. I've been struggling with acid reflux lately, and a daily hit of apple-cider vinegar has totally and completely kicked it to the curb. I'm evangelical about it: skip the Zantac and Pepcid, and reach for the Bragg's instead.
We had a standing date with Patrick's amazing manager and his lovely boyfriend at the Tower Bar. For someone like myself, new to Los Angeles, places like the Tower Bar are just completely fascinating. Very clubby L.A. kinda joint, with great views, and a bill of fare full of naughty things like chicken potpie and choose-your-own ice-cream sundaes. We shared deviled eggs and pigs in blankets for the table, and I had shrimp cocktail to start, followed by a little piece of sole and some green beans. I'd had a Negroni to start, and then we ordered an easy bottle of some New World Sauvignon Blanc. I find I drink a lot more New World wines in Los Angeles, and I don't even beat myself up for it. We then shared a few sundaes as a table. The one I "built" was with vanilla ice cream, Butterfinger bits ("crispety-crunchety"!), and hot fudge. Patrick rolled his eyes at me when I ordered it and then of course totally housed it when it arrived.
Saturday, March 5
I had the foresight to soak a little pot of steel-cut oats for myself overnight. It vastly cuts down the cooking time, so I can bang out a very satisfying breakfast for myself pretty quickly. We were throwing a biggish dinner party that night, and I wanted some proper fuel for all the prep I have ahead of me. I tossed in some diced Honeycrisp apple and some chopped pecans, and made yet another big French press of coffee. I also made Patrick a poached egg on toast, with salty French butter and a little sprinkle of fresh herbs. My egg-poaching game is so tight; I never thought I'd be able to do it without the little cheater cups, but I've graduated to full-on proper free-form eggs right in the water. It's satisfies the shit out of me to have mastered this. Eggs are mercurial things.
I bought a fresh carton of cottage cheese from Whole Foods and wolfed it down with some crackers and generous scoops of what I affectionately call my "chile crack." Years ago, I happened upon a little booth in the food fantasy-land of London's Borough Market that sold a small range of goodies from Calabria, including this magical chile product: sun-dried Calabrian chiles that are then salt-cured and packed in oil — spicy and crispy and flaky and totally addictive. I've actually got a little smuggling industry going, and from time to time I cart home a suitcase full of these little precious jars for a small army of friends in N.Y. whom I've gotten addicted. After my weird spicy cottage cheese lunch, I poured leftover coffee from the morning over ice with some almond milk.
We had the kind of dinner party where you gather all the folks you've been meaning to get together with in one room and just add alcohol. Thomas Middleditch, a new friend of Patrick's (via working with him for Improvised Shakespeare), and his wife, Mollie, and her adorably pregnant sister Rachel; Reggie Watts (who's an old friend of mine from over a decade ago when we were both in bands — mine weird, his cool) and his lady, Jenny; and Gillian Welch and David Rawlings all came over for a game of Monopoly. There's actually a lot to be said for having your dinner guests occupied with a game while you cook. I made little crostini, entirely ripped off from chef Danny Amend from my days at Franny's. I roasted two bell peppers under the broiler, peeled and sliced them, then marinated them with minced garlic, Banyuls vinegar, fresh marjoram, lemon zest, and olive oil. I piled that on top of crostini that I'd smeared with a bit of Brie 'cause I felt like gilding the lily. Our guests inhaled them, so I took that as a sign that I was off to a good start.
I've been making fish en papillote lately, almost once a week, and tweaking it, and really feel like I have it nailed at this point. I blanch the veg — tonight, big peeled discs of Yukon gold taters and long slivers of haricots verts — and then layer everything with some sort of herb pesto/salsa verde thing. Tonight I buzzed up parsley and tarragon with lemon zest, really good olive oil, and then threw in some sliced leeks I'd sautéed until they were basically melted and crazy sweet. People are always so delighted by their dinner being wrapped up like a present, and our guests tonight were no exception. I was thoroughly gratified when folks actually squealed when I brought the plates in. It was pretty informal all the same; the plates went right on top of everyone's Monopoly piles. I'd made dessert ahead of time. I love making little individual puddings and mousses for dinner parties. They feel celebratory, but they're also incredibly easy to make in advance, and there's no slicing, plating, or portioning involved. Tonight I'd made grapefruit posset, which is nothing more than cooked cream and citrus zest/juice, and a bit of sugar and salt, but as one might expect, it's pretty mind-blowing. Beverage-wise, most of us started out the night with some sippin' tequila, then graduated to Sauvignon Blanc. At about midnight I made a pot of coffee, which I now see was part of the reason that no one left until 2 a.m.
Sunday, March 6
I slept in and felt understandably lazy, so I had my strange whey-protein thing for breakfast, followed by a French press of coffee.
For lunch I met up with my friend Penelope, and we had every intention of making it to the farmers' market on Melrose Place, but failed and had lunch at Bouchon instead. I had a Kir royale, which always makes me feel fancy in a Designing Women sort of way, and I ordered whatever quiche they had on the menu, which was spinach and something else. Bouchon's quiche is pretty revelatory. It's texturally sublime, all jiggly, custardy, and delicate. Had an Americano afterwards, just for good measure.
Made a very simple supper of lamb chops and steamed globe artichokes for dinner. My version of "scottadito" is pretty on point, I think. After trimming up the chops, I season them liberally, and then let a cast-iron skillet get blazing hot, and sear the shit out of the chops in a bit of clarified butter. My cast-iron skillet is like the fifth Beatle of my kitchen — the unsung hero. They create cooking conditions that nothing else can mimic, and the results are super reliable. With the artichokes we had more of the shallot-and-sherry-wine vinaigrette that I had the remains of in the fridge. We drank a lovely bottle of Nebbiolo that I'd opened an hour before and had left outside so it was pretty much the perfect temp. I hate drinking warm red wine.
Monday, March 7
Had my whey-protein sludge and a French press of coffee.
Lunch was more fucking cottage cheese and "chile crack," with those big Scandinavian rye crackers that I totally adore. My biggest chunk of "heritage" is Swedish, so I always feel like I'm eating the food of My People when I eat those things. Also had some hummus, and a green juice from Blueprint, which I have in the fridge from time to time.
For dinner I again made use of my cast-iron skillet and seared two bone-in, skin-on chicken breasts that I finished off in the oven. With the chicken, we had sweet-potato oven fries and roasted asparagus spears. A meal like this is always nice with lemon, so I plopped a big wedge on each plate. We drank a gorgeous bottle of Kerner (a weird Northern Italian varietal) and watched Antiques Roadshow. When my husband is feeling generous, he watches it with me. It's one of my favorite things ever.
Tuesday, March 8
Again with the sludge. Again with the French press.
Some dear friends Kate and Steve from Chicago have recently moved to L.A. (as of two days earlier), and they have a 1-year-old baby boy named Thomas who I've only met on Instagram and who I've been pining for desperately. The three of them met me at this very West Hollywood joint Joan's on Third, and I ordered the "salad trio" where you basically just pick three sides. I had the lentil salad (nice texture, well seasoned), the kale salad (kinda trashy with dried cranberries, but I dug it), and roasted mushrooms (too much oil, overly slimy), and an iced tea. My new buddy Thomas was quite taken with the lentils, and I even got him to feed me some of them. Got an iced coffee with almond milk to go, to fortify me for a trip to the post office.
Patrick's son, Dan, got into town today from England — he's shooting an episode of Blunt Talk — and he's an avid fan of Mexican food. As there aren't a ton of proper Mexican options in the U.K., we pretty much always go out the night he gets in for margaritas, etc. Rick Bayless has a joint on Melrose called Red O. I know that there are naturally a whole panoply of more authentic options in L.A., but we dig Red O all the same, gringos that we are. I had a margarita on the rocks with salt (don't understand the no-salt marg), some guacamole that we all shared, and enchiladas suizas with chicken. I love the shredded-iceberg-lettuce thing on enchiladas, and Red O is generous with that dumb stuff. Delish. Had another margarita, and then the boys went home, and I went off to see some good buddies (and one of my bandmates) play at a little venue called Sassafras. I decided to stay on the horse and had a very delicious reposado of some kind, on the rocks with a lime. I love good tequila.