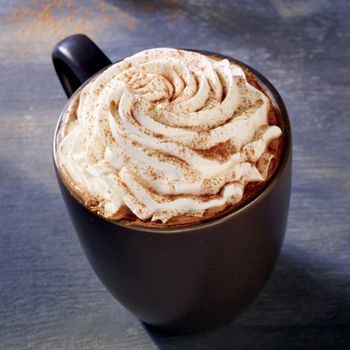 Now in pod form.
Photo: Starbucks
Here's some good news for people who suffer from seasonal PSLW, a.k.a. Pumpkin Spice Latte withdrawal, a.a.k.a. that sadness lasting from late December until the Starbucks drink goes back on sale in the fall. Yes, there are black-market solutions, but now there's an official way to get your fix, too: Starbucks will introduce a K-Cup version of the insanely popular beverage.
At its annual shareholder meeting Thursday, CEO Howard Schultz announced the PSL will join several of the chain's more pedestrian drinks, like the vanilla latte and mocha, as part of a line of new push-button coffees. The PSL K-Cups will only be available in the fall like the actual drink, but given the fact that the little coffee cups basically never go bad, fanatics will be able stock up like a bunch of end-times survivalists. (Of course, to be lattelike the line will have to rely on some kind of powdered dairy product, which is basically the perfect "milk" to complement the "espresso" already in K-Cups.)
Other drinks and flavors are certainly possible, although nuance kind of gets lost in pod form, so probably don't expect a Chestnut Praline Latte or Holiday Spice Flat White option for the foreseeable future. However, peppermint-mocha pods will be available during the holiday season, Schultz notes.
It's a logical way for Starbucks to build its empire outside its cafés, a goal the chain also plans to work toward by debuting bottled cold brew in grocery stores, as well a prepaid Visa card that will earn angry rewards-program members points on whatever they can buy with a Visa, be it bodega toilet paper or, ahem, Dunkin' Donuts coffee. Starbucks had previously suggested it might put some daylight between itself and struggling single-serve behemoth Keurig, but if this new product is successful, Starbucks may simply be able to take Keurig over.
[Fortune]