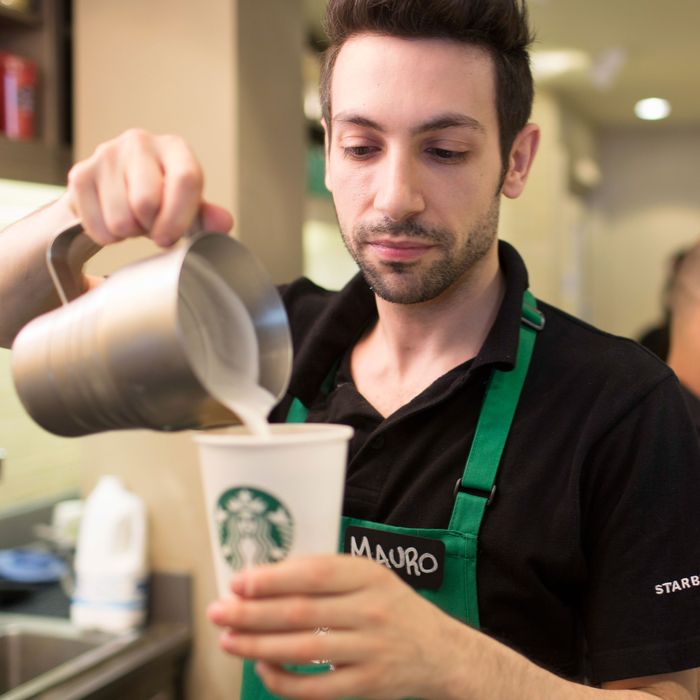 Quit frothing milk and go register already.
Photo: Jason Alden/Bloomberg/Getty Images
Never one to shy away from activism, Starbucks CEO Howard Schultz is urging baristas to follow his lead by doing their civic duty this November. In a company-wide letter this week, he tells the chain's 150,000 U.S. employees that, in fact, it's so important to him that he went to the trouble of building a website that essentially removes voting's two biggest barriers: not registering in time, and forgetting to go do it.
The site is already up, and Schultz explains it's being done in partnership with Brooklyn-based get-out-the-vote group TurboVote:
Over 60% of respondents to a 2014 U.S. Census Bureau Survey said they did not vote due to a variety of issues, including the registration process or forgetting to vote. To make it easier for you, we are making a digital tool from TurboVote accessible to all partners in the U.S. This tool makes registering to vote fast and secure from computers and mobile devices. Just visit the TurboVote site and in a few minutes, you can register to vote and sign up for important reminders to stay informed about local and national elections throughout the year.
Schultz says he got the idea back in February when he asked employees how Starbucks could make a difference both inside and outside of stores this year. One shift supervisor suggested making people "aware of the importance to vote," and a bunch more employees agreed that getting involved in voter registration was a great idea. The letter stresses that the outreach drive is nonpartisan and hopefully about more than just the next White House occupant, since Americans "should participate in all elections, even those for city councils and school boards." To show they're serious about not taking any excuses on this, Schultz adds the company will even cover the cost of registration or absentee-ballot mailings for employees.
[Politico]