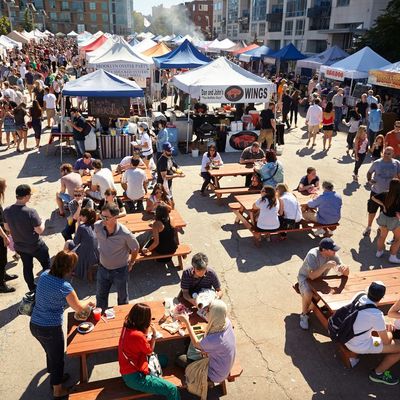 Lots to be excited about this year.
Photo: Courtesy of Smorgasburg
Glance around outside and you will finally notice some of the first signs of spring. The sun sets later, flowers begin to blossom on trees, some dude on the street is wearing shorts even though it's still a little too cold for them. And now the surest sign yet that summer is coming: Smorgasburg and the Brooklyn Flea will unveil their outdoor markets for the 2016 season this very weekend.
There is much to discuss, and — as it seems there always are within the ever-fluctuating world of the SmorgaFlea — many new developments. Here are the highlights:
The new vendors are as eclectic as you'd hope: The team says it held 70 tastings for potential vendors over the winter and that it's accepted "about 25" new offerings for the season. Additions include döner kebab (finally); a vendor called Four Sigmatic that "makes mushroom coffee, hot cocoa, and tea"; Heros and Villains, which will reinvent classic bodega sandwiches; a booth devoted to foraged ingredients targeted to home cooks; and #Baonanas, where the house specialty is "banana pudding served by the scoop" in flavors like strawberry, s'mores, and, because it is 2016, matcha.
Sunday's Flea will be in Dumbo: Attention, vintage-vinyl geeks and people who like antique furniture: The Brooklyn Flea, which had set up shop in Williamsburg on Sundays, will now be in Dumbo on that day. More specifically, it will be in Pearl Plaza, a.k.a. that walkway that goes under the Manhattan Bridge archway. (Saturday's Flea will stay put in Fort Greene.)
Sunday's Smorgasburg will return to Prospect Park: The all-food fest will remain in Prospect Park this year, instead of the Brooklyn Bridge Park space it had inhabited until late last summer. Go here for the exact info, and plan your weekend walks accordingly.
There will be Japanese water cake: Remember that strange wobbly water "cake" thing that took the internet by storm a while back? A new vendor called Raindrop Cake will be at both the Saturday and Sunday Smorgasburgs serving exactly that. Expect lines and for this thing to take over your Instagram feed all weekend.
Smorgasburg's Seaport District market returns on Memorial Day: There will be six vendors inside a 9,000-square-foot surf bar at 11 Fulton Street serving things like pizza, lobster rolls, and lumpia — and you will enjoy it if you go.
This all prefaces a summer during which Smorgasburg will continue its march across America: Smorgasburg L.A. opens June 19, and the so-named Smorgasburg Upstate launches in Kingston, New York, on June 4. There is, in other words, no stopping this joyous festival full of food and good feelings. So, if you're reading this while sitting in, like, Austin or Topeka, know that it's probably just a matter of time until you have a Smorgasburg you can call your own.