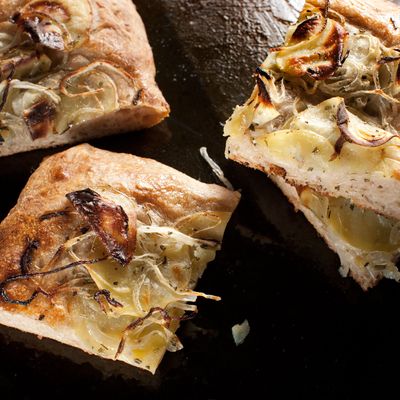 One of the Brooklyn Bread Lab's specialty pizzas.
Photo: Melissa Hom
In this age of chef collabs and new concept tryouts, the pizza pop-up is becoming a bit of a culinary trope. Roberta's has almost made the practice a business model, with a regular rotation of temporary residencies in outdoor markets, beer bars, and like-minded restaurants around town. And last month, Semilla's Pam Yung and José Ramírez-Ruiz packed the 18-seat house for a night of naturally leavened pan pizza and large-format natural wines.
Tonight, the Brooklyn Bread Lab gets in on the action: New Orleans chef Alon Shaya (of Domenica, Pizza Domenica, and Shaya) has come to New York to study the delicate art of incorporating freshly milled flours into breads and pizza with the Lab's Adam Leonti, and tonight, from 7 to 9:30 p.m., the two pie men are hosting a casual pizza party open to everyone. Pizza al taglio will sell for $5 a slice, including one inspired by the great muffuletta, topped with cured Italian meats, cheese, and olive salad. Also on offer: mushroom lasagna made with whole-wheat béchamel and freshly baked rye bread.