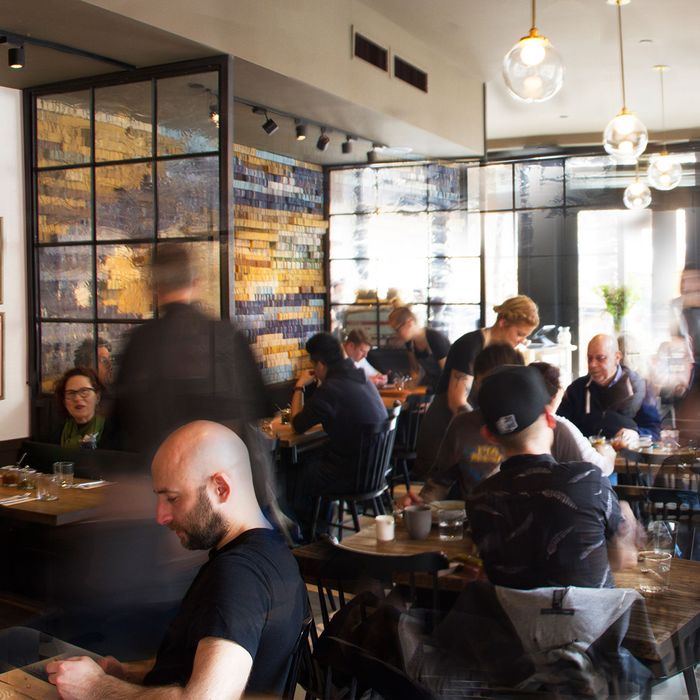 High on High Street.
Photo: Tirzah Brott/New York Magazine
Even in this pragmatic, no-nonsense dining era, restaurants tend to have two or, at the most, three points of entry — a good dinner, a lunch (invariably a watered-down version of dinner), and (maybe) an elaborate brunch. But at the versatile new West Village restaurant High Street on Hudson, I counted five reasons for visiting, beginning at breakfast time, when the kitchen rolls out bagels, bialys, and a variety of breakfast sandwiches that look like they've been constructed by highly trained forager cooks at some ethereal lumberjack camp (I ordered the formidable pastrami and hash twice, first to eat it, then to take a picture). There are lunchtime sandwiches, too (and ­salads), and a predictably stout weekend brunch, a full-time bakery, and if high-minded barnyard fare is your thing ­(sunflower-seed risotto, lamb tartare, chicken for two, et cetera), you'll find it all on the dinner menu, served six nights a week, beginning at 5:30 p.m.
This kind of frenetic, multifront hospitality is the trademark of chef Eli Kulp and his business partner Ellen Yin, who opened their original, much-acclaimed High Street restaurant in Philadelphia just two and a half years ago. Like the flagship, the décor here (the New York outlet is located in a star-crossed space on a windy, far-­western corner of the Village) seems designed for maximum, round-the-clock utility. At the bakery stand up front, you can pick up your morning bialy, examine bizarrely enticing pastries (notably, the "Red Eye" danish, topped with a twirl of Benton's ham), and purchase loaves of pricey artisanal bread most hours of the day and night. There is a busy open kitchen in the back, which commences operation, I'm guessing, at roughly six every morning. The wood tables in the little dining room are set with black-painted farmhouse chairs like in a comfortable neighborhood sandwich shop.
Before moving to Philadelphia to find his culinary muse, Kulp, who was paralyzed in the Amtrak disaster last year, worked at the original deli-style iteration of Torrisi Italian Specialties. This is probably why the first thing you notice about this dining operation are the sandwiches, or rather the sandwich fixings, which, in the manner of the early, golden Carbone-and-Torrisi deli period, are little wonders in themselves. The potato hash in the aforementioned lumberjack breakfast isn't the usual mess of warmed-over potato scraps — it's a brick of deep-fried potato goodness, crunchy on the exterior and soft inside. The pastrami is house-cured and pulls apart in a most pleasing way. The farm eggs are scrambled to order and garnished, in classic mid-Atlantic style, with pepper and onions and squeezed, with a whisper of Russian dressing, between a pliable, faintly sweet Kaiser roll.
This Kaiser roll is the work of Alex Bois, who spent time at Sullivan St Bakery before joining Kulp in Philadelphia, where his quirky baker's sensibility (the righteously artisanal mixed with the offbeat) earned a cult following. His squid-ink bialy is a thing of beauty (although I liked it better after removing most of the curiously spicy whitefish salad), and so is the everything bagel, which, in addition to the usual salt, contains a refreshing blast of fennel seeds. The lunchtime sandwiches are built around similar just-baked specialties, like almost unnervingly soft slabs of rye (featured, with more Russian dressing, on the excellent pastrami on rye); warm, sesame-caked semolina rolls (the magisterial pork sandwich); and slices of potato bread, which the chefs use to construct what they modestly call "The Best Grilled Cheese Ever" (it's pretty good, although the Torrisi-quality roast-turkey sandwich is better).
You can order a few fashionable, roughage-forward items with your hungry-man lunch (Sicilian cauliflower; an "ancient grains" salad served in a wooden peasant bowl; a chalky parsnip soup), but to experience the full range of this discreetly ambitious restaurant, the time to visit is dinner. There are delicately crisped clam strips drizzled with buttermilk on the long "To Share" portion of the evening menu, and a decorative version of eel toast, which looks (and tastes) less like an eel dish than like something you'd encounter for breakfast at one of the more artful new vegan establishments in L.A. That old winter warhorse of the vegetable-forward age, cauliflower, appears as a smooth purée stuffed into candy-shaped pasta, and if you order the fine, very non-vegan lamb tartare, you will find it enlivened with, among other things, crumbles of malted rye bread; cashews cultured in rejuvelac; and a dusting of sunflower seeds.
There's an overstudied, slightly precious quality to some of this cooking (the many references to "cultured" and "pickled" things, the peasant bowls, the carefully arranged splatter of ingredients on the plate), but I was won over in the end by the fact that most things tasted very good. Poached and fried tripe is rendered smoother and less tripey by a subtle dose of sunchokes, and my dubious-sounding order of "seaweed bucatini" turned out to be a delicious, tangy symphony of ­umami-laced goodness (kombu, spicy bits of 'nduja, rosy petals of bottarga made with lobster roe). Except for the rubbery, possibly overbrined chicken, the entrée options (tender, faintly bacon-y duck breast, melting arctic char, borderline-Wagyu-quality Pennsylvania beef) are better than you'll find at most neighborhood bakery and sandwich shops. The same goes for the intense little desserts (try the chocolate mousse with tahini cream), which you can complement with a selection of cookies offered on a silver tray as you walk out the door.
High Street on Hudson
637 Hudson St., at Horatio St.; 917-388-3944
Open: Breakfast and lunch seven days; weekend brunch; dinner Wednesday to Monday.
Prices: Sandwiches, $12 to $18; dinner, appetizers, $8 to $16; entrées, $23 to $48 for a whole chicken.
Ideal Meal: Pastrami-and-hash sandwich and/or sausage-and-egg biscuit (breakfast), turkey or roast-pork sandwich (lunch), eel toast, seaweed bucatini, Long Island duck or Happy Valley beef, chocolate mousse (dinner).
Note: The bakery is open from morning till night, and if you're wise, you'll pick up a loaf of anadama bread after dinner.
Scratchpad: One star for the breakfast and baked goods, one star for the impressive lunchtime sandwiches, and one star for dinner.
*This article appears in the April 4, 2016 issue of New York Magazine.