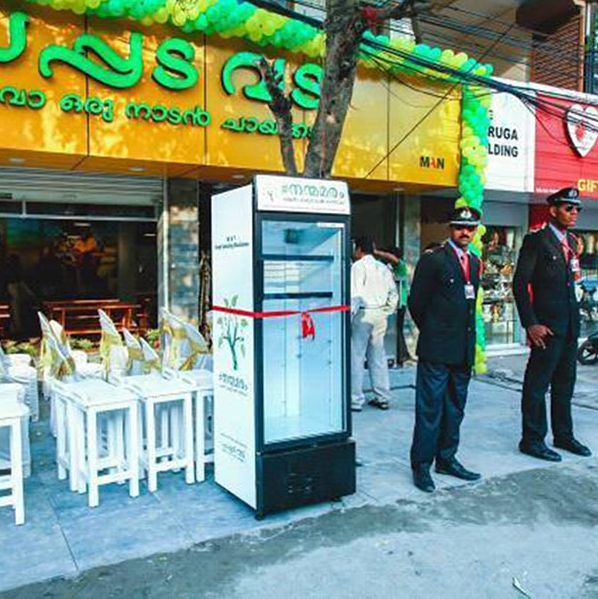 It's been nicknamed the "Tree of Goodness."
Photo: Minu Pauline/Pappadavada via Facebook
A restaurateur in the Indian city of Kochi has devised a startlingly simple way to fight food waste and feed hungry people at the same time. The staff at the eatery, called Pappadavada, hooked a fridge up right outside its storefront and asked people to fill it with their leftovers — it's easier than throwing their food in a trash they'll later have to take out, and just requires some electricity and a twice-a-week cleaning by Pappadavada employees. The idea sprang into owner Minu Pauline's mind after she chucked a bunch of the restaurant's extra food, then watched a hungry homeless woman go digging through the trash.
The fridge has been plugged in for a week. It stays unlocked 24/7, and people can add whatever they want, Pauline says, as long as they put the date on the container or wrapper so everybody knows how long it's been in there.
Worries about anything going bad were apparently unnecessary, though: Local media report the community's response has been overwhelming, and the food goes so fast that Pappadavada is able to squeeze in as many as 100 additional packets per day.
Pauline would rather people donate leftovers, but a few of her magnanimous customers are going nuts by ordering a dozen dishes at a time for the fridge, while others are carting over home-cooked meals. She tells the Huffington Post the main point here is to curb waste, though. "If you're wasting your money, it's your money," she says, "but you're wasting the society's resources. Don't waste the resource, don't waste the food."
[HuffPost]