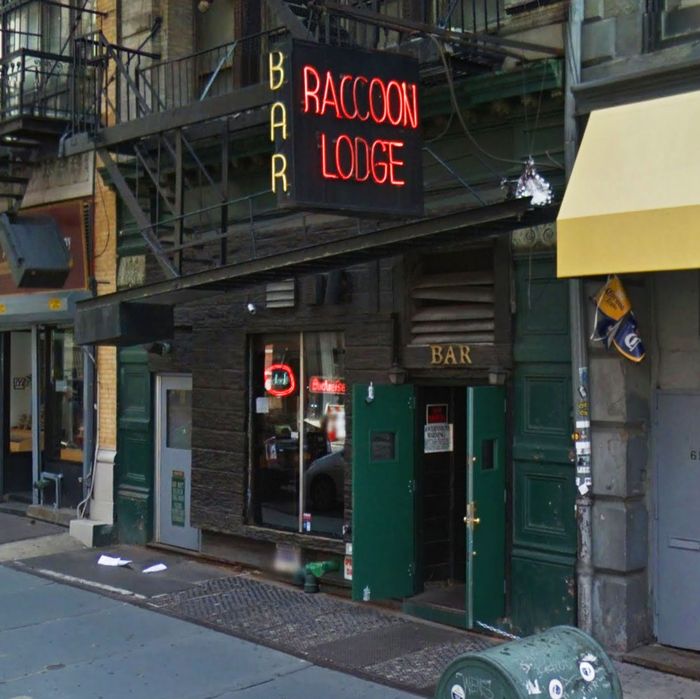 Get to it, before it's too late.
Photo: Google
Somehow, Tribeca favorite Raccoon Lodge keeps on keeping on. The doomed dive has been on the way out since it was announced last May that its building would be razed for a new condo development. At the time, reports indicated that the Lodge and seven other bars and restaurants would only be given four months to get out, but that deadline passed and, then, in December it was said that the restaurant would end service on December 31. Not so fast.
The bar's owners apparently refuse to ditch their regulars and close until they absolutely have to, as the restaurant celebrated 34 years of cheap libations this past Saturday with drinks and giveaways. The clock is ticking, though, and the Lodge's owners will eventually have no choice but to shutter and either relocate or call it a day. When it goes, a large part of lower Manhattan's history will go with it: The bar is significant enough for being a celebrated dive in one of Manhattan's toniest neighborhoods, but it was also notably a refuge in the weeks after September 11, when it was one of the first businesses in the area to reopen after the attack. The Raccoon Lodge isn't the only major casualty of this new development, either, as Mangez Avec Moi, which until recently was the only place to eat Laotian food in New York, was also forced to shutter after almost three decades in business.
[DNAinfo]