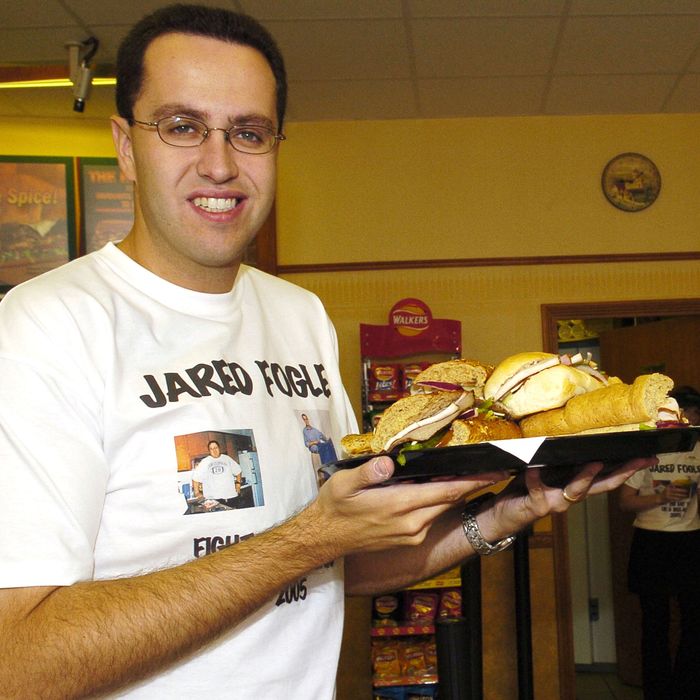 Possible reenactment.
Photo: David Lodge/FilmMagic
Subway pitchman turned child predator Jared Fogle received his first prison work duties, and boy, does the Colorado federal correctional facility (where he's serving 15 years) have a cruel sense of humor: He was assigned to the cafeteria, TMZ reports, serving sandwiches to fellow inmates.
Fogle has had a tough run so far as an Englewood inmate guilty of possessing child porn and hiring underage prostitutes. He's reportedly put on 30 pounds stress-eating Honey Buns by the boxful and, at the end of January, got a beat-down at the hands of a prisoner who wanted "to send a message." The sandwich-serving gig proved to be a great source of merriment for the guards, people inside the prison tell TMZ, but Fogle's fellow inmates felt his job was too "cushy." For his safety, he was reassigned to the correctional officers' private cafeteria, but that's apparently not gone over stupendously, either. It was viewed as a "promotion," allowing him to swap work for food of higher quality, coincidentally the same goal he had the entire decade and a half he spent as Subway's spokesperson.