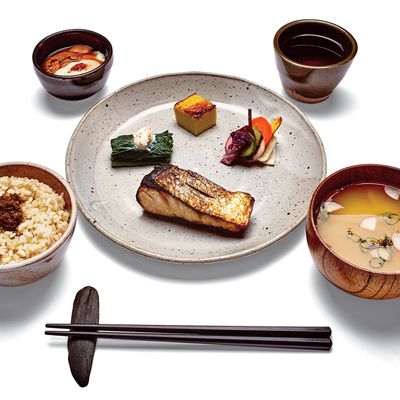 Now it will be easier to replicate Okonomi's breakfast at home.
Photo: Bobby Doherty/New York Magazine
Yuji Haraguchi has received widespread acclaim for his noodle work and fish-centric cooking at Williamsburg's Okonomi and prior pop-ups. Now Haraguchi and his crew are looking to open a Japanese-style fish market, called Osakana, near their restaurant. In keeping with what's served at his restaurant, the offerings will be strictly local, so while they might not have farm-raised halibut from Iceland, Haraguchi says they'll be able to point customers to what to get instead. In addition to the retail fish case, there will be classes, possibly a six-person ramen bar, and, according to Haraguchi, prepared foods and donburri. Today the team launched a Kickstarter to help them open the place: The goal is a steep $50,000, so it could be quite far away.