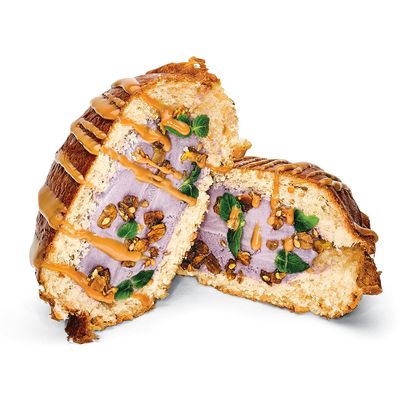 OddFellows' ube-ice-cream sandwich.
Photo: Bobby Doherty/New York Magazine
If you're a chef looking for a culinary collaborator, you could do worse than Danny Bowien. He's partly to blame for the incendiary Mission Chinese chicken fingers that Dave Chang serves at Fuku+, and you can thank him for the squid-ink bagel with anchovy butter and Ibérico ham that had a run at Black Seed. Now he's turned his attention to dessert. The new ube-ice-cream sandwich with shiso granola and coconut dulce de leche that he and OddFellows' Sam Mason have concocted is the result of a single brainstorming session. "We sat down, drank about six iced coffees, and hashed it out," says Mason. "Once Danny said he wanted to do ube ice cream, everything else just fell into place." No big deal. That's how these gastronomic masterminds roll.
Mouse over or tap the image to read more.
Ube-Ice-Cream Sandwich: On the menu at OddFellows: The Sandwich Shop; $8; 75 E. 4th St., nr. Second Ave.; 917-475-1812
*This article appears in the March 21, 2016 issue of New York Magazine.