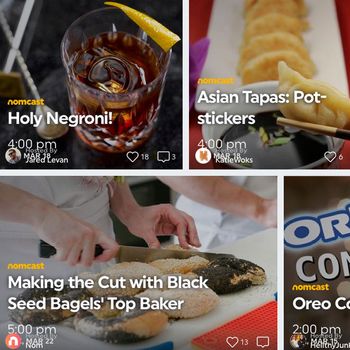 Some of the shows coming up.
Photo: Nom
Two of the geniuses behind YouTube debuted an app at SXSW Monday that could be huge for food lovers. Simply called Nom — fittingly short and pithy — it's similar to other livestreaming platforms like Periscope or Twitch, only it's a food-centric version where users post clips of food they're making or restaurants they're visiting. The two creators, YouTube's co-founder Steve Chen and former lead engineer Vijay Karunamurthy, say Nom also pushes the interactive side a step further than others by giving viewers a way to send actual photos, GIFs, and videos straight to the hosts themselves (it's easy to imagine that some day Wylie Dufresne may be critiquing your sous-vide technique live), and hosts are able to toggle between multiple cameras while broadcasting shows.
The app's inspiration came partly from meals eaten in the Google Venture dining hall, where chefs would try out new recipes and heated debates would erupt, so Nom's team says the end goal is about creating a space for collaboration. Chen says, "We're seeing people use Nom for coffee tastings, cooking demos, and live coverage of pop-up experiences."
The team has already scored $4.7 million in funding (plus, for what it's worth, endorsements by Psy and Jared Leto) alongside an impressive roster of pro talent. There are channels by culinary luminaries like chef-owner Corey Lee of three-Michelin-star restaurant Benu, Boston pastry chef Joanne Chang, and Quince's Michael Tusk. Ivan Orkin has a channel where he's instructing viewers on how to layer ramen to maximize flavor; plus, a rotating set of "Nomcasts" feature quick demonstrations like tips for bagel cutting by Black Seed's Dianna Daoheung. And Tuesday at noon, the James Beard Foundation will take a stab at livestreaming the 2016 James Beard Award nominees on their Nom channel.
[USAT]