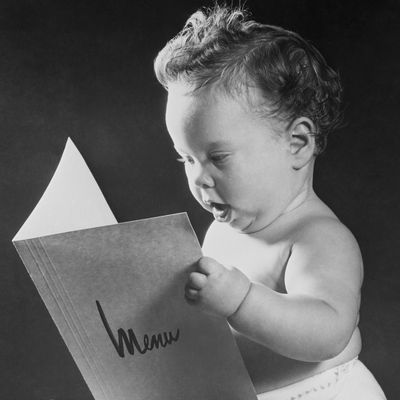 "I'll have the wood-roasted pheasant, please."
Photo: Constance Bannister/Getty Images
Despite their graciousness, or perhaps because of it, Michelin-starred restaurants are used to dealing with a steady stream of unruly customers. Diners are overly entitled, they complain about the food, they drink too much, or they just generally act out of turn. Even still, the staff at chef Patti Jackson's Delaware and Hudson in Brooklyn, which earned its first star after opening in 2014, maintained an impressive degree of composure one recent weekday when a diner zipped through a server's legs and made a beeline to the bathroom. Then again, the diner in question was 2 years old, and she was there as part of a new dining group, Nibble + Squeak, which aims to make high-end restaurants more accessible to children (and the adults who look after them). Think of it like a giant playdate, with smoked mackerel and fine china.
Melissa Elders came up with the idea for Nibble + Squeak when she returned to New York City after ten years living in London. Her daughter, now 15 months, was born there, and when Elders was on maternity leave, she took part in a lunch for moms with babies in a private room at Pollen Street Social, another Michelin-star restaurant. "In both New York City and London there are so many activities to do with kids," Elders says. "I found that I was rushing between those events and barely managed to feed myself." She also missed being able to try the best restaurants the way she had before her daughter was born. "They're not usually open for lunch," she points out.
And so Nibble + Squeak was born. It took a few months for Elders to sort out the details for her first event, which she decided to hold at the well-regarded Delaware and Hudson. It is, according to Elders, the perfect place to debut the idea: "It has high-caliber food, but it's not too fussy and starchy."
The benefit for the restaurant (in addition to showing some goodwill to new parents who want to enjoy a nice meal): Elders guarantees a certain number of diners, who all pay in advance, at a time of day when business is generally slower. The chef handles the food, and the usual dining-room staff takes care of service. Elders, meanwhile, helps childproof the actual restaurant, borrowing additional high chairs, figuring out a spot for strollers to park, and — in the case of Delaware and Hudson — converting a secluded alcove two-top into a makeshift changing station.
If it all sounds a bit like a Portlandia parody, it kind of is. But the fact that Elders's first event sold out is evidence that there are plenty of new parents in New York who want a way to eat great restaurant food without having to pay for a babysitter, or scramble desperately through the meal to keep their kids quiet and seated. They also don't have to deal with the side glances they might get from kid-free diners who don't appreciate toddlers in the dining room. Zeina Muna, who wore her 4-month-old son during the Delaware and Hudson event, agrees: "Nibble + Squeak lets you have amazing lunches with friends while removing that stress of dining out with a baby."
But Nibble + Squeak's value proposition also goes a little deeper than that: Elders says she's found that moms and dads discover a special kind of satisfaction in sharing a fine-dining experience with their young children. For some, perhaps, this is a form of weird fun: There's no lack of amusement in watching kids try the kinds of foods that adults spend decades learning to like. Others hope to, at least in some way, help their wee ones on a road toward lifelong appreciation of thoughtful, ambitious cooking.
At Delaware and Hudson, the group of 26 adults and 22 kids (ranging in age from 5 weeks to 4 years) enjoyed a three-course menu that began with an array of appetizers, including house-smoked mackerel on a buckwheat pancake, lamb meatballs garnished with mint and peas, butternut-squash bisque, and house pickles. The main course offered a choice of beef filet, arctic char with parsnip purée, Amish-style chicken potpie, or farrotto. (The cost was $39 for the adults, which included tip and tax; toddlers ate for free.) "We're in a neighborhood with a lot of children, and we like children," says Jackson, who is both chef and owner. She says the menu is a good example of the type of food she usually serves and not a kid-friendly departure. "When we first talked about the event, I didn't understand how many babies and toddlers there would be."
There were touches of civility — real silverware and china plates — and the waitstaff was so utterly professional that you would've thought they were serving a regular evening clientele, but there was no mistaking this bunch for your typical fine-diners. On the communal table, next to glasses of (mostly) water and (some) wine and beer, were fluorescent sippy cups and teething toys, board books and crayons, homemade puréed sweet potatoes and baby-food pouches. Surrounding the table were babies in carriers, in arms, and on laps. Mothers nursed freely or walked with their infants between courses. There was a constant line for that alcove changing table.
This week, Elders is hosting another Nibble + Squeak event at Ilan Hall's Israeli barbecue joint, Esh. The price has gone up a bit, to $48, which Elders says includes a "generous" tip. "It's a lot of people," she concedes, "and we're a needy group." She's also lined up future events at Upland and Clocktower, both in Manhattan, as well as a lunch at Daniel Burns's Luksus, the New Nordic tasting room in the back of Greenpoint beer bar Tørst.
Jackson, for her part, says she's happy with how the day turned out. "The energy in the room was great," she says. "It was a really sweet, fun event."
Callie Wright is the author of Love All and runs SkipKid.com.