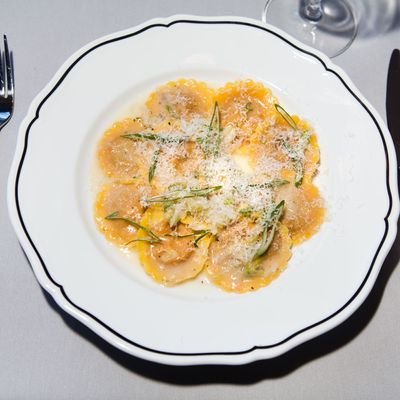 La Sirena's ravioli all'Amatriciana with spring-onion butter.
Photo: Konstantin Sergeyev
It's only March, but 2016 is already a huge year for high-profile Italian restaurants. Mario Batali launched his first stand-alone restaurant since Del Posto, Ignacio Mattos embraced his love of ravioli at Café Altro Paradiso, Charlie Bird's Ryan Hardy has two new ovens to play with at Pasquale Jones, and David Chang opened Momofuku Nishi, which specializes in a kind of mash-up of Italian and Korean cooking. There are a lot of new noodles, in other words, and some of the most interesting are the ravioli, agnolotti, and all manner of new-look stuffed pastas chefs keep trotting out. Here are Grub's picks for the ones you'll want to eat right now.
Veal Agnolotti
Where: Acme
Price: $23
While the restaurant was most recently known as a destination for New Nordic cooking, it's been revamped with a French-meets-Italian bistro menu. Chef Brian Loiacono stuffs Piedmontese agnolotti with tender veal and tops the pasta with black truffles and Salva Cremasco, the tart and earthy northern Italian cheese.
Ravioli
Where: Café Altro Paradiso
Price: $27
The chef Ignacio Mattos made a name for himself at the Italian stalwart Il Buco before blowing up at Estela. Mattos and business partner Thomas Carter now have a new Italian restaurant, where the chef serves a lighter take on ravioli. Currently, he fills his with either briny king crab with mascarpone, or cabbage with ricotta and black truffles.
Parsnip Agnolotti
Where: The Farm on Adderley
Price: $17
At Ditmas Park's long-standing New American stalwart, cooks fill agnolotti with sweet parsnip, season the dish with licorice-y tarragon, and serve it with au courant amaro butter.
Ricotta Agnolotti
Where: Faro
Price: $14
The winter menu at the Bushwick pasta palace includes a ricotta-filled agnolotti served, as the times dictate, with parmesan and copious grinds of black pepper.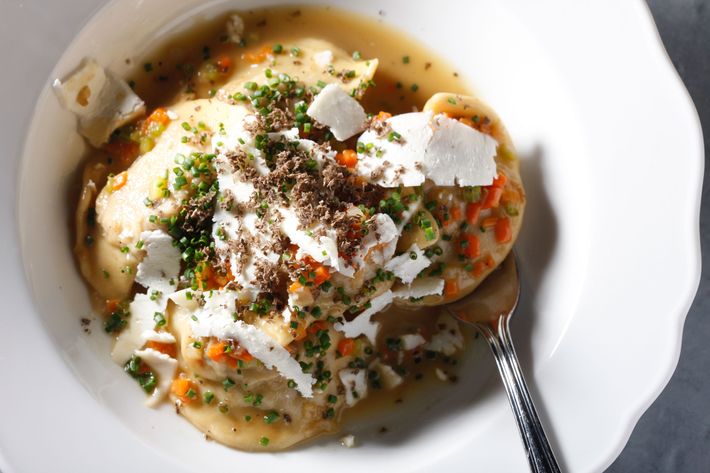 Parsnip Ravioli
Where: GG's
Price: $16
In keeping with chef Bobby Hellen's Italian-American inclinations, the cooks oven-bake parsnip-stuffed ravioli and serve it with roasted trumpet mushrooms and romesco.
Sheep's-Milk-Filled Agnolotti
Where: Lilia
Price: $22
Pasta wizard Missy Robbins amps up her pillowy, sheep's-milk-filled agnolotti with a surprising, harmonious sauce of saffron, dried tomato, and honey.
Ravioli all'Amatriciana
Where: La Sirena
Price: $24
Typically used to dress pasta, the famous Roman sauce all'Amatriciana — made with guanciale, Pecorino, and tomato — can instead be found inside gentle ravioli at the huge new Italian restaurant from Mario Batali and Joe Bastianich in the Maritime Hotel. (It's almost like these guys have some experience with Italian cooking.) To finish the ravioli: a sauce of spring-onion butter.
Mushroom Ravioli
Where: Lowlife
Price: $18
The Blanca vet behind this Lower East Side restaurant stuffs his ravioli with mushrooms and seasons it with black pepper and shaved air-dried beef.
Sunchoke Tortelloni
Where: Pasquale Jones
Price: $18
Pasta options at Charlie Bird chef Ryan Hardy's Kenmare Street spot include tortelloni, an oversize tortellini, filled with nutty sunchoke and served with Brussels sprouts and a pool of cheesy fonduta.
Burrata Ravioli
Where: Sessanta
Price: $24
At the Soho Italian restaurant, ravioli are filled with burrata (i.e., the cheese of the moment), then finished with parsley, mint, lemon zest, and Sicilian-style pesto trapanese, made with almonds and tomatoes.
Étoile de Fromage
Where: Vaucluse
Price: $24
The Altamarea Group's throwback brasserie includes a few noodles on its Gallic menu, including this dish of Comté ravioli, Brussels sprouts, trumpet royal mushrooms, and pine nuts.