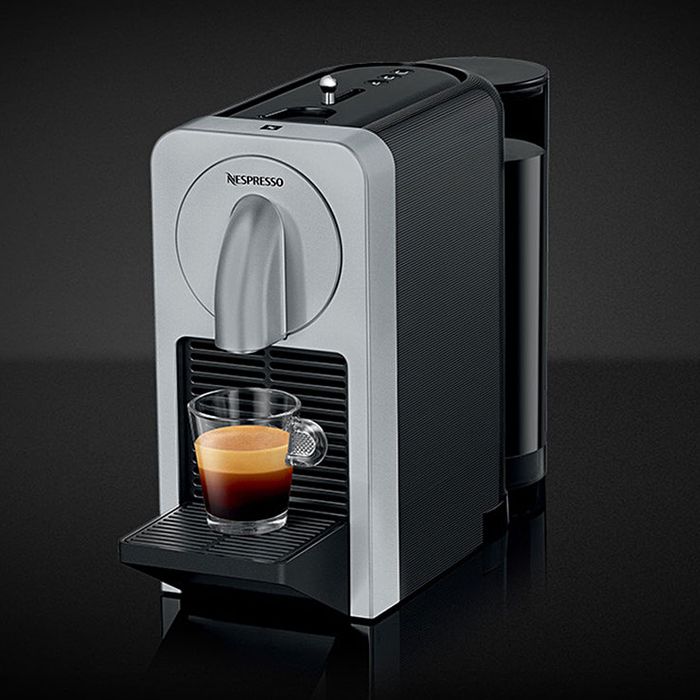 Siri, where's my coffee?
Photo: Nespresso
"Brew delicious coffee without even leaving your chair" sounds like a line for an infomercial Homer Simpson would fall for. But it's not: It's a real-life description for Nespresso's new Prodigio, a machine that gives proud owners the power to make the world's easiest coffee even more easily. With a mere finger flick on a companion app on iOS or Android, they can remotely "brew, schedule a brewing time, monitor capsule stock, receive maintenance and descaling alerts, and more," according to Sur La Table, its exclusive seller right now.
In its review, Wired offers this helpful summary of what consumers can expect from the world's most connected coffeemaker:
You can fire up your preferred cuppa before dragging yourself out of bed, or schedule it to brew at a specific moment. This is not Internet of Things, however. Not yet, at least. The Prodigio still requires you to interact with it, since it can't refill the water tank itself or install a coffee capsule. But as long as you remember to put a fresh pod in place after making each cup, you'll always be able to walk to your Nespresso when there's already aroma in the air.
So, it improves pod coffee by moving the sole button you push to a phone. Owners can reorder pods on the app as well, but the biggest difference honestly sounds like Prodigio will increase the chances of forgetting there's a fresh espresso in the next room until it's halfway cold. That assessment might miss part of the experience in Nespresso's eyes, however; the company stresses that with the Prodigio, uplifting can now describe the act of brewing coffee, not just its chemical effects: "Prodigio is Nespresso's first connected machine, providing you a unique experience that combines coffee pleasure with additional connectivity benefits, uplifting your Nespresso experience."
However lazy it may be, the business logic is clear. Nespresso has the same problems as its rival Keurig: Expired patents have meant a barrage of competition; plus, consumers (and even governments) are frustrated over the pods' wastefulness, which in Nespresso's case can be recycled, but it's a hassle and a half to do so. Parent company Nestlé is hoping machines that at least look super innovative will provide another selling point, although that was essentially the thinking when Keurig introduced its fancy soda machine Kold and a line of K-Cups with a powdered version of Campbell's soup, neither of which has seen much success. But who knows? Maybe the Internet of Things angle is the right gimmick — if people will pay $100 for a fork that connects to the internet, a $250 coffeemaker with Bluetooth is a steal.
[Wired]