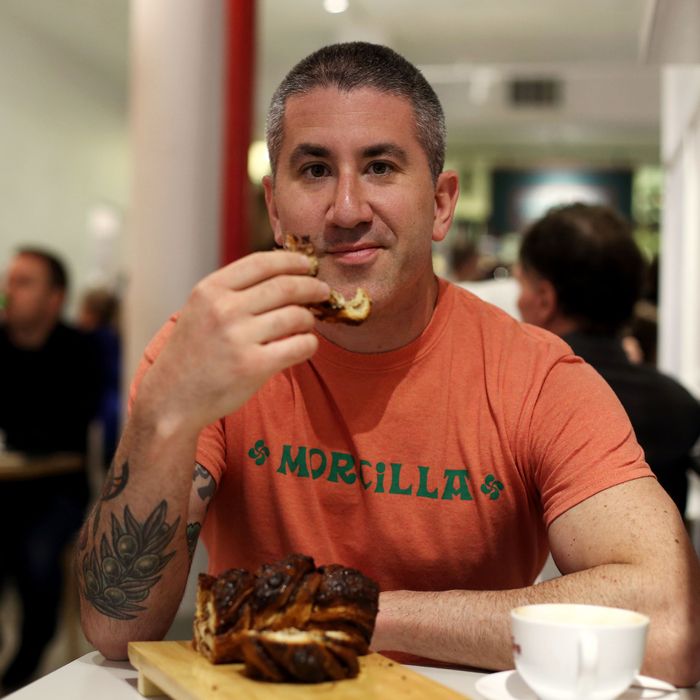 "Walk through the Greenmarket when genius strikes. Chocolate. Babka."
Photo: Angela Datre
While Mike Solomonov — the chef and owner of Philadelphia's Zahav, Federal Donuts, Abe Fisher, Percy Street Barbecue, and Dizengoff — prepares to open a Dizengoff outpost in New York, he's bouncing back and forth between the two cities. This kind of work, apparently, demands a whole lot of caffeine — Solomonov often has four coffees a day. ("If this diary reveals anything, it's that caffeine is my friend," he says.) He's also a fantastic snacker, and knows the rejuvenating power of a Reese's Peanut Butter Cup double-down sandwich (a Solomonov invention) and a Whatchamacallit. Read all about his love of chicken cheesesteaks, shakshuka, and Shabbat noodles in this week's Grub Street Diet.
Thursday, March 10
Every day begins with coffee. Today I have an early a.m. boxing session at Joe Hand Boxing Gym in Philly. Before I head out, I eat a bowl of leftover soup over the kitchen sink — canned Progresso Italian Wedding soup that my wife had served our kids.
Head to Higher Grounds post-gym for a blueberry-and-almond-milk smoothie.
Today, I'm going to NYC to check on our newest spot, Dizengoff at Chelsea Market. Before I head to the station, I stop at Federal Donuts for a massive Elixr coffee and a bag of our hot and fresh doughnuts. Crush three on the way up. My intention was to share when I got to NYC … but they didn't make it that far. I usually only eat two doughnuts a week.
Get to Penn Station and head to Chelsea Market. We're working fast and furious on the opening, our first in NYC. We're lucky to be in the same corner as Seed + Mill, and we snack on a slab of their ridiculous coffee halva and tahini ice cream mid-meeting.
Walk through Chelsea Market with the team and can't resist stopping for adobada tacos at Los Tacos No. 1. Crush two with all the toppings. Keep going.
Head to Zaragoza in the East Village for tamales. Wanted to check out the neighborhood for a potential new business location. We're not going to come up to New York and just do one Dizengoff. Starting to regret my prelunch feast of halva and tacos, but I power through because tamales are insane. A Jarritos and a spread of tamales at the back of the deli/grocery. I love this place instantly.
Have time to kill before the train back to Philly, so walk off the tamales and head west to Union Square. Walk through the Greenmarket when genius strikes. Chocolate. Babka. Breads Bakery. Must. Grab a table at Breads and stop short of ordering everything on the menu. One chocolate babka and another massive coffee later, I throw myself into a cab to Penn Station and then onto the train where I fall into a food-coma-induced nap.
Back in Philly, at Zahav, I try the new tilefish, kibbe naya, and halloumi pre-service. I have peppermint tea back at home.
Friday, March 11
More coffee. Friday calls for an extra special breakfast, which means Cinnamon Life with a banana — massive bowl. I like that it gets a little bit soggy. It can be dessert; it can be breakfast.
On my way to the gym in Northern Liberties, I head to Higher Grounds for a blueberry-and-almond-milk smoothie. Down the smoothie.
I get to Zahav and I check in with my line. I snack on boiled chickpeas with harissa that I quickly make in the kitchen to get the day going.
I walk to Menagerie, my local coffee shop three blocks away from Zahav, with my business partner Steve. Second massive coffee of the day. Then I head to Percy Street BBQ for our weekly meeting, where I ironically throw down three brown-rice sushi rolls from Whole Foods.
After the meeting, Steve and I walk the ten or so blocks to Federal Donuts in Rittenhouse for the chocolate-éclair donut (seriously amazing and probably an all-time favorite) and my third coffee of the day, this time Elixr.
By now it's about five o'clock, and I'm back at Zahav eating a Granny Smith apple and yet another coffee — this one from the Food Garden bodega across the street. I then pop into the kitchen for stuffed grape leaves and barbecue Fritos (surprisingly great flavor combination) before I head home for Shabbat with my family.
Then it's time for hand-drawn noodles, Sichuan fish-style, and pea greens with garlic from Spice C in Chinatown. Going here has become my family's Friday-night routine. Shabbat noodles! We're creative with our Jewish tradition. We pick up the kids at day care and detour into Chinatown because for some reason, my kids have always loved Asian noodles. They will not eat, like, anything. They go through phases. But they've always liked pho and hand-drawn noodles.
We then head home to Old City for challah with lemonade and a banana while lighting the Shabbat candles. Depending on what we have in the house, it's challah, Triscuits, or Ritz crackers. Sometimes it's grape juice out of the box, too.
I get back to Zahav around seven and I try a new dish: potatoes with anchovy, olives, and halloumi dressing. I hit the laffa station to work.
When I get home, around 11:30, I have a Granny Smith and peppermint tea.
Saturday, March 12
I start the day with two coffees and half an apple.
Then, the boys and I have carrots, pineapple, and strawberries. I don't eat enough fruit in my diet, but eating with my boys helps the cause.
Saturday lunch with my family means Santucci's for "the works" square pie — extra mozzarella, pepperoni, green peppers, mushrooms, onions, sausage. Santucci's is an old-school red-pie spot. It's always packed and always delicious.
This is important: I then have four Reese's Peanut Butter Cups stacked on top of each other (execution is important). I love refrigerating Reese's to the point that they're almost frozen, and then making a double-down sandwich. When they're really cold, you get two crunches from the exterior and the interior. I also had pepperoni Combos. This is another example of a solid midday snack from the Food Garden across the way from Zahav.
Back at the restaurant, I try a few dishes before service, like kohlrabi salad with mint and pickled celery, and beet-cured tilefish. I also try artichoke velouté with porcini, and undercooked borekas dough with my pastry chef Camille. Trying undercooked dough can be even more important than trying properly cooked dough. I've got to try it all.
Saturday service means a packed dining room. I snag two nougatine pieces, then peppermint tea to end the night. Once I'm home, I veg out with a bucket of popcorn and more peppermint tea.
Sunday, March 13
I try to let Sundays and Mondays be slightly slower days for me. So Sunday begins with two coffees at home, and a trip around the corner to Menagerie for an almond-milk latte.
Back at home, I make shakshuka with feta and za'atar, with potato and anadama bread from High Street on Market. High Street is also around the corner from both my house and Zahav, and the bread is addicting. Shakshuka on Sunday is the move.
Then it's time for my bi- (maybe tri-) weekly serving of fruit: strawberries, pineapple, and blueberries at home with boys, and more anadama bread with butter. Also, another coffee.
It's a pretty lazy Sunday at home, which means popcorn and M&M;'s with the boys.
For dinner, we head to Pho 75. This is my No. 1 spot for pho down on Washington Avenue in South Philly. This time, I order the No. 14, high-round beef with braised tripe, but you really can't go wrong.
Back at home, it's pretzels stuffed with peanut butter (a staple snack in my diet) and, yes, peppermint tea.
Monday, March 14
Yes, it starts with coffee at home.
Then it's time to head to the gym, so I have my regular — a blueberry-and-almond smoothie at Higher Grounds.
After the gym, I head home for an important bowl of Quaker Oatmeal Squares with whole milk.
Then, I walk the few blocks to Bodhi in Head House Square for an Earl Grey tea and a morning bun (similar to a cinnamon bun). This is my OG coffee shop, co-owned by Tom Henneman, who is my boy and a partner in Federal Donuts.
Back at Zahav, I try a few new borekas that my pastry chef Camille made for me. I crushed a couple extra of the feta ones. I hop in the car and head to Chubby's in Northwest Philly for half a chicken cheesesteak and a Mountain Dew, because America. I feel like a chicken cheesesteak is almost health food, in comparison. My wife thinks Chubby's is better, and I say Dalessandro's.
Then it's back to Old City for an almond-milk latte at Menagerie.
Back at home, we take it easy and I make spaghetti with tomato and Parm, a chopped salad with feta and kale, and sprouted beans. Monday-night dinner is a pretty sacred space for the Solomonovs.
The day ends with peppermint tea and popcorn.
Tuesday, March 15
Like every day, I'm up early for coffee. Plus, orange juice and one bite of bacon for breakfast. My youngest is having a moment with bacon — he runs around the house with it like a sword. It needs to stop.
Then I drive down to the juice kiosk on Kelly Drive for a kale-and-parsley juice.
I meet Steve back at Zahav and we walk down to Pho 75 for the No. 9 with brisket, with tea, and a Gibraltar (or Cortado) from Ox Coffee before our weekly meetings at Abe Fisher and Zahav.
During meetings, I snack on a Granny Smith. And back at Zahav, I try two haminados — which are overnight eggs cooked in coffee that my sous chef Andrew made. They're pretty sick. Then it's time for more snacks — red Bartlett pear, a Whatchamacallit, and herbal iced tea.
I head over to pastry to try chef Camille's new version of our pistachio tart. This time, it's a cake — and it's maybe even more delicious than ever. Back in the main kitchen, I have three pieces of challah with butter and a Turkish coffee.
Pop over to the bodega for Skittles, which, truth be told, I often snack on while I'm making laffa.
Back at Zahav, I'll try the chocolate konafi with coconut jam, which is a "new school" version of a classic dessert that was on our opening menu. It's especially beautiful with tableside service for larger parties.
Back in the savory kitchen (I pop back and forth a lot today), I try Bulgarian kebabs stuffed with kashkaval cheese. During service, a fired-up guest brings me a slice of cured ham. Truth be told, it was a highlight of the night.
And back at home, peppermint tea forever.