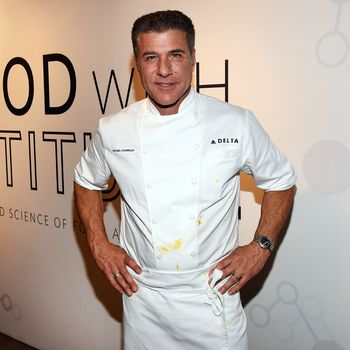 Chiarello denies all of the claims.
Photo: Dave Kotinsky/Getty Images
Two of Michael Chiarello's former servers have slapped the celebrity chef with damning accusations of sexual harassment and wage violations. Katherine Page and Asja Sever, who each spent several years at the James Beard Award–nominated Coqueta in San Francisco, allege the Food Network star not only stole wages but also created an abusive workplace full of salacious remarks and even physical contact. In a pair of lawsuits stretching to 44 pages — one handles the sexual-harassment allegations; the other, the claim about wages — Page and Sever claim Chiarello inappropriately touched employees, made crude as well as racist and homophobic jokes, and mimicked sex acts with food.
The suit is chockablock with examples the two women, who quit last week, argue prove that Chiarello, Coqueta's executive chef Dominick Maietta, and other managers created a "sexually charged, hostile and abusive environment." They describe situations where Chiarello allegedly shoved Page, compared various foods to genitalia, pretended a baguette was his penis, and boiled his policy for hiring women down to "If you don't want to fuck them, don't hire them." The suit claims he and top-level management at Coqueta would stand around and discuss "sexual acts that they have engaged in, or would like to engage in, with the female guests of the restaurant." On the finances side, the women claim it was standard procedure to manipulate time sheets, not pay overtime, and force servers to pool tips with kitchen staff. They're hoping to make that suit a class action.
In a statement, their attorney said, "This type of behavior to women is not acceptable and cannot be tolerated. Unfortunately, restaurants are a hotbed for illegal activity of all different types." Coqueta hasn't addressed the claims yet, and so far Chiarello's attorneys have only issued a general denial to the San Jose Mercury News that notes he's "very upset":
Mr. Chiarello strongly believes that a great restaurant cannot really be great without an outstanding team. Throughout his career, he has served as a mentor to the people who work with him and helped them climb the ladder in their careers. This claim flies in the face of who Mr. Chiarello is and how he has lived his life. …

We are also disappointed that neither Coqueta nor Mr. Chiarello were provided a copy of the lawsuit prior to the former employees' attorneys sending it to the media. Mr. Chiarello intends to vigorously defend himself, his reputation and his team against these unfounded claims in a court of law.