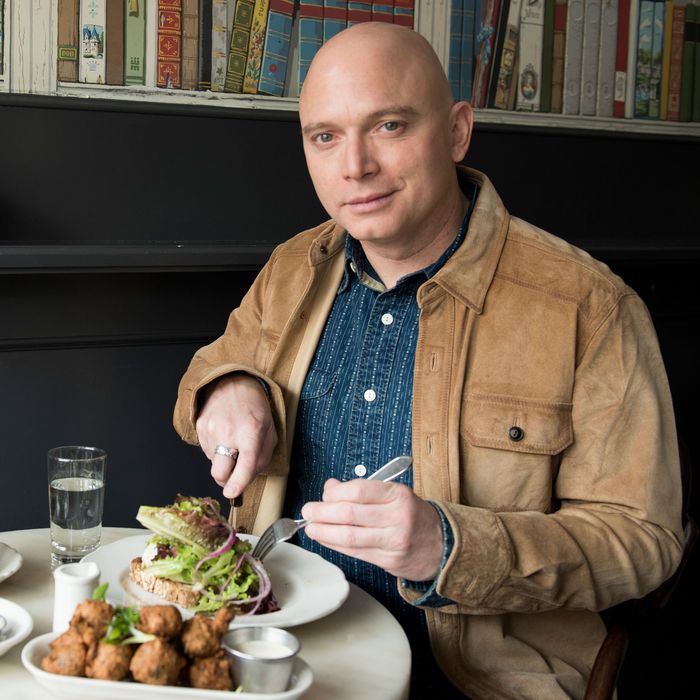 " … And hush puppies, just because it was a possibility."
Photo: Liz Clayman
This week marks one year since the previews of Fun Home began on Broadway, and it's been quite the year for actor Michael Cerveris, who earned his second Tony for the critically acclaimed musical (you may also recognize him from his stint on The Good Wife). He also released his second solo album, Piety, and the video for his new single, "Pony Girl," which he recorded with his band, Loose Cattle, will be out next Monday. Before any of that, though, he found time to grab southern food on two occasions, made grits using cheese he sneaked back from Italy, and ate late-night, postshow pad Thai. Read all about it in this week's Grub Street Diet.
Friday, March 18
Breakfast was fresh strawberries, coffee, and these grits from South Carolina that I always say I'm going to make, with imported Italian cheese and Tabasco sauce. I bought a house in New Orleans, and it's a mark of pride for men here to be able to cook and cook well, so I'm starting to cook more. I've always felt like cooking for myself was something I'd wanted to do and that I would really appreciate all of the therapeutic benefits.
The cheese in the cheesy grits came from Italy. My sister and brother and I took my dad on a trip to the town where his father was from, a Medieval hilltop town called Teggiano. In the town square once a week they have a market, and the day we were leaving was the day of the market, and there was this cheese-maker who was amused by us and kept giving us these samples of all these cheeses. There was this one cheese whose name I can't recall, but it was just unbelievable, so we took a whole wheel of it. Surprisingly, we had no problems bringing it in. When you're going through security in Italy, they're not surprised to see cheese. There seems to be more of a restriction on meat. But there's one kind of cheese with meat in it. From the outside, it looks like cheese. If I understood what the guy was saying, they started making it so you could sneak meat to your relatives overseas.
Lunch was at around 4 p.m., at Nanoosh on University Place, which is right around the corner from where I work out. I really like that place: It's quick food but not fast food, and they have a lot of interesting options. I had the farro plate, with baked quinoa falafel, hummus, mixed greens, and green tahini dressing. Quinoa falafel is great — it's much lighter, and I think it's baked instead of fried.
I don't like to have a full stomach to start the show, so on a day like Friday, when I can eat essentially a late lunch, that will tide me over during the performance. At home, at midnight, I had a homemade black-bean burger made by this girl I've been seeing who's vegetarian. She made it from scratch with corn, red bell peppers, breadcrumbs, and spices, and it was very good. I had that with a stracciatella soup from Don Giovanni, one of the more reliable Italian places available late.
Dessert was cupcakes from Magnolia, which came from a friend who had come to see the show and brought cupcakes because I helped her get tickets. It's always good when people want to show their thanks with tasty treats.
Saturday, March 19
I went out for breakfast to Tipsy Parson, a neighborhood place for me, about a five-minute walk from my house. It's kind of southern-style, but not slavishly southern, and they have a nice back room that has doors that open out onto a patio. It's hard to schedule anything, so I end up scheduling meetings that are also meals. Then, if the meeting doesn't go well, at least you get a meal out of it. I had coffee with the shrimp and grits, with hickory smoked bacon, tomato vin, and chow-chow.
Lunch was from Cosmic Diner, one of those great, old-school New York diners that's been around who knows how long, and it's one of those places where the menu's so big you're better off just thinking of what you want, then asking, and they'll have it. So I went with the spinach pie and Greek salad. It has a lot of sustenance and is a good between-shows meal.
I had an 11 p.m. snack of Smooth Ambler Old Scout whiskey, an Amy's Cheddar cheese frozen burrito, and Utz potato chips, because sometimes after a show I'm not able to focus on much more than watching the Walking Dead episode that I'd taped and putting a burrito in the microwave.
Old Scout is distilled in West Virginia, where I'm from. Somebody gave me a bottle of it for the first time — I don't recall who — and I didn't realize at the time that it was from West Virginia, and I started drinking it and I was like, "Hey, this is really good." Like I said, I love it when people come to the show and bring me sugar or alcohol.
Sunday, March 20
I don't really have a breakfast routine. Part of it is because the show is late and my peak hours are in the evening, so I stay up late and then I get up late. I have a first meal of the day, but it's not often real breakfast. It's often coffee or a croissant or that sort of thing. Today I just had my Drive-By Truckers coffee. Okay, about this coffee: The Drive by Truckers is one of my favorite bands, and I go see them whenever I can. And I saw them not long ago out at Music Hall of Williamsburg, and at the merch table they had this can of Drive by Truckers Trucker Speed Coffee. And I picked it up, really just for the can, because I thought, Well, I'm sure the coffee is really awful, but the can is really awesome. But it turned out the coffee was really great. It's from a local Athens coffeemaker, Jittery Joe's, so it's actually really tasty coffee.
I met my Loose Cattle bandmate Kimberly Kaye and her husband, Ray, at Hill Country for brunch, which I think is my favorite barbecue place in the city. Our band has actually played there a few times in the basement. I had a barbecue chicken thigh, collard greens, corn pudding, mac and cheese, and sweet tea. I usually drink tea without any sweetener, but when you're having barbecue, you feel like you're missing out if you don't have the sweet part of it.
I went from doing the show to seeing a show at the Atlantic theater that night. There was no time to actually get food-food, so I had peanut-butter crackers from the deli and pretzels and a Makers Mark, neat, in the lobby of the theater. After the show I stopped by Intermezzo on Eighth Avenue, which was en route from the Atlantic back home. Sunday night is kind of the beginning of my day off, and I like to actually have a night like normal people do. I had the Caesar salad and the rigatoni Siciliana (eggplant), and a glass of Malbec to drink.
Monday, March 21
I had a 7 a.m. breakfast of Peet's coffee at JFK, because I was on my way to Phoenix for a dinner partially honoring my family, at ASU. On the flight I had a provolone-and-tomato omelette, sausage links, fruit cup, and a bagel. The fruit was not the most flavorful in the world, and I don't know where they got the bagel from (it certainly wasn't New York), but for airplane food it wasn't bad. They also had a quinoa oatmeal, which isn't actually oatmeal, but that's okay. It sounded like an intriguing idea, but I'm not sure I trusted Delta airlines to pull it off.
Lunch was in the Graduate Hotel (it's where ASU put us up for this thing). They have this little taqueria/Cuban/Mexican place called the Tapacubo Poolside Cabana, and they do kind of interesting food for a hotel bar. I had grilled achiote chicken with avocado crema and cabbage on a tortilla, and the Indian taco on "Grandma's Fry Bread" with pinto-bean purée, red chile steak, lettuce, and white Cheddar. To drink, I had a Diet Coke.
And dinner was at the Gammage auditorium. My father taught at ASU years ago for a number of years, and he was very involved in doing things with the ASU Gammage; my brother was an actor that had been on three national tours that had played there; and my sister had danced with the Arizona Ballet after she left the New York City Ballet. So they have this award called the Gammy Award, and my family was receiving it. The amazing thing was that it took going to Phoenix to get all of us in one place. But it was a really nice event, and there was no ordering involved, but the set menu was really good: bruschetta with Tuscan white-bean purée with roasted garlic and cayenne; sweet potato and purple kale salad with pepitas, pomegranates, and arugula; porcini-crusted steak; carrot foam and shaved Brussels sprout salad; and an artisan cheese board. To drink, I had a whiskey and ginger, which is kind of my go-to party cocktail. And with dinner I had red wine.
Tuesday, March 22
I had to go back to New York, so I had the same thing going back. This time, though, it was Starbucks coffee and a croissant at PHX. Then the omelette, sausage links, fruit cup, and bagel on the plane.
Lunch was a green-split-pea soup at Thalia, my default place right across the street from the theater. They always have good and interesting rotation of soups. It's just kind of an ideal food when you want something filling, but you can still perform after eating. I had that with a Sambazon açai juice, one of the plethora of energy drinks out there these days that give you at least the illusion that you're doing something better for yourself.
Dinner was at 11 p.m. from Spice, where you know what you're going to get, and it's exactly what you're going to get. And I got the crispy spring rolls and the chicken pad Thai. I don't eat a lot of red meat in general. I very seldom order it, actually. So I'll eat it if that's what's on offer, like at the dinner last night, but I tend for protein to have chicken or fish or turkey or something. I think if I had the strength of my convictions, I would be vegetarian.
Wednesday, March 22
At 11:30 a.m., I had a coffee and avocado toast at the Tipsy Parson, which was very good, and hush puppies, just because it was a possibility. And also one of their biscuits, because there's never a bad time to have a biscuit. They do this thing called the biscuit bomb, where you can just load your biscuit with all kinds of stuff. I didn't go that far this morning — I just had a nice biscuit. I like them because the ones there have herbs in there and are a little salty and nice and fluffy and flaky.
That actually turned out to be lunch before the show. After the show I went and spoke to a group of high-school kids who are a part of this program called Open Doors that takes kids from inner-city schools to see a whole variety of plays and theater in New York. I was told that it was like a pizza-party thing, and I thought, Oh, good, I'll be able to get something to eat and talk to these kids. But it took me a while to get out of the theater, and then we had a lot of people outside. All of the cast, and myself especially, really look forward to getting to talk to the audience afterwards, and we have a lot of people who stick around. A surprising number of people have been really affected by what they've just seen and just sort of feel like they need to share that with you somehow. So it's not always something you can just smile and wave and walk thorough. The point to this whole story is that by the time I got over there, the pizza was gone. Generosity has its downsides.