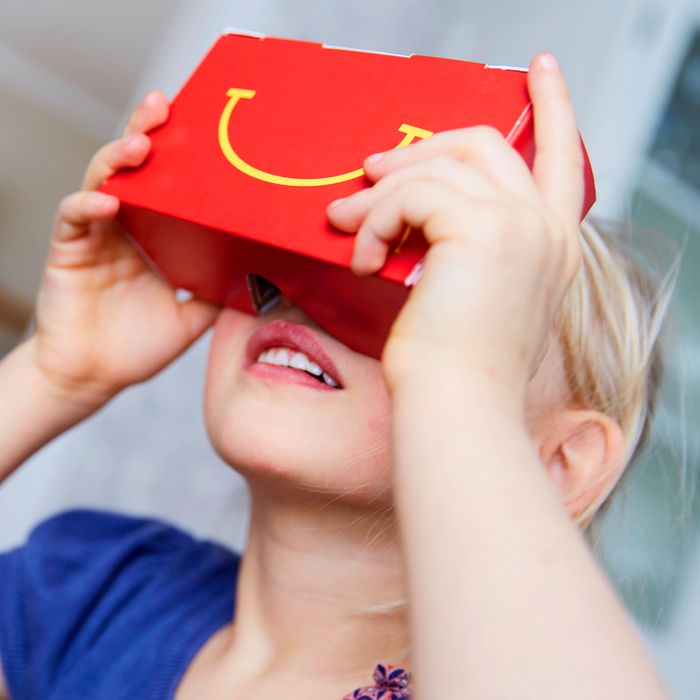 "Mom, I got grease in my eye!"
Photo: Happy Goggles/McDonalds
McDonald's new Happy Meal promo in Sweden will be the bane of parents everywhere. For the next two weekends, 14 stores in the country will offer Happy Meals that morph into a virtual-reality headset called "Happy Goggles." The chain says just 3,500 pairs of the goggles will be released, and the idea behind the headsets seems to be that the Happy Meal, which turns 30 years old this year, is very much "still evolving", in coolness, technologically, health-wise — the ways are basically infinite.
Goggles come with a VR ski game that's endorsed by Sweden's national ski team. Kids just slide a smartphone behind the lens for the full 3-D effect. CNBC says parents are already anticipating the possible safety hazards, but McDonald's says there's no reason to fear Happy Goggles because it hired two child psychologists to advise the company on proper kid-headset protocol.
This is what ultimately emerges from the box once assembled:
Those step-by-step instructions seem helpful at first. But no way have parents forgotten about Happy, the anthropomorphized Happy Meal box that frankly creeped the bejesus out of children.