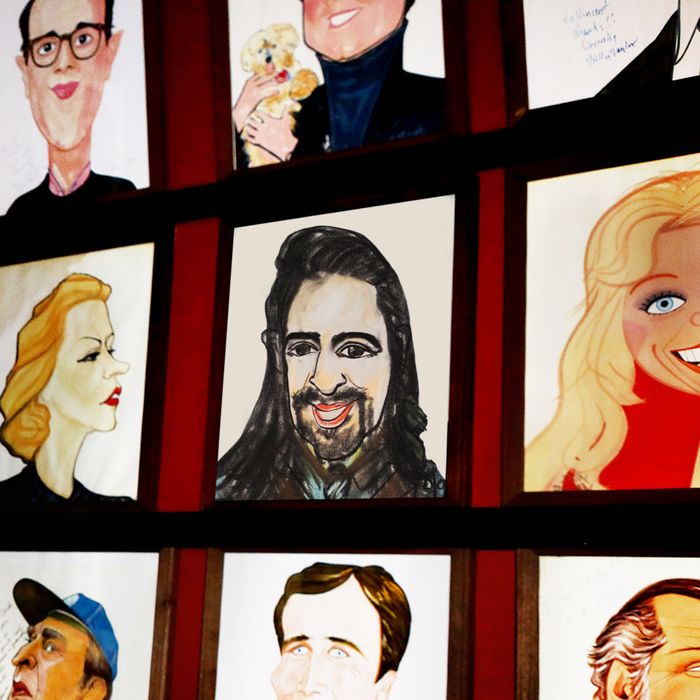 It shouldn't be so complicated to make this happen.
Photo-Illustration: Grub Street; Photo: Walter McBride/Corbis
As far as the honors already heaped upon Hamilton go, last month's $100,000 Kennedy Prize for "Drama Inspired by American History" flew relatively far under the radar. In fact, it may have been easy to lose track of it completely in the flurry of accolades given to the Broadway musical and its star, Lin-Manuel Miranda. Hamilton's run at the Public Theater scored the first Outstanding Musical Drama Desk Award for an Off Broadway show since 1983. It picked up a Grammy, and its opening number was broadcast live during the awards. Miranda was awarded a prestigious MacArthur "genius" grant in 2015. He won a Best Musical Tony in 2009 for another show, In the Heights. Michelle Obama reportedly called Hamilton "the greatest piece of art" she's ever seen, and invited the cast to the White House. He spent yesterday casually freestyling with the president. And last month, the only things that sold more tickets than Hamilton were Beyoncé's Formation tour and the Super Bowl. It might seem there is no distinction left to give Miranda, the show's creator, lyricist, composer, book writer, and lead actor. But, to this day, one major Broadway prize has eluded even Miranda: a caricature on the wall at Sardi's.
The iconic restaurant has been entwined with Broadway at least since 1946, when a brainstorming session in the dining room resulted in the Tony Awards. To date, there are nearly 1,000 drawings hung on the walls, featuring both true Broadway legends (Liza Minnelli, Bebe Neuwirth) and, um, other actors, too (Clay Aiken, Tony Danza). The latest addition to the wall: Maurice Hines, who got his caricature at a February 16 ceremony.
But no Lin-Manuel Miranda, the most decorated Broadway star of the moment. Eduardo Uribe, a reservations representative, answered the phone when Grub called to verify the exclusion. Uribe consulted with his superiors and explained, hesitantly, "We're considering it. We're waiting to see how the spring plays out, Tony-wise."
But no rule exists to specify that the subject of a wall caricature must have won a Tony (and, besides, Miranda already has one), nor any kind of time restrictions on when a person can first be considered for inclusion (plus, Miranda won his seven whole years ago). Miranda, in short, is overdue. It wouldn't even be that difficult. In fact, Grub commissioned its own makeshift caricature of Miranda, which cost about $40 in Times Square, a few blocks from Sardi's. It's the drawing you see above, and, all told, it required less than half of an afternoon to make it happen.
So what is the deal? Ivan Lesica, a maitre d' at the restaurant, would only say that, of the 1,500 or so drawings that have been commissioned over the years, somewhere between 800 and 900 appear on the walls within Sardi's, with the rest residing either in storage or in a collection in Lincoln Center. Gail Liser, the restaurant's controller, says Sardi's adds about 20 honorees a year, all of them drawn since 1974 by Richard Baratz, who won a contest as a then-student at the School of Visual Arts. According to Playbill, "the decision as to who gets honored appears to be up to [Sardi's co-owner Max] Klimavicius." He alone is how the play gets made, you might say.
Finally, Grub tracked down Klimavicius to ask whether Miranda's Tony-winning debut with In the Heights was a prescient-enough indication of his talent and future on Broadway to secure a drawing in the seven years since? Or maybe the "genius" grant was a sign he might be around to stay? What is the selection process actually like?
"There are basically three rules for the wall," the owner explains. "First of all, you have to be a friend of the house. Just because you are famous it doesn't mean you get a picture. Second, you have to be in the arts. And third? Third is for the exceptions to the other rules." Such exceptions include every mayor back to Wagner, the boxer Jack Dempsey, and the 1978 Triple Crown jockey Steve Cauthen.
"It's a bit spontaneous, to tell the truth," Klimavicius adds. "There is no real rhyme or reason." But eating there every night is how a Clay Aiken can leapfrog a Lin-Manuel Miranda (who, to be fair, Klimavicius said is also a friend of the house). Upcoming entrants, Klimavicius said, include Jane Krakowski, Forest Whitaker, and Bruce Willis. But it's not about star-catching. "We included Whoopi Goldberg, for example, because of her one-woman show [1984's The Spook Show] before she got famous."
And yet no confirmation and no reason given for the baffling lag. Meanwhile, Miranda's publicist, Charlie Guadano, says a drawing is in the works, but offers no firm timeline or guarantee that it will end up on the fabled wall at Sardi's. Perhaps this is why Miranda says his favorite Spanish phrase is No te vistas que no vas: Don't get dressed, you ain't going.